7 Great Questions to Ask Before Hiring a Solar Panel Installer in the UK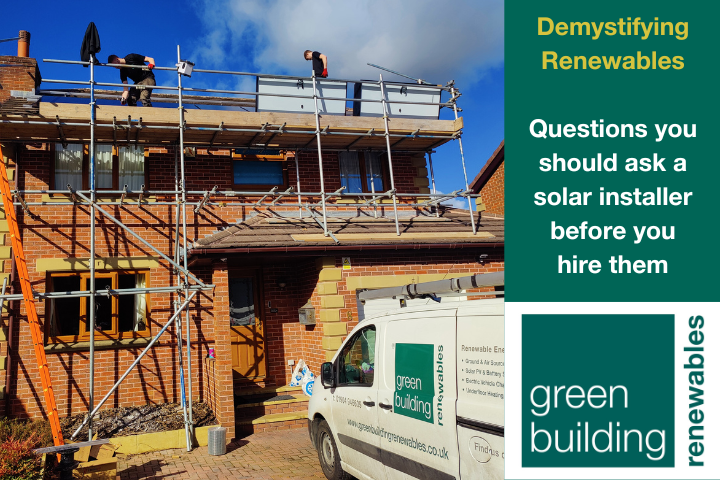 If you're a homeowner, the recent rising energy costs alongside the cost of living crisis may have got you thinking about alternative energy sources such as solar panels. Or, perhaps the positive environmental impact has got you thinking about renewable energy.
Whatever your motivation, solar panels are a fantastic way to invest in something that's not only better for the environment but it's also better for your back pocket.
However, with the popularity of renewable energy, particularly solar panels, how do you tell the 'cowboys' from the professionals? Over the last year, several reports have come to light of dishonest tradesmen taking deposits from homeowners only never to fulfil their duties.
Therefore, within this guide, we'll discuss what you need to know and questions to ask when speaking to a solar panel installer to help you decide who you want to carry out your installation.
Table of Contents
1) Check Out the Installer Qualifications
While the cost of installing solar panels has reduced over the years, they are still a costly investment. As a starting point, it's essential to ensure the business you're looking to work with has all the necessary credentials from trusted governing bodies, as well as being able to demonstrate how they're working to the latest industry standards.
Two of the key industry accreditations you'll want to check your installer has are:
MSC – MCS is a mark of quality. Using an MCS-certified installer ensures that equipment meets good performance standards and that installers are technically safe and competent.
RECC (Renewable Energy Consumer Code) – As members of the Renewable Energy Consumer Code (RECC), firms agree to abide by the Consumer Code. It covers all the factors contributing to a high standard of consumer service before, during and after a contract is agreed upon.
Of course, anyone could display these logos on their website; therefore, for further verification, you should visit the accrediting websites to verify if the installers are listed.
In addition to what accreditations a business has – what about its installation engineers who will be working on your solar panels? A reputable business will ensure its staff are adequately trained and qualified to carry out the work.
2) Check out the Installer's Previous Projects
Don't be afraid to ask a solar panel company to see their previous installations on similar properties so that you can see what the installation could look like. A credible business will be more than happy to share details of previous homes they've worked on – sometimes, it's even part of their sales pitch.
Also, ask how many houses they've completed installations in and around your area to understand what the local community thinks of the business. You could even approach the homeowners to gauge their experience with the company and its installers.
Finally, don't forget to check out customer reviews or testimonials on the businesses' website, Google reviews, or a third-party site such as Trustpilot. Customer reviews are a crucial part of your decision-making process and should paint a clearer picture of what other peoples' experiences have been of a company.
3) What Warranty and Product Guarantees does the Installer Offer?
As with any consumer product, you should expect to receive certain warranties and product guarantees when having solar panels installed on your property. Typically, solar panels are designed to last approximately 20 years, but does the company also offer a workmanship warranty?
Similarly, what about the inverter – this is one of the most critical pieces of equipment when installing solar panels. The device converts direct current (DC) electricity, which a solar panel generates, to alternating current (AC) electricity, which the electrical grid uses. Does the renewable energy installer offer a warranty on this product or any of the other components, too?
It's worth reviewing the terms and conditions attached to these warranties and understanding what is covered and if there are any requirements in terms of upkeep to avoid invalidating your warranty.
4) Consider the Financial Considerations
One of the most significant factors that will impact your buying decision is the cost of installing solar panels. Some websites have a calculator to help you get a ballpark cost. Still, it's best to get the business to come out and perform a proper inspection of your roof and discuss your personal needs to understand how many solar panels you will need to give a more accurate quotation then.
Once you receive your quote, if not already stated, ask about the pricing structure and payment options offered by the installer. For example, are there any financing or leasing options available?
Also, is the cost fixed, and does it include everything, or is there anything that hasn't been included, such as monitoring systems?
Ask the business to explain the potential return on investment and long-term savings associated with solar panels. The government previously ran several schemes that made getting solar panels more appealing; however, now these schemes have ended; aside from their green credentials, what is the financial gain from solar panels?
Ultimately, the cost is a key consideration for you, and it can be tempting to choose an installer because they're cheaper than the rest. But, as with other trades, this isn't always the best approach.
Aim to get at least three quotes to help inform your decision, and don't forget to do your due diligence, as we've already discussed, to get a more rounded view of everything a company has to offer and what previous customers think of them.
5) What's the Installation Process and Timeline
If this is your first time installing solar panels on your property, you may have questions about the installation process, including any necessary permits or paperwork.
Having solar panels installed are typically classed as permitted development in the UK. Therefore, you shouldn't need to gain planning permission from your local planning authority. However, if your property is a listed building or falls under a conservation area, there may be restrictions in place and in this instance, it's worth seeking further information as to what approval you may need before committing to having the work carried out.
It's worth noting that an experienced installer should adhere to industry best practices and safety standards. For example, a business accredited by the CHAS (Contractors Health and Safety Scheme) has had its health and safety processes independently assessed and validated from a compliance and risk management perspective.
Once you're clear on the installation process, ask about the company's current workload and estimated timeline for installation. The warmer months of the year are busier for most renewable energy businesses. However, the installation should only take one to two days if the project is straightforward.
6) What Maintenance does the installer offer?
The good news is that once you've had your solar panels installed, they will require very little ongoing maintenance as the panels are designed to be "self-cleaning", so unless there are certain local environmental factors such as trees or wildlife, then cleaning isn't needed.
You should take caution with any business that tells you that regular servicing is a requirement; it's not. A more reputable business will offer this as an add-on should you, the customer, want your systems serviced. Here at Green Building Renewable, we offer customers the option to have their panels serviced; during the service, we clean the panels and check all the electrical connections and generation. This is an additional cost which is clearly outlined to customers.
7) What After-Sales Service does the Installer offer?
When researching which company you might use for your solar panel installation, it's also worth discovering about their aftersales service offering. If you have a technical issue with your solar panels, does the business have a technical department to investigate and remedy that issue for you as quickly as possible? A trusted installer will register its installs on the manufacturer's portal, so if you notice any problems, the company can investigate any issues remotely first.
In addition, should there be a fault or issue that requires the manufacturer of the panels to offer support and/or replacement products, does that happen through the company that installed them, or will you have to liaise with the manufacturer directly? Ideally, your installer would manage this as they'll know exactly what they need, giving you a much better customer experience.
Conclusion
As we've discussed, it's essential to do your homework when looking for a solar panel installer. Firstly, check they're listed as an approved supplier or installer on the leading accreditation websites. Look at their customer reviews – a quick Google search will likely tell you all you need to know.
If you're ever in doubt or unsure, ask a question – no matter how insignificant it may seem- and check the small print before committing to anything.
Review the finance options available and get to know the installation process and potential timelines for your project.
You should always take your time and shouldn't feel bullied into making a decision by an aggressive salesperson. While sometimes this comes with the territory, there's no reason to be pressured into something without having done your research.
As a rule of thumb, look to receive three quotes before deciding on who to go with and check what warranties/ guarantees are covered under the agreement. Finally, it is essential to choose an installer who can provide aftersales support and technical advice to ensure you maximize the benefits of your system and protect your investment.
If you're looking to lead a more sustainable life, here at Green Building Renewables, we can provide you with tailor-made environmentally-friendly solutions to meet your future energy needs. Take a look at our office locations to find your nearest installer to discuss your renewable energy needs.