Ground Source Heat Pumps
At Green Building Renewables, drawing upon our extensive 16-year expertise in the renewable sector, we proudly introduce Ground Source Heat Pumps (GSHPs). These cutting-edge heating and cooling systems harness the stable ground temperature to deliver remarkably energy-efficient solutions for residential, commercial, and industrial properties.
Whether replacing an old heating system, undertaking a renovation or creating a new build project, a ground source heat pump can provide a cheaper and more sustainable solution. You don't need acres of land, with different options available a ground source heat pump solution may be the answer.
We are a BUS approved installer and ready to check eligibility and process the £6,000 installation incentives.
How ground source heat pumps work
A ground source heat pump works by circulating glycol (also known as antifreeze) around a collector pipe, called a ground loop which is buried in the ground. These pipes are buried in the ground, usually at a depth of around 1 metre or more. 
Heat from the ground is then absorbed into the fluid and then passed through a heat exchange into the ground source heat pump and then into your building.  
Once you reach about 1 metre under the surface, the ground temperature stays at a fairly constant temperature all year round – meaning ground source heat pumps can be used at any time of the year.  
The length of the ground loop required depends on the size of the property being served and the amount of heating or cooling needed. Longer loops can extract more heat from the ground, but they do require a larger area for burial. 
If space is limited for your ground source heat pump, a vertical borehole can be drilled instead.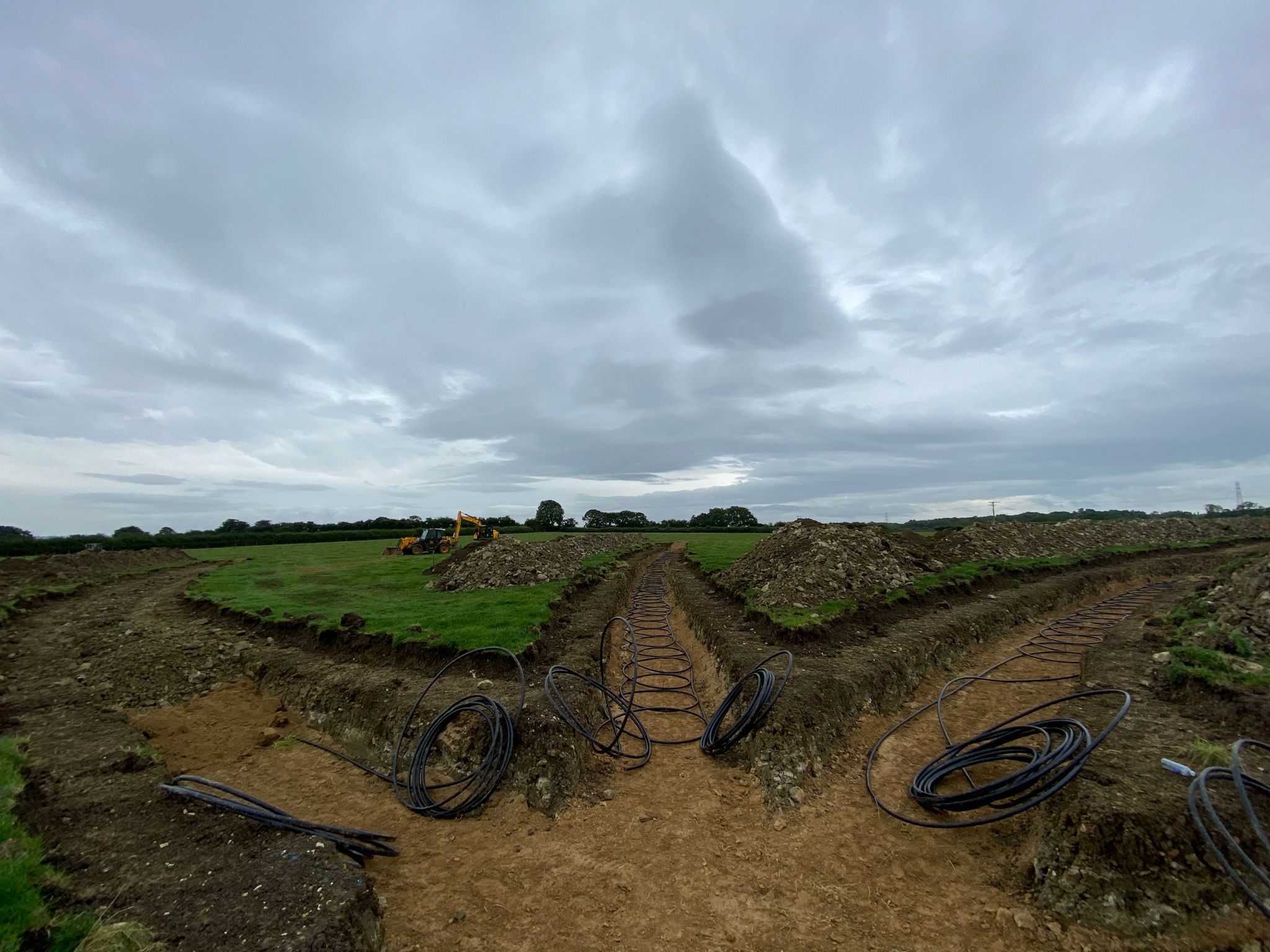 What are the benefits of a ground source heat pump installation?
Advantages of Ground Source Heat Pumps
Ground source heat pumps are the most efficient way to heat your home and offer large savings for those properties off the mains gas network using Oil or LPG. 
Fossil fuel prices fluctuate significantly, but on average when you replace an oil or LPG boiler with a heat pump, you can expect to save around 40% on your fuel bills. 
The Government is offering generous incentives to homeowners and businesses who install renewable technology. 
At the moment, domestic homeowners get paid 21.16p (as of 1st April 2020) for every kWh of renewable heat they generate. If you are a homeowner replacing an existing fossil fuel system, renovating or building a new home, you will be eligible. 
Environmental benefits and reduced carbon footprint. 
Reduces Carbon Emissions: Ground source heat pumps produce considerably lower carbon emissions than most fossil fuel appliances. 
Renewable Energy Source: Ground source heat pumps utilise the constant temperature of the ground, which is a renewable energy source. By tapping into this natural heat reservoir, they reduce reliance on fossil fuel-based heating systems, such as oil or natural gas furnaces. As a result, they contribute to the reduction of greenhouse gas emissions and the depletion of non-renewable resources. 
Government incentives and rebates for using ground air source heat pumps – if applicable.

 
The Government's Boiler Upgrade Scheme (BUS) is designed to help reduce the total cost of installing a low carbon, renewable heating system.  
 We are a BUS approved installer, helping customers to get £6000 off the cost of their install. 
Types of ground loops and their suitability
Horizontal Ground Loop:  
Typically suitable for installations with ample available land area. They are often the preferred choice for residential applications where there is enough space.  
Vertical Ground Loop:  
Ideal for installations with limited space or properties where the soil is not suitable for horizontal trenching. They are commonly used in urban areas or locations where land is scarce.  
Maintenance requirements and best practices.

 
GHSPs are known for their low maintenance requirements compared to traditional heating and cooling systems. However, like any mechanical system, regular maintenance is essential to ensure optimal performance, energy efficiency, and a long lifespan. 
It is advisable to have an annual service in order to keep the warranty valid and ensure that the unit it working as efficiently as possible. 
Environmental Impact and Sustainability:
GSHP's use electricity to move heat from the ground into a building. If that electricity comes from clean sources such as solar and wind, that helps to reduce carbon emissions even more. Even if it uses electricity generated from fossil fuels, it still emits fewer greenhouse gases than fossil fuel-based systems.  
GSHPs reduce our reliance on fossil fuels for heating. By using electricity as their primary energy source, they help decrease the demand for oil and natural gas, which are harmful to the environment. 
Frequently Asked Questions