Award-winning night for our East of England offices at the Energy Effciency Awards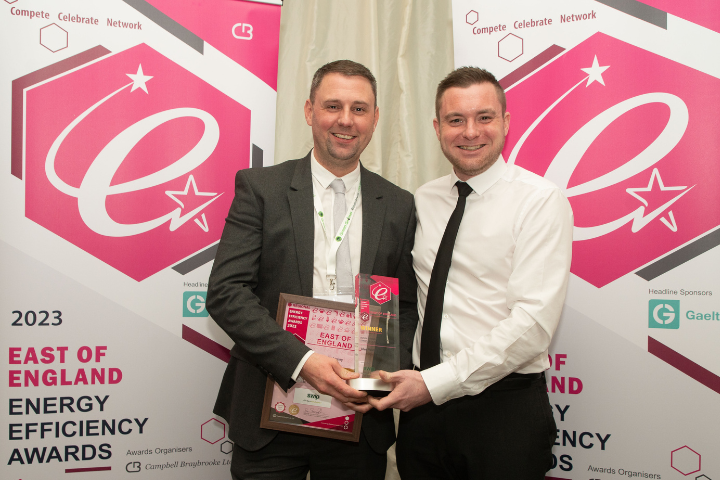 Green Building Renewables had a successful night at the East of England Energy Efficiency awards last week with wins in five categories, including Colchester Branch Manager Alex Walmsley winning Business Development Manager of the year for the region.
We also won recognition in four other categories with Highly Commended awards in the East of England solar installer of the year, East of England heat pump installer of the year and small scale project for our solar installation at Nethergate Brewery. Finally, we received a commendation for our work with PSH Environmental in Norwich on the large scale installation project.
The awards were hosted at the Parklands Hotel in Quendon, Essex and attended by over 150 industry professionals from across the region. Green Building Renewables was represented at the awards by colleagues from our regional offices in Colchester and Norwich, including regional managers Alex Walmsley and Rob Telford.
We won recognition in every award we entered, which is a fantastic achievement for both offices and their teams. On the night, we also sponsored the Regional Insulation and Fabric Installer of the Year award, which was presented by our Managing Director, Chris Delaney.
Each year the awards celebrate those companies and individuals leading energy efficiency work across the UK, whether that be companies leading the way in renewable technologies and services or businesses installing energy efficient products that improve the fabric of buildings. Regional finals take place across the country, and then there is a national final in September held in Birmingham.
Our managing director, Chris Delaney, said on the award wins, "The victories in the East of England Energy Efficiency Awards demonstrate the standard of work we are doing across our offices. We are built upon the knowledge and expertise of the companies we acquire, as we build a nationwide network of renewable energy experts. Our teams in Colchester and Norwich are an integral part of our business family, and I congratulate both offices on their successes.
"Alex's win is well earnt and something he and his dad should be proud of achieving. Many companies that join Green Building Renewables have an established and reputable family business at their core. This was the case in Colchester, and I am delighted that they are now a part of our fast growing business. We can help businesses that join our network to achieve the recognition they deserve for their work wherever they are in the country. Award ceremonies, like the Energy Efficiency awards, are a great way to celebrate the people working in the industry. We hope to see further success for the company at the awards in other regions and at the nationals in September."
Alex Walmsley – East of England Business Development Manager of the Year
Our big winner on the night was Colchester Office's regional manager Alex Walmsley winning the award for regional business development manager of the year. This award recognises an outstanding individual who has helped develop and grow their business within the energy efficiency sector, even in challenging market conditions and a competitive industry. Alex fitted that description perfectly.
Unlocking the potential of a family-run renewables business by becoming a part of an integral part of a nationwide family of businesses
For over ten years, Alex has worked to help create a reputable, respected, and renowned renewables company in the East of England. Alongside founding directors Robert Walmsley (Alex's Father) and Phil Strickland, Alex has helped to build a company with a solid customer base. They did this by understanding the markets and what their customers were looking for, providing best-in-class product options, ensuring high-quality installations, employing skilled and qualified engineers, and growing their business based on the strong recommendations and repeat business they received. Between 2020 and 2021, Alex was crucial in helping the company increase its turnover in the region by nearly 50% from just over £1m to £1.5 million and helping it to become a part of the wider Green Building Renewables family.
Testimonials and comments, like the ones below, indicate the quality of the service and business that Alex has provided.
"A can-do attitude bothered about getting it right for the customer." Geoff Parker of Parker Nurseries
"An excellent working relationship." Mark Jenkins, Walton and Frinton Yacht Club
"Professionalism, courtesy and respect." Sharon and David Glynn.
Leaping into the unknown at a time of energy uncertainty
To be a good leader and help develop a business, you must be willing to take risks and look for opportunities to transform your company's future. This is precisely what Alex has done in the last 12 months with energy and enthusiasm, playing an integral role in helping a small family-run business in Colchester become an essential part of Green Building Renewables. He has helped establish Green Building Renewables in the region. As the company looks to the future, Alex will play a key role in helping us expand our product and services further in the East of England Region.
On the opportunity to join Green Building Renewables, Alex said, "We were a small family business. We had built a great reputation. But with the demand for renewables growing all the time, especially against the energy uncertainty of 2022, we couldn't grow the business as fast as we wanted to, or indeed were able to. We had to unlock the full potential of the business. The best way to do this was to become part of something bigger."
Well-run and established businesses, often family-run, sometimes become victims of their success within a region. The demand for renewable technology continues to grow, and companies, through no fault of their own, frequently reach the limits of their capability in marketing, recruitment and operations.
Many renewables' businesses in the UK that have delivered high-quality service over the last few decades have done so through the grit, determination and quality work of individual renewable experts and engineers who are now closing in on their retirement. As owner-directors of companies look to their future and security, the serious issue of what to do with the business next, how to secure its future, and, most importantly, that of your workforce becomes a real problem that needs to be resolved.
Alex said, "My Dad was looking to his future retirement, but at the same time, we had a responsibility to secure the livelihoods and provide security for those employed. The team was more than just our staff, these were our friends, and we had a duty to them. An easy option could have been selling or closing the business, but we wanted a better option. Joining Green Building Renewables growing nationwide network of renewable businesses was something unique. It ensured a future for the business, would allow my dad to retire, and, most importantly, give our existing staff new opportunities to work in the industry. This industry has never been more important."
Alex was a worthy award winner for the East of England region and has the understanding and business prowess to take Green Building Renewables even further in the region.
The Highly Commended Nethergate Brewery
We also achieved highly commended awards in three other categories including Nethergate Brewery for small scale installation project.
Suffolk-based Nethegate Brewery thinks differently and is committed to sustainability. They are two of the values of the business located in Long Melford near Sudbury. They describe themselves as always 'exploring, growing, learning and changing' in order to always 'stay ahead and stay fresh'.
The company is caring, considerate and committed to reducing its carbon footprint and were continuously seeking new ways to be more efficient, reduce waste and minimise its impact on the environment. They have changed their packaging to a more environmentally friendly alternative, invested in electric vehicles on site and installed charging units. They have a strong relationship with the local community and have a 2,500 membership committee which helps guide their decisions.
Nethergate is devoted to investing in its future through innovation so the installation of a solar array system by Green Building Renewables to help lower its energy costs was an obvious choice to make.
Due to the business-closing energy price rises that were happening in the summer of 2022 and for a company with high electricity needs from equipment like fermenters, stills and chiller units running all day, the company needed a solution quickly.
Green Building Renewables East of England were able to deliver them exactly what they needed.
The renewable technology was installed from our Green Building Renewables Colchester office in just two days. The system consisted of a Solis 36kW three-phase inverter and 108 Eurener panels.
Nethergate General Manager, Robert Crawford, said, "We've already made many changes to our products to become more sustainable. We use an environmentally friendly packaging alternative. We've invested in electric vehicles and charging units on-site. And now the installation of the solar panel system to harvest our energy and lowering our energy bills demonstrates our 100% commitment to positively impacting our local community, suppliers, and customers."
Our experts were able to accurately predict how much solar energy Nethergate could generate and used efficiency calculations to show Nethergate exactly what they could save and when they could expect to break even as part of its energy plan for the future.
On the project Chris Delaney, Green Building Renewables Managing Director, said, "This was incredible piece of work by Robert, Philip, Alex and the team in Colchester. The transformation of UK businesses to become more sustainable will only be achieved with the type of pioneering thinking that Nethergate has shown."
Helping businesses like Nethergate Brewery to see the commercial benefits of lowering energy bills and the potential of installing renewable technology is paramount to the work Green Building Renewables do. As the fastest-growing renewables installation company in England, working with forward-thinking business, like Nethergate, that look to the long-term future and want to invest in renewable technology is essential to Green Building Renewables ethos of work.
Green Building Renewables aims to be a partner in commercial projects. Green Building Renewables understands that a solar installation can cause disruption to a business. And a disruption can mean impacts on productivity and profit. This is why Green Building Renewables service aims to be as efficient as the products they are installing. A two-day installation for an array and storage system of this size reflects Green Building Renewables commitment to its high quality of service.
The project was 75% funded by the New Anglia Growth Hub's Road to Net Zero. This was a pilot project designed to pro-actively pivot business support and grants to support businesses towards Net Zero.
The good news local story was also picked up by the local press in The East Anglian Daily Times. You can read the article here.