Daventry
Open Now
Mon-Fri: 9am - 5pm
---
---
1 Cottesbrooke Park, Heartlands Business Park, Daventry,
Northamptonshire,
NN11 8YL
Renewable technologies installed in Daventry
I reached out to Green Building Renewables because I had been planning a solar panel installation for some time and had got nowhere with other players in the field who didn't seem interested in answering questions or who were not versatile enough to offer nonstandard solutions. (Our roof shape is not ideal).
GBR's response was almost immediate and within days of contacting them I had an extremely competitive quotation and settled on a slightly different system following face to face discussions with one of their tech experts.
Installation was quick and trouble free and I have nothing but praise for their professional staff who were efficient, knowledgeable and courteous throughout.
I highly recommend this company for installation of solar panel systems with battery storage.
Fantastic firm, don't hesitate to use them, all certification and docs handed over straight away, they made it look so easy.
Top of the class Green Building Renewables

Office admin. 10 out of 10
The whole process from start to finish was very well planned and everything happened on the day they said it would.
The lads doing the fitting were excellent. Polite, worked hard and knew exactly what they were doing and they were tidy. Great job well done.
Visit Build It Live and talk to our Daventry experts
You can't beat talking face to face! Come and discuss your renewables plans with our Daventry team on our stand at the Bicester showground.
The event is aimed at self builders and renovators wanting to meet with experts to find out about products and services involved in bringing their plans to life. It takes place in June each year, at Bicester Heritage. There are expert panels, clinics, seminars and stands – so why not make a day of it and visit us on stand E1.
Renewable energy brands we install in Daventry
Our range of renewable energy brands includes Mitsubishi, NIBE, Daikin, Vaillant, Kensa, Tesla Powerwall, Grant and Zappi
How can I find a solar panel supplier in Daventry?
With a wealth of experience installing solar panels and air source heat pumps, Green Building Renewables serves the Daventry and wider area including Northampton, Leicester, Milton Keynes, Brackley, Leamington Spa and Banbury. Installing renewable energy technology in your home or business is a considerable investment and one that needs expert design and installation. Green Building Renewables supply and install solar panels and battery storage, air source heat pumps, ground source heat pumps and EV charging points with our award-winning team of renewable energy experts, ensuring we specify the right equipment and look after you throughout the whole process, including our unrivalled after-sales support.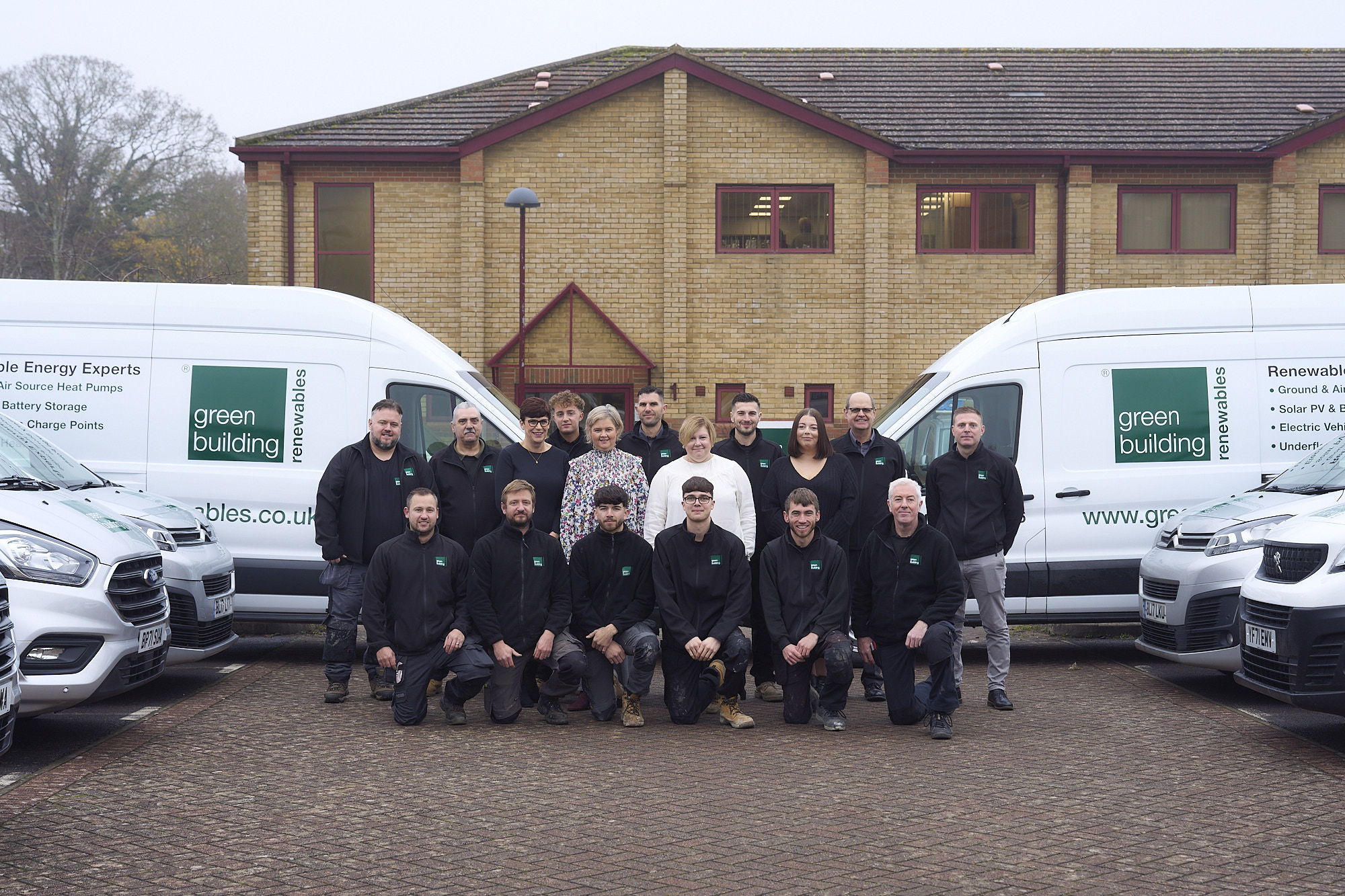 History of Green Building Renewables in Daventry
In February 2022, Green Building Renewables Daventry office was rebranded and serves Daventry and the surrounding area of Northampton, Milton Keynes, Leicester, Coventry and Leamington Spa. Initially called Bright Green Renewables this office brings renewables expertise to the wider Daventry area. The office is committed to providing the very latest renewable energy solutions, including air source heat pumps, ground source heat pumps, solar panels, solar panel batteries and EV charging points to homes and businesses.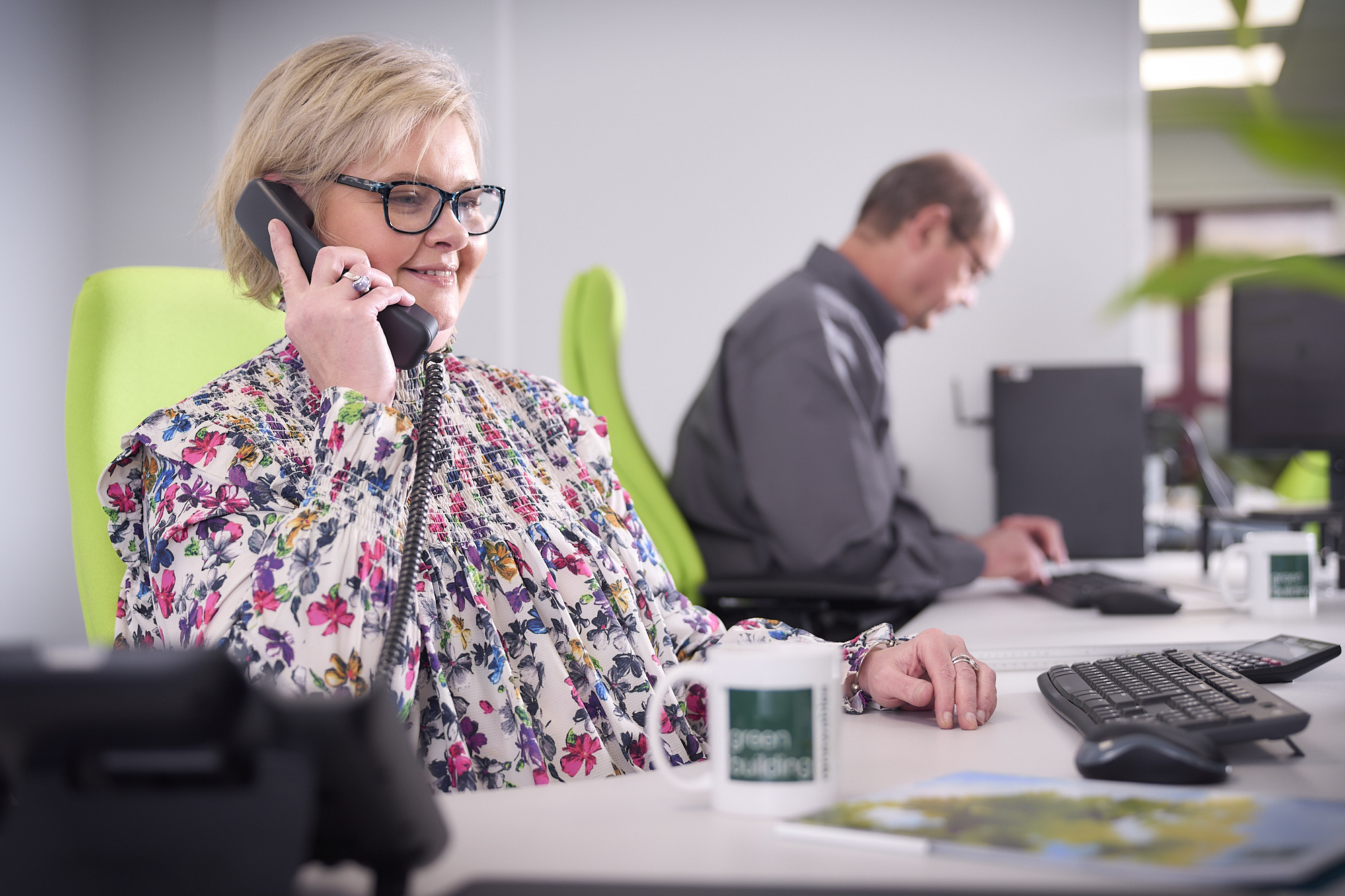 Solar energy and renewable energy solutions in Daventry
July is the sunniest month in Daventry with 199 glorious hours of sunshine, but even December has 52 hours so it is still possible to save money on energy bills in the depth of winter for both homes and businesses.
Renewable energy and sustainability in Daventry
Daventry is home for over 28,000 inhabitants and sustainability and renewables are at the heart of the Daventry District Council's pledge on climate change. As a member of the Northants Warm Homes partnership which is made up of all the local authorities in Northamptonshire who's goal it is to:
reduce fuel poverty
lower carbon emissions
help residents keep warm
It aims to fulfill these goals by advising residents of Northamptonshire to lower thier fuel bills through insulation options and use of renewables such as the installation of solar panels.
Another source of help with with energy bills available in the area is Big Switch Daventry District, which is a collaboration with Daventry District Council and iChoosr to use collective purchasing power to secure better energy deals for residents.
Residents who register for the Big Switch are entered into a collective, and energy companies bid for their custom in an auction.
This provides energy companies the opportunity to secure thousands of customers in one go, incentivising them to offer deals better than those available to the general public. The benefit to the environment is that only energy companies offering 100% renewable electricity are invited to bid.
The District Council also promotes the MCS Website as useful source of finding local qualified installers of renewables, just like Green Building Renewables Daventry.
Daventry District Council issue the following advice with regard to Planning Permissions and Renewable Energy Installations
There has been a recent change in renewable energy planning policy making it not only easier to obtain permission, but also allowing some forms of renewable energy to be installed on a dwelling or within the curtilage of a dwelling without the benefi t of planning permission and this is outlined below.
Planning Policy Statement 22:Renewable Energy, states:"The wider environmental and economic benefi ts of all proposals for renewable energy projects, whatever their scale, are material considerations that should be given signifi cant weight in determining whether proposals should be granted planning permission". There are no local plan policies that relate specifi cally to renewable energy development, however there are a number of general policies on which proposal will be assessed, these include GN1 (protect and enhance the environment), GN2 (scale, type, design) and EN42 (design and amenity).
Solar photovoltaic panels that do not protrude more than 200 mm beyond the plane of the wall or roof slope to which they are fitted, or protrude beyond the ridgeline of the roof may not need a full planning application and may be considered 'permitted development'. If your property is within a Conservation Area, you may require the benefit of planning permission. If you live in a listed building you will require planning permission and listed building consent.
How to find Green Building Renewables in Daventry
Green Building Renewables
1 Cottesbrooke Park,
Heartlands Business Park,
Daventry, Northamptonshire,
NN11 8YL
013272 28346
Email
Renewable energy installations in Daventry, and other news
What you need to know, what we know, and how we can continue to help customers bring low carbon efficient heating to their homes through the Boiler Upgrade Scheme (BUS).