Green Building Renewables help Yorkshire farms reap the benefits of solar harvest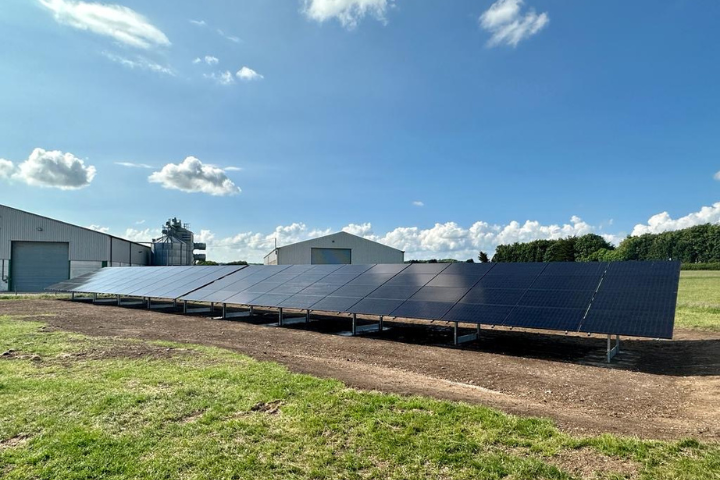 Farms across Yorkshire are embracing renewable energy and installing solar PV panel systems to help power their operations. In the last six months alone, Green Building Renewables has installed over 500kW of solar systems at more than fifteen farms across North Yorkshire and the East Coast out of our Scarborough office.
In a concentrated move towards sustainable agriculture, more than ten working farms, as well as former farms, which have been converted to commercial operations like holiday complexes and manufacturers, have taken a significant step to reduce their energy bills, dependence on the grid, and carbon footprint by installing solar panel and battery storage systems.
Farm buildings, as well as farmland, are ideally suited for solar panel installations with both roof and ground mounted systems possible due to the amount of space often available on farms.
Why should farms invest in solar?
Investing in solar panels can offer substantial financial benefits for farms. Not only do they reduce energy bills, but they can also generate income through the Smart Export Guarantee (SEG)—an incentive that provides financial rewards for generating renewable electricity and exporting excess power back to the grid. Additionally, solar battery storage systems allow farms to store excess energy during sunny periods and utilise it during high demand, further maximising savings.
Peter Southwell of Southwell and Knapton in Sancton, York, who recently installed solar PV systems on two farms in Sancton and Beverley, said, "We needed to future proof our business from the current and future energy crises. Investing in renewables has allowed this as well as reducing our carbon footprint on the farm, which will be increasingly important as we move towards net zero."
"The energy price crisis has dramatically impacted farms over the region and country in the last eighteen months. Installing solar panels allows us to lower our energy bills and be less reliant upon the grid."
June 2023 was the warmest on record in the UK, and hot summers are predicted to be even more frequent. Solar energy, therefore, has the potential to harness even more power for farmers and farms over the summer when their energy usage and cost are high.
The farms, known for their dedication to responsible farming practices, have recognised the urgent need to transition to renewable energy sources. By embracing solar power, they are reducing their reliance on traditional fossil fuels and promoting cleaner air and a healthier ecosystem within the region.
The installation of solar panels marks a significant milestone for the agricultural sector in Yorkshire, demonstrating the industry's commitment to sustainability and a low-carbon future. By adopting renewable energy solutions, these farms are taking proactive steps towards achieving the region's ambitious climate goals and inspiring others to follow.
Manor House Farm, an arable farm in Garton-on-the-Wold, recently had a 30KW ground mount solar PV system fitted with three Tesla Powerwall2 installed by Green Building Renewables. Chris Massey of Massey Farmers LTD said, "The agricultural sector faces many challenges in the future. Energy prices have already been one of them. Installing a solar PV system and battery storage reduces our reliance on the grid and the volatility around fossil fuels. We want to transition towards more sustainable energy systems, and companies like Green Building Renewables can play a huge role in helping farms to achieve this."
Despite the UK's reputation for cloudy weather, the UK still receives a substantial amount of sunlight throughout the year, making solar energy a very viable option. At the same time, advancements in solar panel technology have significantly improved their efficiency, allowing them to generate electricity even in lower light conditions. Our long summer days are particularly advantageous when generating electricity during the peak summer period.
Watch our video of our installation at Calcott Farm
Managing Director of Green Renewables, Chris Delaney, said "The recent work that our Scarborough Office has done reflects a growing trend that we are seeing across the country of farms, and other commercial buildings, adopting solar energy to power their operations. Energy costs are still very high, having more than doubled in the past five years, and despite a temporary decline over the summer, all evidence suggests that the long-term trend for energy prices is still upwards. For high energy use industries like farming, the payback time on installing a solar PV system is relatively short. When farmers factor in energy storage options and sell surplus energy back to the grid, they can see huge dividends from investing in solar for their farm."
If you are a farmer, or own a farm, and are interested in lowering your energy bills and improving your carbon footprint then we can help. Our regional teams across the country can install solar PV, battery storage, heat pumps, and EV charging technology on your farm. Find your local team and nearest office here and get in touch today to reap even more from the sun.
You can read about the story here in the media.