Green Building Renewables achieves bronze award by pledging its support to the UK Armed Forces Covenant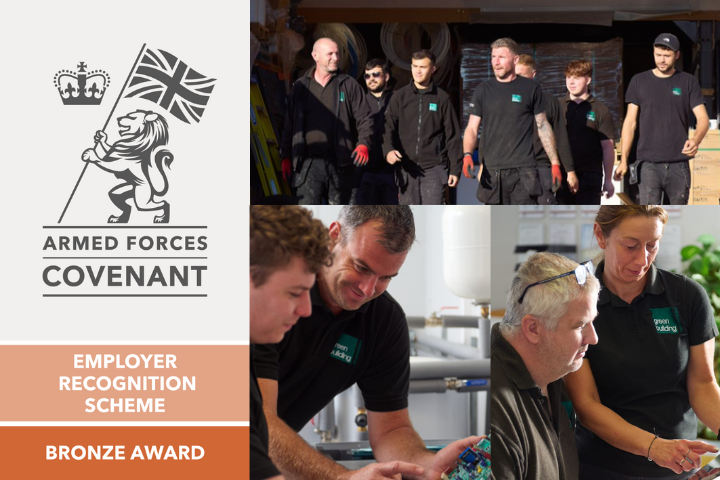 We are proud to announce that we have pledged our support to the UK Government's Defence Employer Recognition Scheme (ERS) and earned Bronze Award recognition by aligning our values with its Armed Forces Covenant.
The scheme encompasses bronze, silver, and gold awards for employer organisations that pledge, demonstrate or advocate support to defence and the armed forces community.
By achieving the bronze award, we show that we support the armed forces, veterans and their families. Our commitment to the scheme ensures that anybody applying for roles at Green Building Renewables with a military background, or family members in the armed forces, will not be refused employment based on those facts.
We were nominated for the award by one of our employees whose husband serves in the British Army. Our head office in York has proximity to two British Army barracks, Imphal in Fulford and Queen Elizabeth in Strensall. Currently, we have three members of staff in our York office who have spouses serving in the Army, all of whom are based out of Imphal Barracks. We also have staff in our Newcastle office who have family actively serving too.
The award recognises how we have supported staff with relatives in the armed forces by helping to create work routines and hours that consider the service of their partners and the impacts it has on family life.
Green Building Renewables Managing Director Chris Delaney said, "This is a true honour and something I am extremely proud that we have achieved. Knowing that our actions to be a considerate and flexible employer are appreciated by staff with family in the armed forces demonstrates our commitment to being the best employer we can be. Our head office in York is very close to two British Army barracks, and we value the service of all the military personnel and their families based there."
The next award is the Silver award. which we have already begun our work towards and hope to achieve in the distant future. 
Group Project Support Officer Helen Gaffney said, "Working for an employer that is forces-friendly and understands the nuances of having a serving armed forces member in your family is incredibly important. Chris and Green Building Renewables have always supported my family and me, and it provides great comfort knowing that my employer is willing and able to create a work-life balance that suits my family and me."
You can see our signature on the Armed Forces Covenant here.
Efficient Building Solutions People Director, Jill Delaney said, "Green Building Renewables recognition by its staff for its commitment to the armed forces is fantastic. It demonstrates perfectly the working environment and ethos we want to create across all our businesses. At Efficient Building Solutions, we want our people to flourish and grow in an inclusive and supportive environment. And we will continue to build positive, high-performing work environments in all our businesses that take into account how each employee's circumstances may differ."