Yorkshire East Coast expansion for Green Building Renewables as turnover surpasses £26 million with two new offices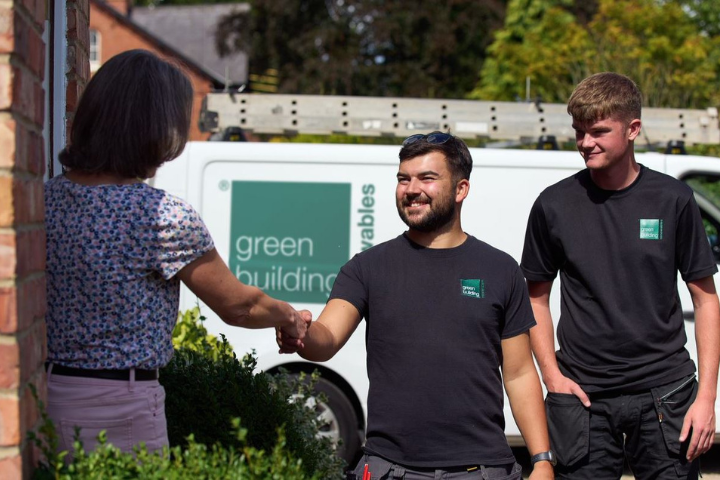 Green Building Renewables (GBR) has continued its rapid growth in Yorkshire with the acquisition of Scarborough-based business MYelectrical Renewables to help meet the increasing customer demand for technologies like solar panels and heat pumps.
MYelectrical Renewables is our sixth acquisition in 18 months. In the same period, the company's annual turnover has grown from £3m to £26m, and the staff number has grown from 18 to over 130. Our ambition is to grow our turnover to £100m by 2025.
Adding My Electrical to Green Building Renewables allows us to offer our range of renewable technology solutions, including air and ground source heat pumps, underfloor heating, solar PV, EV charging, and battery storage to customers across the whole of the East Coast of Yorkshire.
The company's growing nationwide network already includes York, Doncaster, Daventry, Wellingborough, Colchester, Newcastle and Norwich offices. Adding MYelectrical Renewables increases our reach further and allows the company to provide local delivery of installations in a new region.
Due to the current demand for its services and products, Green Building Renewables has recently opened a second office in York. Located in Foxoak Park, Dunnington, the new facility neighbours our existing York HQ and will be home to our management team.
Chris Delaney, managing director of Green Building Renewables, said,
"In the last 18 months, we have increased our coverage across Yorkshire. First, with our new office in Doncaster and now with expansion onto the East Coast, we are the fastest growing renewable installation business in the region, and we believe nationally too. As a regional leader, we aim to offer world class advice and installations across Yorkshire and the country.  We welcome Dan and his team to ours and look forward to helping customers on the East Coast capture the energy of Yorkshire's seaside sunshine. It's predicted that the world will add as much renewable power in the next five years as it did in the past 20. We want Yorkshire to be a leader in this global energy transformation. We aim to drive this transformation across the country too, which is why we have also opened our second office in York to house our management team. We will grow our business in a way that provides customers with a local service for a national solution to a global issue."
In due course, MYelectrical Renewables will rebrand to Green Building Renewables as it becomes a part of the company's network of local renewable technology installers, recruiting new Solar PV installers and heat pump engineers across the country.
Dan Oram, MYelectrical Renewables founder director, said, "I am extremely proud that Green Building Renewables identified MYelectrical Renewables to join its rapidly growing network of renewable technology installers. Their decision reflects the quality of the service we already offer. The opportunity to join Green Building Renewables allows our team to offer more services and products to our regional customers. At the same time, it also allows me more personal freedom to pursue other interests as we join Chris and his team."
Green Building Renewables is an Efficient Building Solutions business – a purpose-led company committed to tackling the climate and ecological crises by radically improving the UK's buildings. Efficient Building Solutions combines design, consultancy, and product supply. It installs low energy technologies and products into residential and commercial buildings across its three businesses: Green Building Renewables, Green Building Store, and QODA Consulting.
Philip Fellowes-Prynne, Efficient Building Solutions CEO, said:
"Green Building Renewables growth in Yorkshire and across England in the last 18 months has exceeded expectations. The demand for low carbon and renewable technology is apparent, and the energy crisis has magnified this, which is why the company has added two new offices in the region. One that allows us to operate on the East Coast of Yorkshire and one to efficiently accommodate the management team to meet our growth ambitions Green Building Renewables, we believe, will be the leader in nationwide domestic renewable installation by 2025. We welcome Dan and his team to Green Building Renewables and will continue to actively seek suitable businesses to acquire and join the Green Building Renewables network."
You can read more about the acquisition in the following media: