Green Building Renewables shines bright at the inaugural North Yorkshire Apprenticeship Awards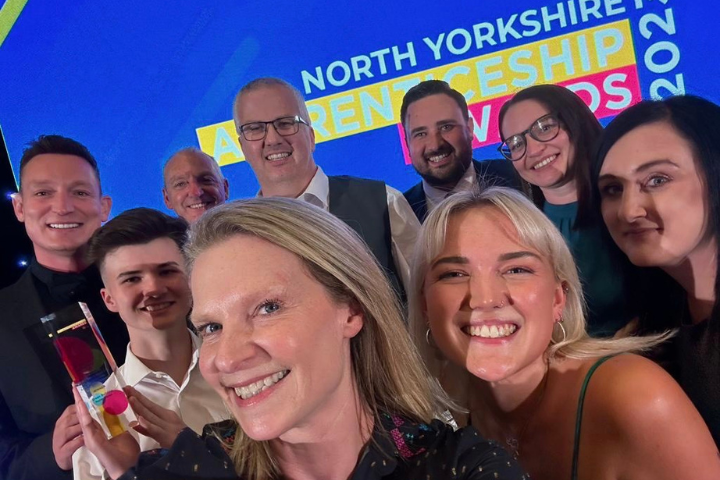 Last week, Green Building Renewables won SME Employer of the Year at the first-ever North Yorkshire Apprenticeship Awards held at York Racecourse. The accolade recognises our commitment to fostering growth, innovation, and skill development by nurturing the renewable workforce of the future.
As well as winning the best SME in North Yorkshire, we also had two nominations in the Engineering/Manufacturing Apprentice category with Charlie Shipley, a second-year apprentice at York College and Curtis Ball, a first-year apprentice at Selby College. While Charlie and Curtis didn't win on the night, we are extremely proud of their achievement, which reflects their incredible work as apprentices within the company. Training young apprentices to be solar PV installers and renewable heat engineers is an integral part of building our nationwide network of installers and is essential to our ambition to be the UK's largest installer of domestic renewable technology by 2025.
The North Yorkshire Apprenticeship Awards recognise and reward the apprentices and their employers excelling across the region. The award ceremony was hosted by TV and Radio Presenter Rich Williams. A list of all the winners on the night, including Green Building Renewables, can be seen here on the Yorkshire Post website.
Our commitment to investing in the local communities where we work has been a driving force behind the development of our apprenticeship scheme and our in-house training hub in York, where students can practice using renewable technologies. We have apprentices across several of our offices, and we are constantly looking at ways to expand our scheme.
Our Managing Director, Chris Delaney, said on winning, "We are humbled to receive the SME Employer of the Year award. This recognition is a testament to our ongoing commitment to investing in the future of our industry and supporting the next generation of talent. Our apprenticeship scheme not only equips young people with invaluable skills but has also contributed to the growth and success of our company.
"Renewable energy installation is going to be essential to the UK economy over the next few years, and we are confident of the role that we can play in helping to create the skilled workforce that is needed to ensure that technologies like solar and heat pumps are installed correctly across the UK. We pride ourselves on our technical expertise, and it doesn't matter if our engineers have 20 years' experience or one year's experience; we will train them to the highest level."
Our apprenticeship scheme offers people a comprehensive learning experience. Apprentices can learn with on-the-job training alongside the company's experienced engineers. Compared to many apprentices taking traditional electrical and heating engineering routes, those at Green Building Renewables are exposed to and learn about technologies and skills that many of their peers don't. Apprentices gain hands-on experience installing solar panels and heat pumps, as well as maintaining and designing energy systems.
Angela Jones, People Manager at Green Building Renewables, added, "Our commitment to providing opportunities for young people aligns with the government's wider agenda of fostering apprenticeships to address the skills gap and drive economic growth. The need for skilled renewable energy installers will be paramount as the country aims to meet its future carbon emission and environmental commitments. By nurturing local talent through our local offices and promoting renewable and low-energy solutions, we are actively contributing to a more sustainable future."
If you want to become an apprentice at Green Building Renewables, please don't hesitate to get in touch.
Read the winners' E-Magazine from the awards ceremony here.