Ground source heating added to solar powered North Yorkshire home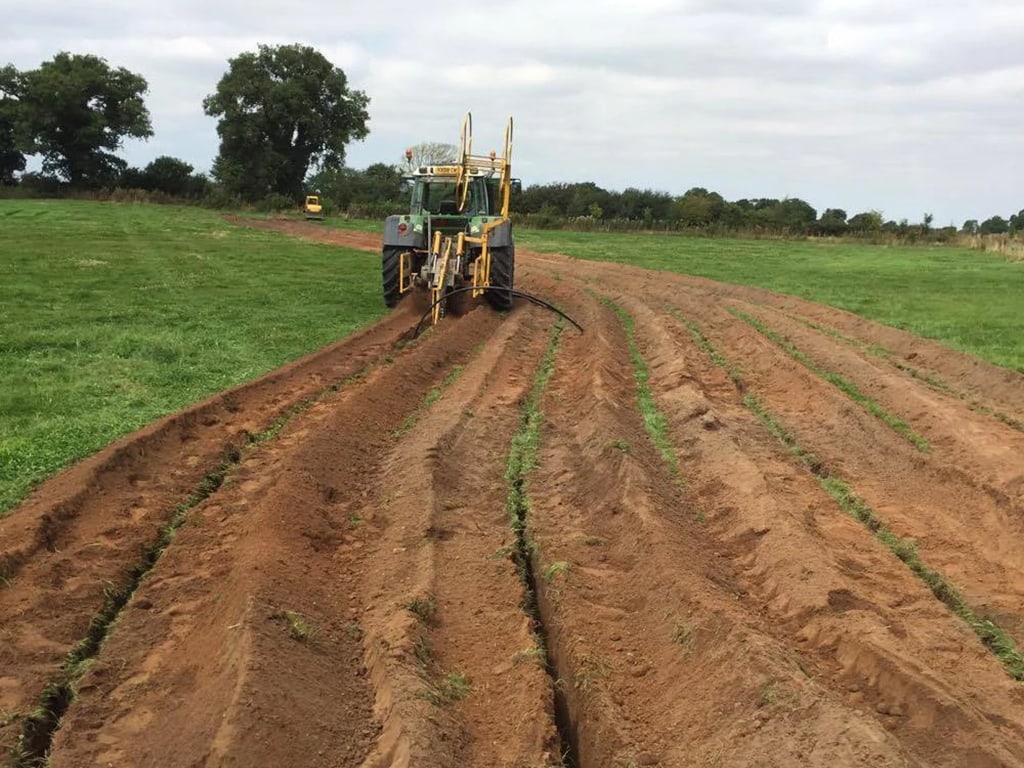 In the picturesque North Yorkshire village of Aldwark one of our customers is increasing his green credentials. So pleased with the performance of the electricity generating solar panels installed in December 2015 Mr G felt that his heating system should also make use of the renewable technology available so he contacted us again to provide a solution.
Our York renewables team carried out a full detailed survey or the property and calculated the property's heat loss requirement, took measurements of the surrounding garden and made our recommendations. While the property is enormously well insulated and has top of the range A rated windows, the house is large enough that the 19.8kW heating demand was too much for a single ground source heat pump.
We have dealt with a situation like this many times in the past and were able to design a highly efficient solution using 2 heat pumps in a buddy system. This means that one of the heat pumps is programmed to be the primary source of heating for the property. If and when the outside temperature becomes too low for that heat pump to cope by itself the other unit fires up to give the heating system the boost it needs to reach the desired internal temperature.
This is a highly efficient way of running a heat pump system for a high heating demand property as it means that the system is always only using as much energy as it really needs.
The System
Heating: 1 x 11kW & 1 x 8kW Vaillant GeoTherm Ground Source Heat Pump with 500 litre buffer cylinder.
Hot Water: 300 Litre Joule heat pump compatible cylinder
The property is a village which is not connected to the gas grid so our customer was switching from an oil central heating system to a system which does not require fuel level monitoring, is no longer subject to the vast, unpredictable fluctuations in price or the potential pitfalls of fuel delivery.
The Project
Mr G is lucky enough to have vast open space behind his home which meant installing the ground loops was very straight forward. The ground source heat pump system required 5 x 250m lopped trenches to be dug and with the help of our great friend and colleague Will McDermott of WM Rural Contractors we were able to make a very tidy job of it, I am sure you will agree.
Ground loops in and the ground back filled we set about installing the heat pumps in the garage, where they would be out of everyday sight but easily accessible for maintenance and their annual service.
Then we moved on to the underfloor heating. Mr G was keen to make the heating system as efficient as possible and the inclusion of underfloor heating does just that. Underfloor heating works by radiating a lower temperature of heated water than traditional radiators which means that the heat pump does not have to work as hard to heat the water flowing around the system, making it more cost effective to run the heat pump and more comfortable for the homeowner.
Financial Benefits
Ground Source Heat Pump
Installation cost (excluding UFH)

£28600

Fuel Savings against Oil (@45p per litre)

£1315

Renewable Heat Incentive

£4987.52

Return on Investment

22%
RHI Payments are made for 7 years for domestic customers. Payments are index linked and tax free in domestic dwellings.
Solar PV
Installation cost

£6293

Feed-In Tariff (@12.47ppkW as at Dec 15)

£448.18

Export Tariff (@4.84ppkW)

£86.57

Electricity Savings (@14ppKw)

£299.98

Fuel Savings for hot water production

£150

Return on Investment

16%