The Ultimate Heat Pump Maintenance Guide – Our 5-step guide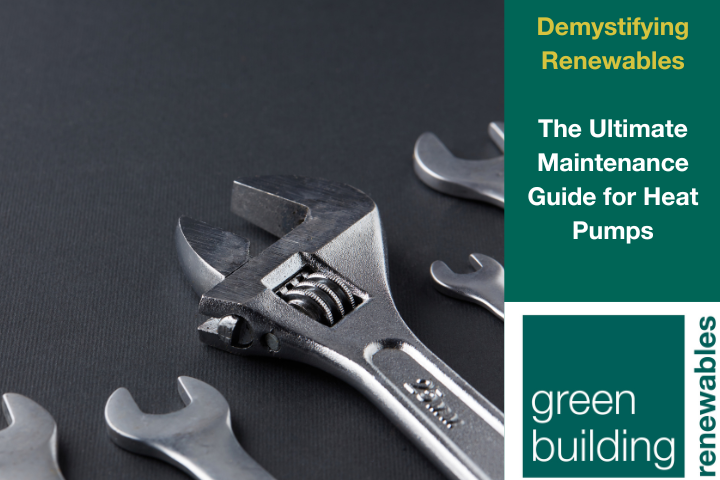 If you've made the leap from a gas boiler to an air source heat pump (ASHP) – congratulations, you've started an exciting journey of reducing your carbon footprint while saving money on your energy bills.
Furthermore, the good news is they require very little maintenance, which helps to make them a relatively seamless upgrade to heating your home and providing hot water.
However, as with anything in life, it's still important you help keep your system running efficiently to maintain lower bills and extend the lifespan of your heat pump.
Therefore, here at Green Building Renewables, we've compiled our top tips to help you stay on top of the maintenance of your air source heat pump all year round, so you can sit back and relax, feeling comfort in your home.
Table of Contents
Why Air Source Heat Pump Maintenance Matters:
As with any mechanical device, the importance of regular maintenance when it comes to your air source heat pump is that it ensures the device works as it should and is efficient. The last thing you need is the worry of costly repairs. Plus, with an average lifespan of 20 years, you'll want your heat pump to last for decades.
1) Pre-Season Preparation
When it comes to maintaining your heat pump, the best time to run any maintenance checks is during the summer months to ensure your system runs effectively before the colder months roll in.
Keep it Spick and Span – as part of your cleaning kit, a nice soft brush would be ideal for dusting away any dirt and debris from several areas of your ASHP. This includes the coils and fan blades. You can then use a damp cloth to wipe down areas your brush can't clean.
Replace and/or Clean Your Filters – depending on your chosen system, your ASHP installer will advise you how often you need to clear or replace your filters. Generally speaking, cleaning your filters will depend on how dirty they become, which could impact their efficiency while replacing filters could be done once a year.
2) Regular Spot Checks
By taking time to do regular spot checks on your ASHP you can help keep it in tip-top condition.
Drain Tray – keep an eye on the drain tray, which collects condensation from the unit. If it becomes full, it could overflow onto your path and freeze in colder weather, becoming a slip hazard. It could also become mouldy or create algae, so it's always advisable to stay on top of it and clean it out now and then.
Antifreeze – try and stay on top of refilling the antifreeze, as this helps prevent the unit from freezing over winter. It's one of those minor jobs that could make a big difference in helping to prevent your ASHP from breaking down when you need it most.
Water Pressure – similar to a gas-fuelled boiler, you'll need to review the water pressure of your ASHP at regular intervals. Depending on the size of your property, this could range from 0.7 bar to 1.2 bar; your installer will have confirmed what's right for your home at the point of installation, and make sure you check the pressure when the system is cold (not in operation).
3) Check for Obstructions
As you'll know, an ASHP works by using air from the outside as a source of heat, but for it to work effectively, you'll want to ensure you don't have any obstructions in front of it that could prevent it from working efficiently. Try to keep any grass that is close by short and clear away any leaves or debris that may get in the way of the unit.
4) Thermostat and Controls
We're fortunate to live in a world where our heating and hot water can easily be controlled either via our phones, thanks to smart apps or digital controls, and this is no different when it comes to air source heat pumps. However, now and then, it would be worth checking your thermostat and thermostatic radiator valves (TRVs) are working in harmony. Do they all respond accordingly if you increase or reduce the temperature output? Any issues, it's worth calling out an engineer to investigate what could be causing this issue. Furthermore, it is worth checking the controls for the hot water to ensure the system works as it has been programmed to do.
5) Professional Maintenance
You can do everything you can to maintain your ASHP, but it's also worth considering an annual service for a more detailed and expert health check of your device, ideally during summer or autumn. An annual service, either organised through your ASHP installer or by yourself, carried out by a qualified technician that can inspect and service your heat pump to address any potential issues, should give you peace of mind that your system is in good working order before you reliance on it kicks in during winter.
Conclusion
Looking towards the future and investing in sustainable technology to help reduce your carbon footprint as well as your energy bills is high on most people's agenda. Once you've made the leap to getting an air source heat pump installed, as with any investment, you want to ensure you get as much bang for your buck as possible.
Staying on top of your heat pump maintenance is a good start to ensuring your ASHP lasts many years while working effectively when you need it most. From routine cleaning down of visible parts to trimming the grass and clearing away any debris that could obstruct the system, several small jobs can help make a big difference to how efficiently your ASHP works.
If an air source heat pump is your first step towards living a more sustainable life, here at Green Building Renewables, we can provide you with tailor-made environmentally-friendly solutions to meet your future energy needs including: solar panels, and electric vehicle charging points. Take a look at our office locations to find your nearest installer to discuss your renewable energy needs.