Inspired by (and inspiring) the next generation of Sustainability Leaders at Leeds Beckett University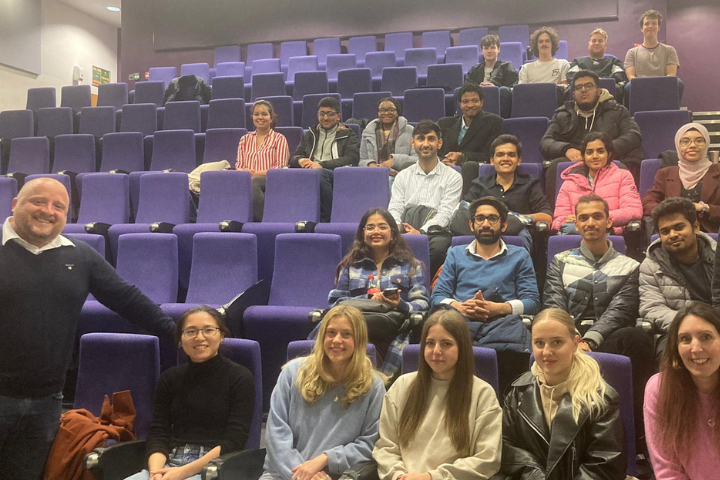 Few issues are as crucial for the next generation of business leaders to understand as sustainability.
Those currently studying at university and schools who will soon enter the workplace face a future where sustainability issues dominate workplace discussions. A competent business leader of the future can only be a good leader if they are sustainability literate. And employers must look to find people who understand the real challenges faced by the planet, businesses and communities.
Green Building Renewables is no exception. This is why we recently jumped at the opportunity to participate in Leeds Beckett University's (LBU) Sustainability Challenge event. It was an incredible opportunity to inspire and, more importantly, be inspired by the minds and ideas of the next generation of leaders.
What was the Sustainability Challenge Event at Leeds Beckett University?
This year LBU held its inaugural Challenge Week. Over a week, the university set five challenges, with cash prizes, for students to participate in as groups. The event brought together over 100 students from different subject areas, including Illustration, Product Design and Fine Art, Law, Business, Engineering and Events, to develop their team working, communication and problem-solving skills whilst addressing real-life employer-set challenges.
For each challenge, students participated in an all-day event that involved problem-solving a real-life challenge proposed by businesses. Students worked in groups to put forward a solution to whatever question or challenge each company was asking. One of the five challenges was a Sustainability Challenge, which Green Building Renewables were delighted to be asked to set for the participating students.
Why did students want to participate in the Sustainability Challenge?
Sustainability is an essential issue for university students to understand. Sustainability refers to the responsible use and management of resources to meet the needs of the present without compromising the ability of future generations to meet their own needs. It encompasses environmental, economic, and social dimensions and requires a holistic approach to problem-solving.
Sustainability literate university students are highly employable. Those who understand sustainability issues become informed global citizens capable of making responsible decisions that will help create a more sustainable future. They can also use their knowledge and skills to advocate for sustainable practices within their communities, workplaces, and society.
The Sustainability Challenge Day was an excellent opportunity for students at LBU to network, participate in real-life business challenges, and gain new perspectives to solve sustainability challenges.
Like many universities, LBU wants to play a critical role in advancing sustainability through research, teaching, and outreach. This event was an example of good practices for how important it is to educate and train the next generation of sustainability leaders.
There was also the chance for the winning team to win £1,000 to share!
Why did Green Building Renewables participate in the Sustainability Challenge event?
We were delighted to be involved in the event at Leeds Beckett University. Managing Director Chris Delaney said,
"The future of renewables in the UK depends on having an inspired, committed and educated workforce. The next generation of business leaders can't be a bystander as many previous business leaders have been regarding sustainability and must meet the challenges we face head-on. As an employer, we want to know that young and talented minds are coming into the workplace who understand the challenges ahead that businesses with sustainability at their core face.

"This was a fantastic opportunity for us to be involved, and I am delighted we could attend. Sustainability is an ethical imperative. As global citizens, all businesses are responsible for contributing to the well-being of society and the planet. Sustainability-literate leaders can help to navigate complex challenges and develop strategies that balance economic, social, and environmental considerations for long-term success. We wanted to see firsthand if Yorkshire-based students could meet these challenges."
H2 – What happened at the Sustainability Challenge Event?
On the event day, Green Building Renewables Digital Marketing Specialist Ryan Roodt attended the event alongside Communications Manager Ryan Lewis from our parent company Efficient Building Solutions. Both Ryans were there to set the challenge for the day and then judge the student groups alongside LBU staff.
Students were asked to solve one of two sustainability challenges with a marketing campaign and a digital aspect. Nearly 30 students attended the event, and they were split into five groups, and the two challenges were divided between them. The five groups had the whole day to work on their challenge, and then at the end of the day, they had the opportunity to present their campaign ideas in front of the judges. The challenges gave the groups a chance to practice communication, research, teamwork, and time management skills by having to complete this challenge in only a day.
The standard of the presentations and ideas from the groups was incredible. Students had created films, radio adverts, scripts, marketing slogans and social media visuals demonstrating their understanding of the challenges.
Despite the close competition between all the groups, there could be only one winning group to take home and share the cash prize. Ultimately, the winning group consisted of five students Molly Clarke, Anna Fulcher, Gabriele Jankauskaite, Katie Waters and Emily Webster. The judges all agreed that the winning group had presented the most complete and compelling campaign. Their presentation had, according to Ryan Roodt, "business-ready" marketing ideas that could be used straight away to communicate to our customers.
However, all the students who participated in the event deserve congratulations for demonstrating such commitment over the day to bring together many fantastic and unique ideas.
Mike Hall, Careers and Employer Consultant and judge on the day, said about the event,
"Working with Green Building Renewables on our Sustainability Challenge has provided a fantastic opportunity for our students to work on a real-life project set by an employer where they could develop their skills in marketing, project management and consultancy. The challenges addressed real sustainability problems and engaged students on the topic with a target audience that could make a difference.

"Our students' passion for this subject came across clearly, and their ideas and creative ways to address the challenges were innovative and well-researched. Our students gained valuable experience that will aid their career exploration, and Green Building Renewables were able to draw upon the creativity of our students in providing them with implementable ideas to resolve business issues. Collaborations like this are invaluable in supporting students in their career journeys."
The event demonstrated perfectly to us that there are future sustainability leaders in our local and regional universities who have more than the capability to be vital members of our workforce and who can bring fresh and creative ideas to our business.
Careers and Employer Engagement Coordinator Hannah Dixon, who also helped organise the event, said,
"It was incredible to see students being so collaborative on such an important topic, such as sustainability, and seeing them be inspired and inspiring others with their diverse ideas was exactly what we had hoped for."
Green Building Renewables is now discussing with Leeds Beckett University to see how they can further strengthen the relationship between the two organisations, so watch this space!