InstallerSHOW 2023: Expand your horizons and join Green Building Renewables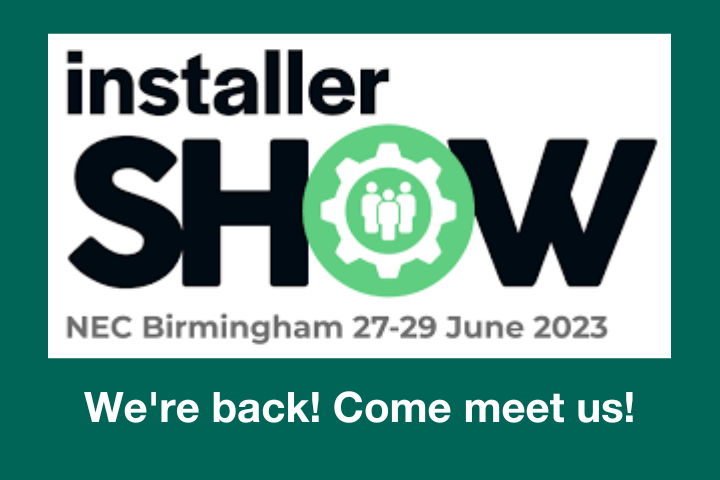 One year on, and we're excited to be back at the InstallerSHOW at the NEC for our second time. In the last twelve months, we have acquired five more reputable local renewables businesses from around England to join the Green Building Renewables network, and we have grown our turnover to over £30 million.
We're back at the show this week to start new conversations and meet other renewable companies and installers who want to expand their horizons and become part of something bigger. We are looking for companies and individuals who want to play a critical role in helping the UK transform to renewable technologies and help households and businesses around the country lower their energy bills, reduce their carbon footprint and positively impact buildings nationwide.

What is the InstallerSHOW?
InstallerSHOW describes itself as "the UK's number one destination for influential installers and specifiers of heat, water, air and energy technology." It is an opportunity for all those attendees to try new product innovations, network, and gain industry insights. There are speakers, live opportunities and an exhibition with hundreds of stands. We are on stand A15 from June 27th to June 29th, and we want to meet companies who want to join our journey to becoming the UK's largest installers of renewable technologies.
If you're a reputable local renewables business, why should we talk at the InstallerSHOW?
We know that reputable local businesses are essential to the renewables industry and crucial to the communities in which they work. Great regional renewables companies are known for their personalised service, robust customer ties, and deep-rooted values. Many companies that have joined the Green Building Renewables nationwide network fit this description. They were respected, reputable and renowned companies in the regions where they worked, and customers trusted the high quality of their work. We look for this in our companies and are the type of business we always want to converse with.
If you're an outstanding local business already, why should you consider joining a more extensive nationwide company? In today's competitive renewables market, there are numerous advantages to joining Green Building Renewables in our mission to transform UK homes with renewable energy.
The benefits of joining the Green Building Renewables nationwide network
Access to Greater Resources: One of the primary advantages of joining Green Building Renewables is gaining access to a broader range of resources. You can tap into our established infrastructure, financial stability, and robust support systems by aligning with us. This increased access to resources in operations, marketing and people can empower your business and help provide an even better customer experience.
Expanded Market Reach: Local businesses typically cater to a specific community or region. Joining our larger nationwide company presents an opportunity to expand your market reach exponentially. By leveraging the national network, you can reach customers further afield. This opens the door to a more extensive customer base, increased sales potential, and the ability to grow beyond local boundaries.
Brand Recognition and Credibility: Building brand recognition and credibility takes time and effort, especially for small local businesses. You will benefit from our established brand reputation and credibility by affiliating with a larger nationwide company. This association lends immediate trust and confidence to your business, attracting new customers who may be more inclined to choose a recognised brand. The increased visibility and credibility can propel your business forward, reinforcing customer loyalty and attracting new opportunities.
Professional Growth and Learning Opportunities: Joining our nationwide company exposes your business to many professional growth and learning opportunities. You gain access to a diverse talent pool and team across the company. Collaborating with more professionals from different backgrounds and experiences in the renewables industry helps us to foster innovation, creativity, and the exchange of best practices. Exposure to new ideas and perspectives can transform your operations, allow for continuous improvement, and unlock your business's full potential. You will also benefit from the employment benefits we offer as a larger company.
Adaptation to Changing Market Trends: The renewables landscape is ever-evolving, with increasing consumer knowledge and preferences, technological advancements, and market trends. Joining our larger nationwide network ensures you stay ahead of the curve. Our market research capabilities and industry insights enable you to adapt your products, services, and strategies. This agility helps you remain competitive and relevant in an ever-changing marketplace.
Succession Planning and Long-Term Stability: In particular, succession planning is crucial for smaller and family-run businesses. Joining our nationwide company provides a clear pathway for the future of your business and ensures its long-term stability. This is extremely important for anyone looking to retire and wants to ensure the company you have built continues and the staff you employ have a secure future. By becoming part of Green Building Renewables, you can leverage our resources to facilitate a smooth transition and secure the future of your business.
So, if you're a business owner looking to sell your business, the InstallerSHOW presents an exciting opportunity to connect with us and explore new possibilities. By visiting our stand, A15, you will gain information on our nationwide network, hear from our team, and learn about our resources to facilitate a successful merger with Green Building Renewables.
Our ambition to build an unrivalled network of local renewable energy experts across the UK requires it to engage with the best in the industry, to meet and discuss technology. Attending the InstallerSHOW for the second year at the NEC Birmingham will benefit our business and our consumers, thanks to what it will learn and the discussions the team will have.
We want to meet individuals and businesses with the same ambition and passion for the UK's renewable sector. The UK's need for renewable technology continues to grow, as does the public's awareness of why we must transform our buildings into low-carbon and renewable technologies. We recognise the necessity for a renewable business to take the lead in providing customers with the best renewable products and services available. Creating a national network of renewable energy experts that thinks globally but acts locally is the best way for UK consumers to access cutting-edge renewable technology for their homes. To meet our vision, we want to employ the best people possible, and it believes the InstallerSHOW this week is a great place to do that.
If you're attending InstallerSHOW at the NEC, Birmingham, this week and want to discuss how you could become a part of the Green Building Renewable story, find us at stand A15.