Self build and renewables: 11 things to consider to make your dream home better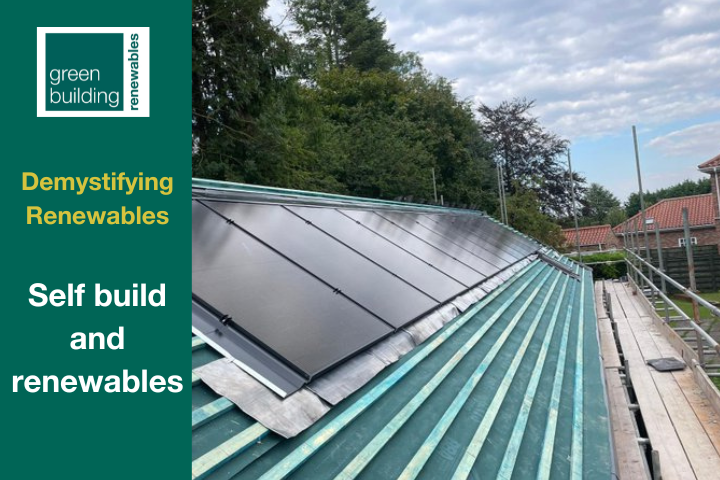 Self builders and Green Building Renewables
We regularly attend exhibitions and shows for self builders, like the Homebuilding and Renovating Show in Harrogate.
At self-build events, we have conversations and meet people somewhere on the journey of building or self-commissioning their dream home, whether at the initial planning stage before they have even purchased a plot of land or at the final stages of decoration.
This blog will outline some key facts and figures about self build in the UK and discuss when and how to factor renewables into your dream home.
Table of Contents
What is self build?
Self-building or self-commissioning a home in the UK is an exciting and rewarding endeavor, allowing individuals to create their dream homes tailored to their specific needs and preferences.
Despite the incredible experience and achievement that building your own home can be, England has the world's lowest known percentage of self commissioned homes. It is the biggest difference between our housing market and others in the developed world. In Austria, Germany, Japan, Italy, Belgium and Poland, over 50% of newly built housing are self build.
According to The National Custom and Self Build Association (NaCSBA), we should be delivering over 100,000 self-build homes a year in England instead, we are delivering around 13,000 despite the fact that one in three people in the country would like to self commission a home one day.
An 'Englishman's' dream is to own his castle, and to build it too.
A new home is the most expensive new item that most people ever purchase but rarely is that 'new home' ever a new item, and most people have no direct input into a house design when they buy it. Retrofit and renovation allow for some customisation of a home, but it is not the same as building your own home.
Custom and self build homes empower the customer through the choice to create their dream home. Simply put, custom and self built homes can be defined as a home that has been built to the plans or specifications of the occupant. In most cases in the UK, a self build is uniquely designed for its occupants by an architect.
In more advanced self build markets, like Germany, customers can choose homes to a standard design. Websites in Germany allow customers to compare thousands of designs of homes alongside construction companies who can build them.
In the UK, there are two main options for customs when it comes to homes where the occupant has input into the design. Due to a lack of clear definition in the market NaCSBA recently defined these in its 2023 report as:
Self build
A home built to the design and specification of the occupant on an individual plot or on a multi-plot site where the customer has a choice of builder
Custom build
A home where customer choice is restricted to a single builder and/or by nature of being flats and apartments, but choice is maximised. As a minimum, this includes full choice over the interior of the home.
In the UK, a greater understanding of self build homes both by consumers, the construction industry and, most importantly, local authorities is crucial to see them as an integral part of the new home market and to help remove the scepticism that still exists in the UK.
12 Facts about self builds in England
Here are twelve interesting facts about self builds in England based on the NaCSBA 2022 and 2023 annual reports.
The average size of a self build in the UK is 238m2
One in two self builders install a sustainable heat source
The average budget build is £312,00, and the average cost of a plot of land is £253,000
Over 50% of aspiring self builders are between 45-64
The number one obstacle is finding the plot
Choice is the biggest motivating factor for self builders
90% of self builders would recommend self building to a friend
70% of self builders want a plot of land within or on the edge of a smaller settlement
Almost half of self builders opt for timber frame or SIPs systems, with only 14% favouring traditional brick and block construction
Over 30% of self builders have a budget between £350k to £500k and nearly 70% say there funding comes from savings
38% of self builders are retired
40% of people find their plots of land through estate agents or auctions
Why self build a home?
There are many reasons that motivate people to self build in England
1 – Choice in self building:
For many it is the opportunity to get exactly the home they want. Seventy-four per cent of self builders describe this as their motivating factor. Self builders have complete control over the design and specification of their homes. This means they can create a home perfectly suited to their needs and lifestyle. Fifty per cent of self-builders cite being able to build a house to both their current and future needs as a significant reason to do it. And 31% do it so it can reflect their personality.
2 – Value for money for self-building
Believe it or not, self building can be a more cost-effective way to build a home than buying an existing property. Self-builders do not have to pay the developer's profit margin. Thirty-eight per cent of self-builders describe this as a motivational factor in their decision
3 – Financial benefits to self-building
The UK government offers a number of financial incentives to self-builders, such as the Help to Build scheme. There are also a number of self-build organisations and support networks in the UK that can provide self-builders with advice and guidance.
4 – To build something better
Forty-six per cent of self-builders believe that building your own home allows you to build something better than what is already built, with 33% being motivated to build something better for the environment. When it comes to buildings in the UK, we have some of the costliest to heat and energy inefficient homes in Europe, and for many self builders the opportunity to include renewable energy technologies, energy efficient materials, and water conservation measures is crucial.
When self builders want to make their homes more energy efficient and install renewable technologies like solar or more efficient heating like heat pumps, this is where Green Building Renewables can help, and this is what we will discuss further in this blog.
Here are 11 things to consider about renewables and low carbon technologies when self building a home.
11 things to consider about Renewables when self building
Solar
1 – Consider Solar early in your self-build plans
When embarking on a self build project in the UK, it's crucial to consider solar panels early in the planning process. Solar panels are an excellent way to generate clean and sustainable electricity for your home.
The sooner you consider them in your plans, the more they can be incorporated into the design and function of the house.
Choices like in-roof or on-roof solar, solar on the main house building or out-buildings like garages or barns can be considered.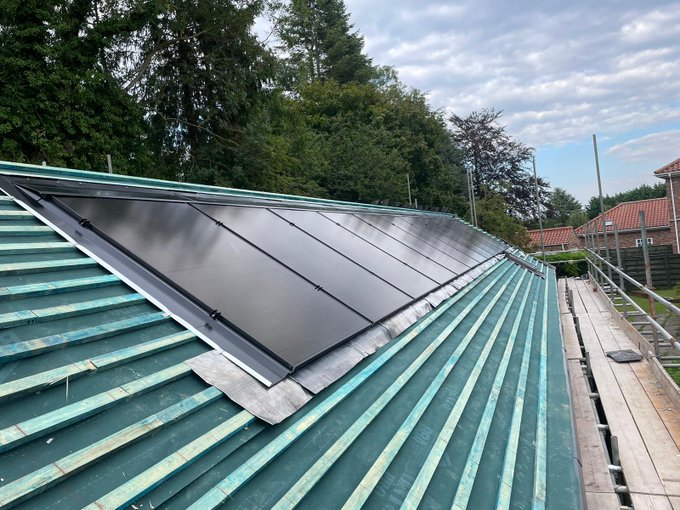 2 – Consider the orientation for solar on a self build
If you know you want to include solar panels in your self build project, then considering them early will allow you to determine the best orientation of your roof to ensure optimal sunlight exposure for the solar panels.
When planning the orientation of roofs, consider where you might want solar PV. Many people may rather have PV on the garage, but often, the roof is east/west for no good reason. A south-facing roof is the best orientation; consider which buildings will have this orientation in your plans.
3 – Consider Planning Permission for solar on a self build
With early consideration, you can check if you need planning permission for solar panels, as this could impact the design and location of your home.
Planning permission for solar panels is something we are frequently asked about especially by self builders, and especially by self builders who may be building in conservation areas. Here's what you need to know about planning permission and solar panels.
Do you need planning permission to install solar panels on a domestic property?
Solar panels can actually be designated 'Permitted Development'. This means that, in general, planning permission is no longer necessary, and there is no need to seek planning permission from a Local Planning Authority (LPA) to proceed.
When is Planning Permission Required for Solar Panels?
There are three main situations when planning permission is required for solar panels, they are:
Flat roofs
If you want to install solar panels on a flat roof, you will most likely need planning permission. This is because solar panels on a flat roof are usually placed in frames to create an angle towards the sun. This means they typically need to protrude more than 20 cm above the roof slope, contrary to the "permitted development" guidelines.
Listed Buildings
Installing solar panels on a building located within the grounds of a listed building or on a site considered a scheduled monument may be possible. Still, it requires listed building consent, which is part of the application for planning permission. You may not necessarily need a complete application – it depends on the local planning department. It is worth talking to yours first as some are more relaxed about this than others.
Conservation Areas
If you live in a conservation area, installing a solar PV system under permitted development rights may be possible. However, a planning application is required if it is proposed to install a solar PV system on a wall fronting a highway.
What is a conservation area?
Introduced in the UK in 1967, a conservation area is somewhere of special architectural or historic interest.
There are now around 10,000 conservation areas across the UK in urban and rural areas. These can include whole villages or historic buildings in urban settings.
The whole character or feel of an area, such as a town or village, is protected by the law and defines a conservation area.
Listed buildings within a conservation area are subject to their own regulations. These buildings cannot be demolished, extended or altered without permission granted by the local planning authority. This includes the installation of solar panels.
Installing solar panels in a conservation area
The following regulations apply when installing solar panels on listed buildings, in World Heritage Sites, or conservation areas:
Panels cannot be installed on a building within the grounds of a listed building or on a site designated as a monument.
If the property is situated in a conservation area or a World Heritage Site, solar panels must not be fitted to a wall that faces a road.
If you live in a conservation area, contact your local council, who will decide if the changes you want to make will maintain the aesthetic of your area.
It is possible to receive planning permission for all the scenarios above. However, it is at the discretion of your Local Planning Authority.
Planning can be complicated, and nobody wants a letter from the council telling them to take something down after it has been put, so depending on where you live, there could be other issues that affect the installation of solar panels, for instance, restrictions on your property. It is always worth double-checking with your local authority before installing solar panels on your property. A good installer may be able to help you find this information.
What are the building regulations for solar panels?
Once you have decided whether you need planning permission for your solar panels, and in most cases, you will not. Solar panels are subject to standard building regulations, so you need to check that the roof can support the extra load – a good installer should check this for you. There are also some conditions that your solar panel system has to comply with:
When no longer needed, solar panels and equipment not in use should be removed as soon as reasonably practicable.
The system cannot exceed the highest part of the roof (excluding any chimneys).
The system cannot stick out more than 20cm further than the plane of the roof slope.
4 – Consider your budget
It goes without saying that budget and finance is a crucial feature of any self build project. We recommend including solar panels as early as possible in your budget from the outset to ensure they are affordable.
Self building can be cost-effective, but budgeting is a crucial challenge. Renewable technologies may have upfront costs, but remember they offer long-term savings on energy bills and will add value to your home.
Solar Batteries and battery storage
5 – Consider size and capacity
While solar panels generate electricity during the day, energy storage is essential to utilise that power during the night or power outages. You also don't need to install solar panels to reap the benefits of battery storage.
Batteries like the Tesla Powerwall allow you to load them at night time during cheaper rates of electricity and then use the stored power during the day when electricity from the grid is more expensive.
The size and capacity of a battery matters. You want to choose a battery size that matches your electricity consumption patterns, ensuring you have enough stored energy for your needs.
For a self build you will have no available data to base consumption patterns on, but this can be modelled for the size of the property and the number of inhabitants.
6 – Consider location of batteries
The location of batteries is essential for your home. In a self-build, when considering renewable technology, you may want to have a designated plant room for things like batteries, hot water cylinders, and MVHR systems.
It's critical to make sure there is space and accessibility for all. When adding to existing homes, space and access can be an issue. But for self builds, you can add this into your plans at an early stage.
Batteries are large and heavy and ideally want to be around 20°C for maximum efficiency and longevity. This can also impact where you locate them.
Heating Systems: Heat Pumps and Underfloor Heating
The choice of heating system is a critical consideration during the design phase of your self-build project. Heat pumps and underfloor heating offer energy-efficient and eco-friendly options.
7– Consider the type of heating system you want
Ground source or air source heat pumps can provide both heating and cooling and reduce your home's carbon footprint. Both offer different options for your home, and which you choose can affect the plans of your self-build. Again, early consideration in the project is critical.
Ground source heat pumps (GSHP) are more efficient than air source heat pumps (ASHP). However, in retrofit projects, many people choose ASHP over GSHP because they don't have the land space for one and/or they don't want to disrupt their gardens. In a self build project, this may be less of a concern.
In self build projects, more land may be available for GSHP, and when considered at the start of the project works, any disruption to the ground will be way before any garden has been landscaped or even exists.
GSHP can also be installed vertically as well as horizontally, so this can limit disruption to land further.
You may also want to consider underfloor Heating at an early stage. This technology offers even heat distribution and can be integrated with a heat pump for maximum efficiency. It can also reduce the need for radiators in your home.
Read our blog on the difference between ASHP and GSHP for more information.
8 – Consider design integration
When the heating system is considered early in your self build plans, you can ensure your home's design accommodates the installation of these systems, including ductwork and space for the heat pump unit is essential and can surprisingly be easily overlooked.
If you are building a home to Passivhaus standards and considering an MVHR system potentially integrated with a heat pump system, the earlier you consider this in your design, the better. Our sister company, Green Building Store, can help with MHVR design and supply for your home.
Considering the design and location of the ducts between garages, outbuildings, EV chargers, etc., and the main house to ensure that all this equipment works optimally is also essential.
9 – Consider room layout
The room layout you choose for your self build can impact your heating system and how efficient it is.
Bathrooms, for example, when it comes to heating systems, are designed to be slightly warmer, which means that these are better with minimal external walls where possible, i.e. preferably not on a corner of a building to minimise heat losses. In many existing houses, for example, bathrooms are often on the corner of houses and often at the back of the house, which can often be on a north-facing wall – this should be avoided in a self build.
For underfloor heating, it is always better to have the manifold, or manifolds, central to the loops to minimise long runs and access runs through to adjacent rooms. Therefore, thinking about where these might go early in the design is always helpful.
The hot water cylinder is also best situated central to the draw-offs to reduce long runs to taps. Worse still is a pumped hot water loop. The location of the hot water cylinder can significantly impact heat pump efficiency.
The heat pump's location is also essential as it shouldn't go adjacent to a bedroom as a noise calculation is required in relation to habitable rooms of neighbour's properties, which may affect where it is located.
With the challenges of climate change and the hotter summers we have experienced in the last few years, you need to also think about the passive cooling of your building. While many people may desire those big south-facing windows, which do look lovely, they will quickly overheat a home in summer, and without some form of shading or brise soleil, they will impact how your house functions. Such things are a crucial consideration for low energy and Passivhaus buildings.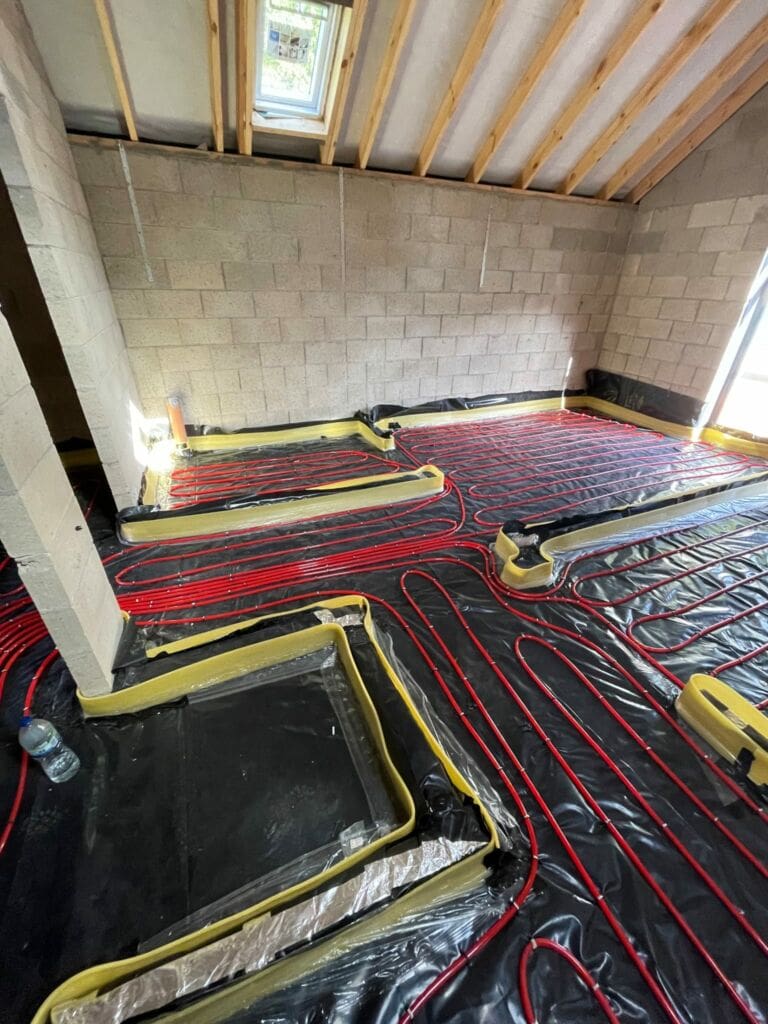 The Boiler Upgrade Scheme and self builds
The Boiler Upgrade Scheme (BUS) provides a grant of £7,500 towards the costs of replacing fossil fuel heating systems with a heat pump. The scheme is not available to more new build properties, however an exception is made for self builds.
Your self build property is eligible if:
You or the original owner built it yourself or you paid a builder to build it
Or it's never been owned by a business or organisation.
You'll need to show your installer proof that your property was a self build for example the title deeds.
Other factors
10 – Consider your workforce and contractors
Any renewable technology system is only as good as the company that has installed it. The quality of installation for a solar system or heat pump is critical to how well the system will work. Heat pumps, in particular, have received a lot of negative media coverage, but in our experience, most issues we discover with existing systems are down to poor installation.
Experienced and skilled installers are crucial to the success of renewable technology. In prominent commercial work projects, specialist Mechanical and Engineering (M&E) companies will work alongside the building contractors to ensure the functioning of the heating and electrical systems. But at a domestic level, this is not always the case.
For a domestic self build project, it can be widespread to have many sub-contractors involved, especially when it comes to the heating mechanics and electrical systems. Finding a contractor that installs and is qualified and experienced in multiple renewable technologies can help reduce the need for multiple contractors and reduce the risk of error.
11 – Consider smart systems and automation
If you are self building your home, you may want to consider smart devices and automation across your heating system and electrical systems. Many devices on the market allow homes to be smart. However, how they function and interact with one another can depend on the systems you choose.
Some brands and renewable technologies interact better than others smart technology than others when it comes to automation systems. If you want your self build home to be as smart as possible, you should consider the systems that you want to interact with and research whether they interact well with one another. You don't want to pay a lot of money installing a system that you can't control or automate with smart technology when you choose to.
The Advantages of Renewable Technology in a self build
Incorporating renewable technology into a self build home in the UK is a wise and forward-thinking decision. By considering the installation of solar panels, heat pumps, underfloor heating, and battery storage early in the planning stages, you can create an energy efficient and sustainable living space.
Cost Savings: Solar panels, heat pumps, and underfloor heating can significantly reduce energy costs over time.
Environmental Benefits: Reduced carbon emissions and lower energy consumption contribute to a greener, more sustainable lifestyle.
Energy Independence: Self build homes with renewable technology are less reliant on traditional grid electricity, increasing resilience and independence during power outages and making your home less susceptible to energy market volatility.
Increased Property Value: Homes equipped with renewable energy solutions tend to have higher resale values and attract environmentally conscious buyers.
Government Incentives: In the UK, there are often government incentives, like the Smart Export Guarantee, which can further offset the costs of renewable technology.
While self-building in the UK presents challenges, the long-term benefits of reduced energy costs, a reduced carbon footprint, and increased property value make the effort well worth it. Plus, by embracing renewable energy solutions, you contribute to a greener and more sustainable future for your community and the planet as a whole.
How can we help with your project?
At Green Building Renewables, we can help you with your project. We can provide advice based on your project plans. What will work well, what may need to be considered and what will make your home more energy efficient. Our team can look at your plans and provide feedback that will benefit your project.
If you are self builder and want to make your home as energy efficient and sustainable as possible, don't hesitate to get in touch today.