Green Building Renewables hits 6 (nominations) at the National Energy Efficiency Awards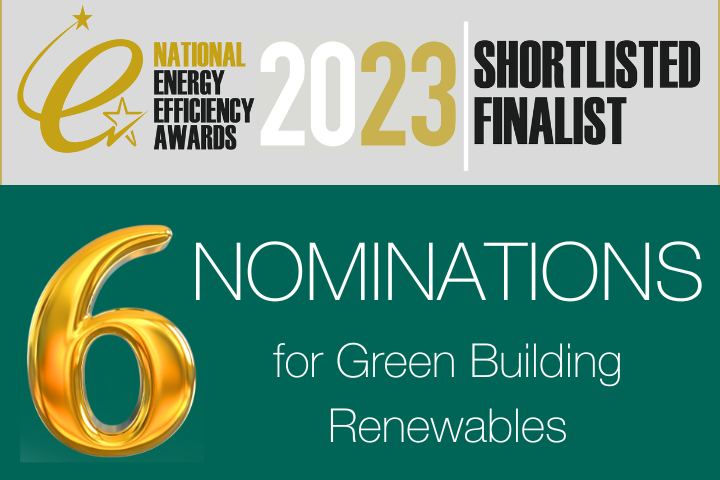 We've received six nominations at this year's National Energy Efficiency Awards. Being recognised as a business that is actively contributing to a greener future is something of which we are extremely proud.
The award ceremony will take place at the Hilton Birmingham Metropole on Friday, 29th September 2023, and we have our fingers crossed that we will be as successful at the nationals as we have been in the regional awards.
Our nominations span a range of categories, highlighting our expertise and dedication to advancing renewable energy solutions.
What nominations have we received?
We have been shortlisted in the following categories:
National Renewable Heat Installer and Contractor of the Year As we all strive to reduce our carbon footprint, transitioning from traditional heating systems to renewable and low carbon alternatives is crucial. Our nomination in this category is a testament to our expertise in installing and maintaining renewable heat solutions. Last year we installed over 250 heat pump installations across the UK.
National Solar PV Installer and Contractor of the Year Solar photovoltaic (PV) technology is at the forefront of renewable energy solutions, harnessing the power of the sun to generate clean electricity. Our nomination in this category underscores our excellence in designing and installing solar PV systems. We installed over 750 installations last year across our region.
National Solar Project of the Year Tang Hall Community Centre The nomination for National Solar Project of the Year for our work on the Tang Hall Community Centre demonstrates our dedication to positively impacting local communities by providing them with clean and reliable energy sources. The project at Tang Hall Community Centre won the best small-scale project at the Yorkshire finals earlier this year, and it will now be in competition against installations at Edinburgh Castle, Chester Cathedral and Silverstone.
As well as these three nominations we have also been shortlisted three times in the Business Development Manager of the Year category. Behind every successful company are dedicated individuals who drive its growth and success. Our three nominations in this category underscore the talent within our team. Matthew Young, Alex Walmsley, and Chris Delaney have all been nominated.
We are extremely proud of this achievement and we congratulate the entire team for the role they have played in helping to achieve this. We will be attending the awards in September where we hope that we will be dancing along to the award's presenter Tony Hadley with GOLD awards in our hands.