Case Study: Maureen's New Solar Installation in Towcester slashes her £6,000 energy bill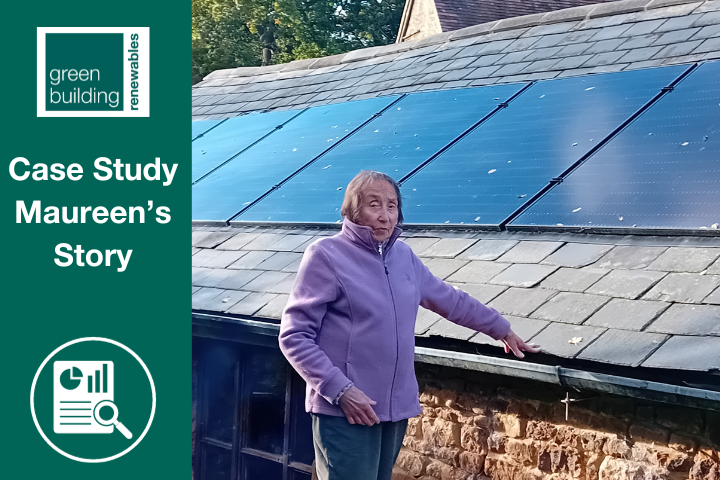 Maureen's Story: How her solar installation in Litchborough by our Daventry Team helped lower her heating bills in a Towcester village with no natural gas.
Table of Contents
Everyone's story for choosing renewable energy and low carbon technologies for their home is unique. At the same time, the benefits of these choices, like lower energy bills, reduced environmental impact, and more energy security, can be universal for our customers.
The reasons and the events that may have led an individual to move to solar power or install a heat pump can be very personal to each customer. Maureen's story is one such example.
We spoke to Maureen, who lives in Litchborough, Towcester, about why she decided to install solar panels and battery storage for her home and how our team from Daventry helped.
Why did you choose to install solar panels?
I had wanted to switch to solar for many years, but my husband's failing health made finding time for decisions like this difficult. I live in a village that has no natural gas supply. As a result, my house is all electric, and I have nine modern storage heaters on timers, much like conventional central heating. I had these installed in place of an LPG system, which, as many people know, is not the greenest fuel, and I wanted to do something that reduced my dependency on Fossil Fuels.

Sadly, my husband felt the cold dreadfully, and in what would be his last year with me, our electricity bill was over £6,000, with monthly bills regularly over £600. Something had to change, and after my husband died, it felt like the right time to decide to change and make my home more energy efficient. It seemed like a good time to get PV panels and batteries and to sell my surplus electricity back to the national grid.
What benefits have you experienced since having the solar panels installed?
The main benefit has been the reduced cost of my electricity bills.

Switching suppliers, using solar energy, and selling as much as three times electricity back to the grid have all impacted my bills. This will, of course, change as the days get shorter and during the winter months; however, my new supplier allows me to top up my batteries overnight at an appreciably lower tariff. My home can then draw on any solar energy the panels generate, as well as the topped-up batteries, during the day. Therefore, my electricity costs will still be lower even in winter. More importantly, my carbon footprint is much lower than before, especially as most of my electricity comes from daylight generation, and my supplier sells me 100% green electricity.
How did you find the solar panel and battery installation process?
My installation was scheduled to last three days, from Wednesday to Friday. However, following some very heavy rains, it had to start on Thursday. Despite this initial setback, the Daventry team worked flat out to get my system up and running before they left on the Friday, staying past 6:30 p.m. – above and beyond- on a Friday evening to finish the job. Something I was and I am still incredibly grateful for. The team were friendly, cheerful, and tidy, and did not complain once about any setback.

Maureen's barn before the solar installation

There were a couple of issues which the team managed without any problems. I initially thought I had ordered the wrong cable – 60 metres of it – to go from the inverter in my barn, across the garden, around the house and in through the wall under the stairs by the front door. Happily, I hadn't. The team put the cable in beautifully around my stone house, following pointing lines even when they wiggled a bit. It is an immaculate job.

I also mistakenly sent back a parcel containing essential equipment for the installation. I didn't recognise the recipient's name because it was addressed to one of the team. But this minor mishap was all resolved by the Daventry team within the day. I have nothing but praise for the whole team at Daventry.
What advice would you offer to others considering solar panels for their home?
Do your homework on potential suppliers. Find one which is as local as possible and with a good reputation. If Green Building Renewables has a base near you, put them at the top of your list and use them as the benchmark.

Please don't listen to the naysayers, who will tell you you'll never get your money back because they work only in bright sunlight – it's not true. Buy as many batteries as you can afford, up to the maximum permitted, and have as many panels as will fit safely on your roof. Check electricity suppliers for the best price for your surplus energy, then sit back and feel smug. Don't feel guilty for doing the right thing.
What is your opinion of Green Building Renewables?
They are the best people I have dealt with for work at my home. The team was professional, knowledgeable, and helpful, and they wanted to ensure that I got the best installation at a reasonable price. I sensed a real customer focus at all times, and they were a pleasure to have around my home. Since the work finished, I have missed the informative and friendly email exchanges with the Daventry office. I recommend Green Building Renewables without hesitation.
Maureen's story is highly personal, and we are grateful to her for sharing it with us to use as a case study. The benefits she is already experiencing are what makes the job worthwhile. Here's what our team in Daventry did for Maureen.
What solar system did we install, and what did we do?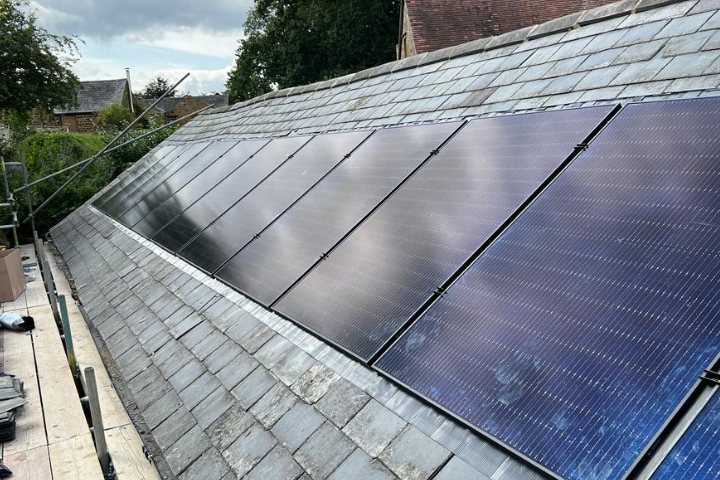 We installed 11 x Longi 405W panels in a roof GSE integration mounting system, a Fox 5kW hybrid inverter and 8.28kWh of Fox Cube battery storage.
We installed three additional batteries at the customer's request: 3 x 4.3kWh Fox Cube batteries to expand the system to 24.84kWh.
We identified the roof of the adjacent barn to her home as the best position for installation.
The batteries were installed in the storeroom. It wasn't a straightforward installation as the slate roof had to be stripped to position the GSE trays, and we also had to work on a solution for cable routes, etc., which proposed a challenge.
If you would like to get in touch about a solar installation at your home, then find your local team here.