Scarborough
Open Now
Mon-Fri: 9am - 5pm
---
---
5 Dunslow Court,
Eastfield,
Scarborough,
YO11 3XT
Looking for?

If you were looking for MYElectrical Renewables, don't worry! You are in the right place.
Last year, we announced were joining the UK's fastest growing renewables business. Green Building Renewables. We are excited to announce the next step in this transition. We are now a part of Green Building Renewables.
Renewable technologies installed in Scarborough
Had to wait awhile due to shipping delays, but well worth the wait. Very professional. Installed solar panels, battery system and electric charging point. Very neat and tidy job. Would use them again.
Don't often award 5 stars but these guys were excellent in extremely bad weather.
On time, to price and kept us informed about the whole process.
Positive: Professionalism, Quality, Value
Meet Our Scarborough Team
Renewable energy brands we install in Scarborough
Our range of renewable energy brands includes Tesla Powerwall, Mitsubishi Zappi and Fox Ess
How can I find a solar panel supplier in Scarborough?
Installing renewable energy technology in your home is a major investment and one that also needs expert design and handling. Green Building Renewables Scarborough install solar panels and battery storage solutions in homes and businesses in North Yorkshire area, as well as air source heat pumps, ground source heat pumps and EV charging points. Our award-winning team of renewable energy technicians will ensure that we specify the right equipment and look after you throughout the whole process, including our unrivalled after-sales support.

History of Green Building Renewables in Scarborough
Green Building Renewables Scarborough was launched in 2023 as an operating arm of the York and Doncaster branches, supported by their award winning customer service and operations department. The business was rebranded from MY Electrical which had traded in the Scarborough area for 10 years.
With our strong focus on customer care and over 20 years' experience of installing low carbon and renewable energy technologies, the new branch is committed to providing the very latest renewable energy solutions, including air source heat pumps, ground source heat pumps, solar panels, solar panel batteries and EV charging points.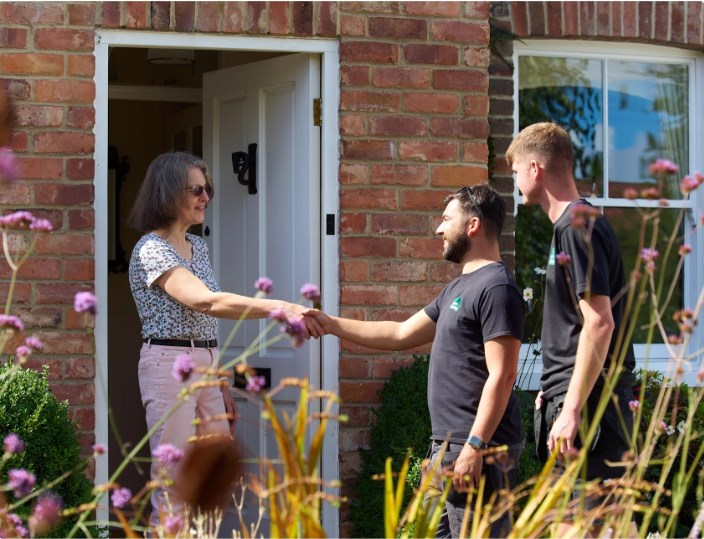 Solar energy and renewable energy solutions in Scarborough
Scarborough benefits from 210 hours of sunshine in May – our sunniest month, but even December still has on average 52 hours of sunlight ensuring solar panels are still an ideal renewable energy solution for both homes and businesses in the area.
Renewable energy and sustainability in Scarborough
Scarborough, served by North Yorkshire County Council, being home for more than 61,000 residents. The Council takes carbon reduction and sustainability across the city seriously launching a free renewable heating scheme under the Warm Homes Fund with help from Scarborough Borough Council in September 2020.
The scheme serves Scarborough and the districts of Ryedale, Hambleton and Richmondshire
It is aimed at helping homeowners reduce their heating and carbon footprint
200 air source heat pumps are to be installed
Houses that live away from the gas network are to be targeted to replace oil or LPG heating systems
There is a qualification process – see the North Yorkshire County Council website for further details.
In January 2019 Scarborough Borough Council declared a climate emergency in recognition of the need to take urgent action in respect of climate change.
As part of this objective to reduce carbon emissions and work towards being carbon neutral by 2030, they are in a period of public consultation regarding a proposed solar farm at Eastgate Frarm, Seamer Moor Lane where the development would create enough energy to power up to 9,600 homes and offset 10,600 tonnes of CO2. The 81 acre development is near Scarborough would also offer biodiversity benefits too in the form of meadowlands that will be seasonally grazed.
How to find Green Building Renewables in Scarborough
Green Building Renewables
5 Dunslow Court,
Eastfield, Scarborough,
YO11 3XT
01723 892894
Email
Renewable energy installations in Scarborough, and other news
What you need to know, what we know, and how we can continue to help customers bring low carbon efficient heating to their homes through the Boiler Upgrade Scheme (BUS).