Cambridge
Open Now
Mon-Fri: 9am - 5pm
---
---
Unit 11 Royston Trading Estate, South Close, Royston,
Cambridge,
SG8 5UH
Renewable technologies installed in Cambridge
Positive:

 Professionalism,

 Punctuality,

 Quality,

 Responsiveness,

 Value

We had Green Building Renewables install an Air Source Heat Pump system in our home. The staff were highly professional, efficient, and tidy, delivering an excellent job. The entire installation was completed within the agreed timeframe and budget. I would enthusiastically recommend them to anyone.
Air Source

We recently had our solar panel installation done by this Green Building Renwables, and we couldn't be happier with the results. The entire process was smooth and well-organized from start to finish. The team was highly professional, knowledgeable, and efficient in their work.
Highly recommended!

Really quick response when our old boiler gave up. Great advice from Paul and Steve, Sam the engineer was very polite, neat and tidy, they charged a fair price, and the team in the office were easy to deal with.
Renewable energy brands we install in Cambridge
Our range of renewable energy brands includes Daikin, Mitsubishi, Tesla Powerwall, Fox Ess, Kensa, Grant and Zappi
How can I find a solar panel installer in the Cambridge area?
When it comes to installing renewable energy technology in your home, it's crucial to have the right expertise and design. At Green Building Renewables Cambridge, we specialise in installing solar panels and battery storage solutions for both residential and commercial properties in the Cambridge area. Our services also include air source heat pumps, ground source heat pumps, and EV charging points. With our team of award-winning renewable energy technicians, we ensure the proper specification of equipment and provide comprehensive support throughout the entire process. Count on our unmatched after-sales support for a seamless and reliable renewable energy solution

History of Green Building Renewables in Cambridge
Launched in 2023, Green Building Renewables Cambridge emerged as the rebranded version of Eco Energy UK in Royston. With a strong emphasis on customer care and a wealth of experience in installing low-carbon and renewable energy technologies, the new branch is committed to providing the very latest renewable energy solutions, including air source heat pumps, ground source heat pumps, solar panels, solar panel batteries, and EV charging points.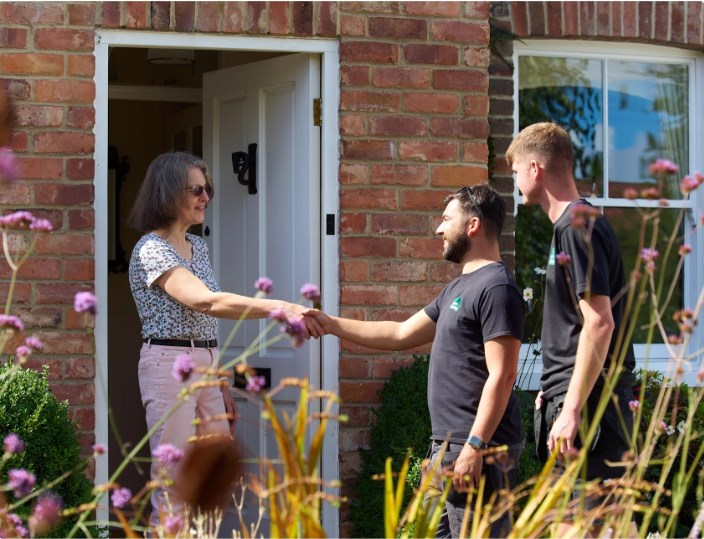 Solar energy and renewable energy solutions in Cambridge
Cambridge benefits from an average of 1,700 to 1,800 hours of sunshine annually, making it an ideal location for solar panels. Even in December, the city still receives an average of around 56 hours of sunlight. These abundant sunshine hours throughout the year make solar panels a perfect renewable energy solution for both homes and businesses in the area.
Renewable energy and sustainability in Cambridge
Cambridge has a rich history in renewable energy and sustainability initiatives. The city has been at the forefront of research and innovation in this field, driven by the renowned University of Cambridge and its commitment to addressing environmental challenges.
One notable milestone in Cambridge's renewable history is the establishment of the Cambridge Centre for Renewable Energy Systems Technology (CREST) in 1995. CREST focuses on research and development of renewable energy technologies, aiming to accelerate their adoption and promote sustainability.
The city has also been a hub for research on solar energy. In 1978, the Centre for Photovoltaic Devices and Systems (CPDS) was established at the University of Cambridge. CPDS conducts pioneering research on solar cells and solar energy conversion technologies.
Cambridge has actively supported renewable energy installations, with numerous solar panel arrays installed on rooftops and open spaces throughout the city. These installations contribute to reducing carbon emissions and promoting clean energy generation.
Additionally, the city has been proactive in promoting energy-efficient buildings and sustainable practices. Cambridge is home to numerous eco-friendly and low-carbon developments, showcasing innovative design and technologies for energy conservation.
Cambridge's commitment to sustainability extends beyond the city's boundaries. The region has seen an increasing number of wind farms and biomass facilities, further diversifying its renewable energy portfolio.
Overall, Cambridge's renewable history showcases a strong emphasis on research, innovation, and practical implementation of sustainable energy solutions. The city continues to play a vital role in shaping the future of renewable energy and sustainability.
How to find Green Building Renewables in Cambridge
Green Building Renewables
Unit 11,Royston Trading Estate South Close,Royston,
Cambridge,
SG8 5UH
01865 841 911
Email
Renewable energy installations in Cambridge, and other news
What you need to know, what we know, and how we can continue to help customers bring low carbon efficient heating to their homes through the Boiler Upgrade Scheme (BUS).