Doncaster
Open Now
Mon-Fri: 9am - 5pm
---
---
20 Guildhall Industrial Estate, Sandall Stones Road, Doncaster,
South Yorkshire,
DN3 1QR
Renewable technologies installed in Doncaster
Very good experience from inception to…

Very good experience from inception to operation of our solar panel +batteries installation . The process is clear and the survey allows clarification of possible upcoming technical challenges. The team would support through and find solutions for any challenges (material availability, timing). There is always someone you can talk to. We are very happy with our system, the simplicity of it.
Solar panels

Efficient company with pleasent staff. I would not hesitate to recommend them to any new customer.
Great service from start to finish

Great service from start to finish. Mark came out and did a detailed quotation for our solar panels and battery storage and the written quotation arrived within a couple of days. The panels and batteries were installed a couple of weeks later – everything about the installation was professional from putting up the scaffolding to setting up the app so we can monitor usage and energy generation. The necessary documents to enable us to apply for Outgoing Octopus were supplied promptly. Altogether a great experience – would highly recommend.
Company was recommended by friends and they lived upto our expectations – responded quickly with a site visit, panels were fitted within weeks of accepting the quote. Work was carried out and completed within the day by a polite and really helpful team.
Renewable energy brands we install in Doncaster
Our range of renewable energy brands includes Vaillant, Fox Ess, Tesla Powerwall, EcoForest, LuxPower, Mistubishi and Zappi
How can I find a solar panel supplier in Doncaster?
Installing renewable energy technology in your home is a major investment and one that also needs expert design and handling. Green Building Renewables Nottingham install solar panels and battery storage solutions in homes and businesses in Doncaster area, as well as air source heat pumps, ground source heat pumps and EV charging points. Our award-winning team of renewable energy technicians will ensure that we specify the right equipment and look after you throughout the whole process, including our unrivalled after-sales support.

History of Green Building Renewables in Doncaster
Green Building Renewables Doncaster was set up in 2022 as an operating arm of the York branch, supported by their award winning customer service and operations department.
With our strong focus on customer care and a wealth of experience in installing low carbon and renewable energy technologies, the new branch is committed to providing the very latest renewable energy solutions, including air source heat pumps, ground source heat pumps, solar panels, solar panel batteries and EV charging points.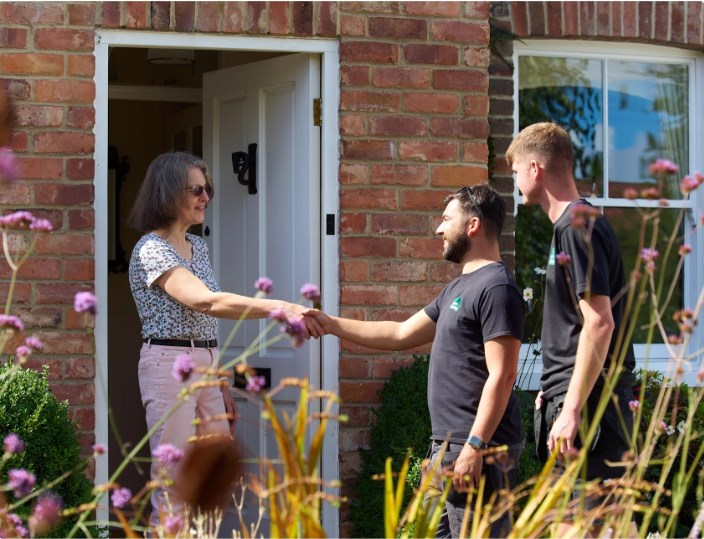 Solar energy and renewable energy solutions in Doncaster
Doncastter benefits from 193 hours of sunshine in May – our sunniest month, but even December still has on average 55 hours of sunlight ensuring solar panels are still an ideal renewable energy solution for both homes and businesses in the area.
Renewable energy and sustainability in Doncaster
Doncaster, falls under the juristiction of Doncaster Council, being home for more than 308,000 residents.
Doncaster Council have recently started harnessing solar power on all its new build council housing stock in an aim to create council houses fit for the future that are energy efficient and reduce bills for their tenants.
Doncaster has a large solar farm at Partridge Hill Farm near Doncaster Sheffield Airport recently bought for £63.5 million. The farm boosts the sustainable energy source where Doncaster already ranks 9th out of 406 Local Authorities in the country for the number of solar panels installed.
The solar farm creates 49.9 megawatts (MW) for distribution to the National Grid made up of solar photovoltaic panels and battery storage which is housed in shipping containers.
How to find Green Building Renewables in Doncaster
Green Building Renewables
20 Guildhall Industrial Estate,
Sandall Stones Road,
Doncaster, South Yorkshire,
DN3 1QR
013022 45294
Email
Renewable energy installations in Doncaster, and other news
What you need to know, what we know, and how we can continue to help customers bring low carbon efficient heating to their homes through the Boiler Upgrade Scheme (BUS).