Norwich
Open Now
Mon-Fri: 9am - 5pm
---
---
Industrial Estate,
64 Damgate Ln, Acle,
Norwich
NR13 3DJ
Looking for?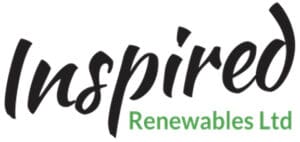 If you were looking for Inspired Renewables, don't worry! You are in the right place.
Last year, we announced were joining the UK's fastest growing renewables business. Green Building Renewables. We are excited to announce the next step in this transition. We are now a part of Green Building Renewables.
Renewable technologies installed in Norwich
I would like to thank the whole team for the work they have done fitting our solar system.I would def recommend this company.
Extremely impressed. They did exactly as they said.
And a great team. Thank you.
I have been extremely impressed from quote to install. The entire team from the ladies behind the scenes, to the site visits and heating and electrical engineering teams

Official Norwich City Community Partner
Embedded at the heart of our community, Norwich City Football Club unite us as a city, whether as individuals, families, or businesses.
We are proud to be a Community Partner of the Canaries in their distinctive yellow and green shirts, currently in the EFL Championship.
Renewable energy brands we install in Norwich
Our range of renewable energy brands includes Mistubishi, Daikin, Vaillant, Fox Ess, Eco Forest, Tesla Powerwall and Zappi
How can I find a solar panel supplier in Norwich?
With a wealth of experience installing solar panels and renewables, Green Building Renewables serves the county of Norfolk. Installing renewable energy technology in your home or business is a considerable investment and one that needs expert design and installation. Green Building Renewables supply and install solar panels and battery storage, air source heat pumps, ground source heat pumps and EV charging points with our award-winning team of renewable energy technicians, ensuring we specify the right equipment and look after you throughout the whole process, including our unrivalled after-sales support.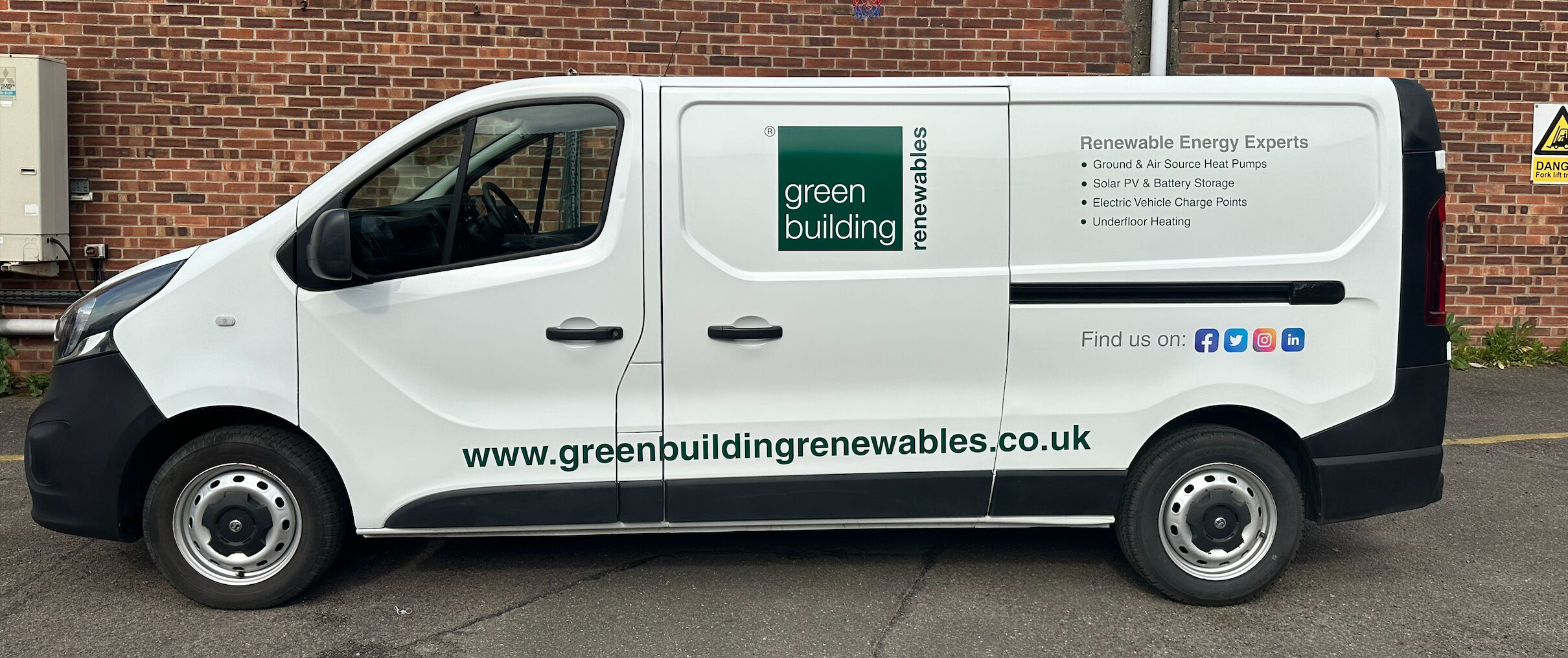 Why choose Green Building Renewables
Why choose us?
Our aim is to help every customer lead a more sustainable life. We proudly install and maintain a range of low carbon technologies that can help you become more energy independent by harnessing your own solar energy or keeping you warm with highly efficient heating systems – all whilst lowering your carbon footprint.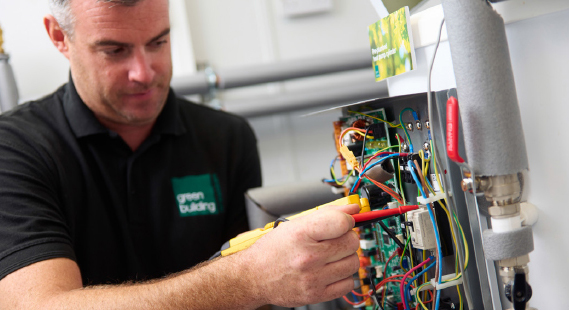 What do we offer?
We offer tailor-made environmentally-friendly solutions to meet your future energy needs. Our team of experts and in-house installers design, supply and fit solar panels and battery storage, air and ground source heat pumps, underfloor heating and EV charging points.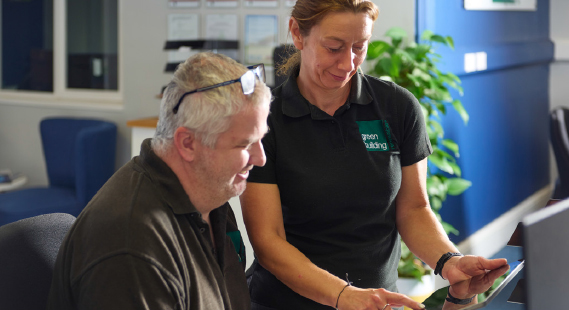 Why are we different?
Our success is based on demonstrating our expertise, making renewables understandable and building trust. The proof in the pudding is our range of industry awards, the host of easily digestible blogs, our 2 year workmanship warranty and our award-winning, 5 star TrustPilot service.
History of Green Building Renewables in Norwich
In February 2023, Green Building Renewables Norwich office was launched serving the county of Norfolk and North East Anglia. We are focussed on installing solar in the wider Norfolk area, being committed to providing the very latest renewable energy solutions, including air source heat pumps, ground source heat pumps, solar panels, solar panel batteries and EV charging points.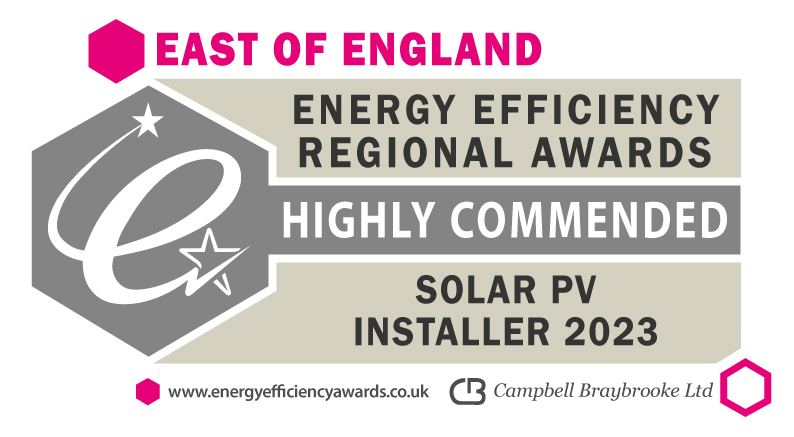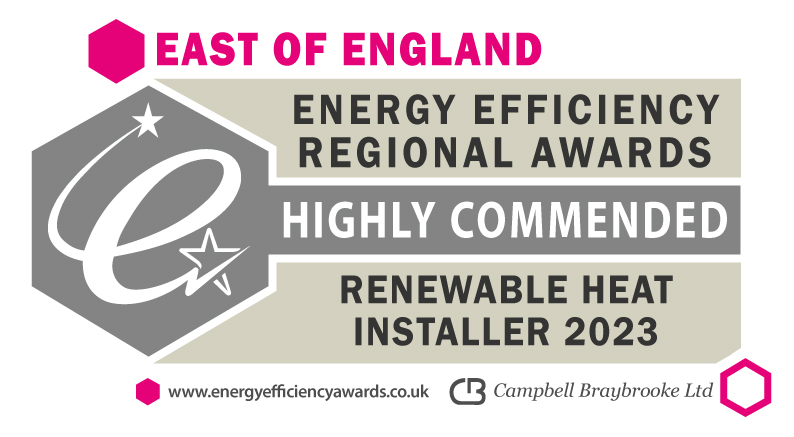 We recently celebrated our team's achievements at the prestigious Energy Efficiency Regional Awards, bringing home accolades for the East of England's Solar PV Installer 2023, Renewable Heat Installer 2023 and also for a commercial installation the Large Project Award 2023 for a large solar project in Norwich.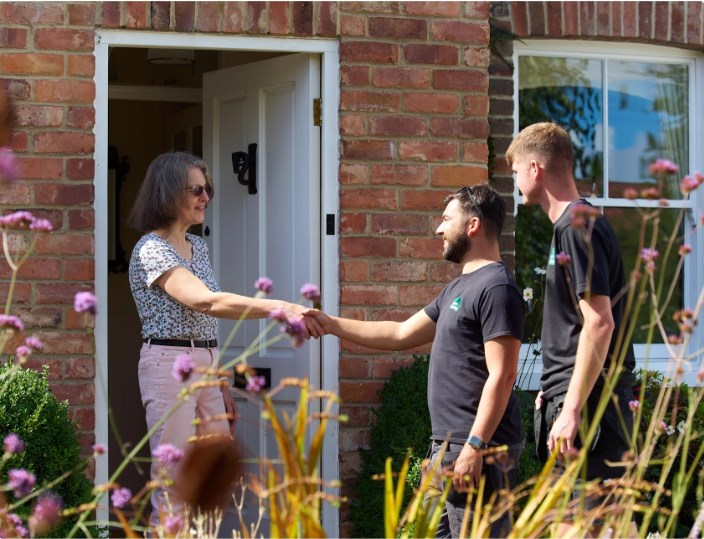 Solar energy and renewable energy solutions in Norfolk
July is the sunniest month in Norwich, with 213 glorious hours of sunshine, but even December has 52 hours, so it is still possible to save money on energy bills in the depth of winter for both homes and businesses.  Norfolk is so well suited to solar energy generation that it has one of the highest concentrations of solar panel installations in the UK. Former PM Boris Johnson, promoted plans for Norfolk to generate five times more electricity from the sun by 2035. Norfolk's size, geography and climate mean it is perfectly suited to the installation of solar panels, as we transition away from oil and gas.
The latest figures, from 2020, showed there were a total of 21,103 solar plants in Norfolk of varying size – from domestic installations to vast farms covering several hectares.
Renewable energy and sustainability in Norwich
Norwich is home for over 144,000 inhabitants and sustainability and renewables are at the heart of the Norwich City Council's pledge in the face of the climate emergency. In their declaration and environemtnal strategy 2020-2025 they are committed to acheiving net zero emissions by 2030.
It works to increase the amount of renewable and low carbon technology it uses within its own buildings and supports communities to save money on thier energy bills too through the installation of solar panels and air source heat pumps. Solar panels can be seen on the Council's buildings at the Crematorium, Leisure World and Shrub End Depot.
The Local Energy Asset Representation  2021 reveals that Domestic Solar PV met 2.1% of the annual electricity demand in the central Norwich region generating 72GWh.
Norwich City Council has created the Norwich Climate Commission to provide leadership and governance regarding sustainability and integration of renewable technology and have engaged with solar organisations in the past providing solar installations that have reduced carbon emissions by 900 tonnes annually.
The ideal climate and long day time hours in Norfolk have led to large number of solar farms in the Norfolk area. The National Farming Union's deputy president, Tom Bradshaw, said: "Renewable energy production is a core part of the NFU's net zero plan and solar projects often offer a good diversification option for farmers."
How to find Green Building Renewables in Norwich
Green Building Renewables
Industrial Estate,
64 Damgate Ln,
Acle, Norwich
NR13 3DJ
01603 517044
Email
Renewable energy installations in Norwich, and other news
What you need to know, what we know, and how we can continue to help customers bring low carbon efficient heating to their homes through the Boiler Upgrade Scheme (BUS).