Renewable technologies installed in Nottingham
I spent a bit of time trying to understand my solar pv, storage, immersion and backup options and contacted a few companies for advice and quotes. GBR were by far the most responsive and helpful to get a quote for what was a reasonably involved install. They scheduled the work and we worked through a battery supply chain problem. The install was quick and mostly snag free. The system was up and running next sun rise. I highly recommend GBR.
Battery system and inverter installed in a day. Its use during August and September reduced my electricity consumption by 90%. Nice people, quick installation, fantastic performance.
I wanted to leave a review for Green Building Renewables after they installed a solar panel and battery system at our home. The team was a pleasure to work with from start to finish. They were professional and thorough during the planning and surveying stage, and the installation process was seamless. They arrived on time and the workmanship was impeccable. We are extremely happy with our new solar panel and battery system and highly recommend Green Building Renewables for anyone considering solar
We had an amazing experience with Green Building Renewables! They installed a solar panel and battery system at our home and it has exceeded our expectations. The team was friendly, and professional, and always kept us informed throughout the process.
Renewable energy brands we install in Nottingham
Our range of renewable energy brands includes Vaillant, Fox Ess, Tesla Powerwall, EcoForest, LuxPower, Mistubishi and Zappi
How can I find a solar panel supplier in Nottingham?
Installing renewable energy technology in your home is a major investment and one that also needs expert design and handling. Green Building Renewables Nottingham install solar panels and battery storage solutions in homes and businesses in Nottingham area, as well as air source heat pumps, ground source heat pumps and EV charging points. Our award-winning team of renewable energy technicians will ensure that we specify the right equipment and look after you throughout the whole process, including our unrivalled after-sales support.

History of Green Building Renewables in Nottingham
Green Building Renewables Nottingham was set up in 2022 as an operating arm of the York and Doncaster branches, supported by their award winning customer service and operations department.
With our strong focus on customer care and over 20 years' experience of installing low carbon and renewable energy technologies, the new branch is committed to providing the very latest renewable energy solutions, including air source heat pumps, ground source heat pumps, solar panels, solar panel batteries and EV charging points.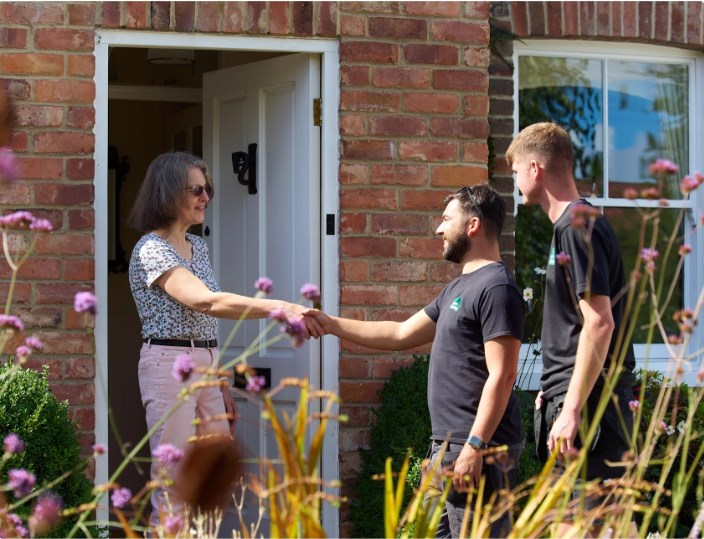 Solar energy and renewable energy solutions in Nottingham
Nottingham benefits from 193 hours of sunshine in May – our sunniest month, but even December still has on average 55 hours of sunlight ensuring solar panels are still an ideal renewable energy solution for both homes and businesses in the area.
Renewable energy and sustainability in Nottingham
Nottingham, falls under the juristiction of Nottingham City Council, being home for more than 323,000 residents. The Council takes carbon reduction and sustainability across the city seriously and is proud to be on target to be the furst carbon neutral City in the UK by 2028, a large part of this is down to their use of and advice on renewable technologies such as solar panel installation in both homes and businesses.
Nottingham has been active in helping to decarbonise electricity. For instance, by December 2020, over 6,400 solar photovoltaic (PV) installations had been deployed across the city.
The Council has installed solar PV on Council owned estates across the city
Nottingham has pioneered solar carports installations, and working with buisnesses to combine solar PV with domestic, community and commercial energy storage facilities
Following on from the Green Homes Grant (now replaced by the RHI) Nottingham City Council received over £5.6million to fit solar panels to around 655 homes. Through this and other grants Nottingham's residents have benefitted from over 4,000 social housing solar installations.
Moving forward funding is now available (certain criteria applies) for solar PV systems to 220 homes, with funding available for 20 heat pumps. For more information and scheme updates please visit Nottingham City Council's Greener Housing Website.
How to find Green Building Renewables in Nottingham
Green Building Renewables
Unit 5a Rani Drive,
Nottingham,
NG5 1RF
0115 8222 290
Email
Renewable energy installations in Nottingham, and other news
What you need to know, what we know, and how we can continue to help customers bring low carbon efficient heating to their homes through the Boiler Upgrade Scheme (BUS).