Renewable technologies installed in Oxford
Positive:

 Professionalism,

 Punctuality,

 Quality,

 Responsiveness,

 Value

Steve Cross Plumbing fitted an Air Source Heat Pump system to our house. Staff were all very professional, efficient, tidy and did an excellent job. The whole installation was completed on time and on budget. I would highly recommend them to anybody.
Air Source

We had excellent advice from this company about our air source heat pump. Rather than taking our money for a job that didn't need doing we were advised to speak to installers/suppliers about the issue to get it rectified under warranty.
Would use the company again for problems and servicing. They are very easy to communicate with.
Highly recommended!

Really quick response when our old boiler gave up. Great advice from Paul and Steve, Sam the engineer was very polite, neat and tidy, they charged a fair price, and the team in the office were easy to deal with.
Renewable energy brands we install in Oxford
Our range of renewable energy brands includes Daikin, Mitsubishi, Tesla Powerwall, Fox Ess, Kensa, Grant and Zappi
How can I find a solar panel supplier in Oxford?
Installing renewable energy technology in your home is a major investment and one that also needs expert design and handling. Green Building Renewables Oxford install solar panels and battery storage solutions in homes and businesses in Oxfordshire area, as well as air source heat pumps, ground source heat pumps and EV charging points. Our award-winning team of renewable energy technicians will ensure that we specify the right equipment and look after you throughout the whole process, including our unrivalled after-sales support.

History of Green Building Renewables in Oxford
Green Building Renewables Oxford will be launched in 2023, rebranding Steve Cross Heating and Plumbing, the Kidlington-based heating, kitchen and bathoom company long established in Oxfordshire.
With our strong focus on customer care and a wealth of experience in installing low carbon and renewable energy technologies, the new branch is committed to providing the very latest renewable energy solutions, including air source heat pumps, ground source heat pumps, solar panels, solar panel batteries and EV charging points.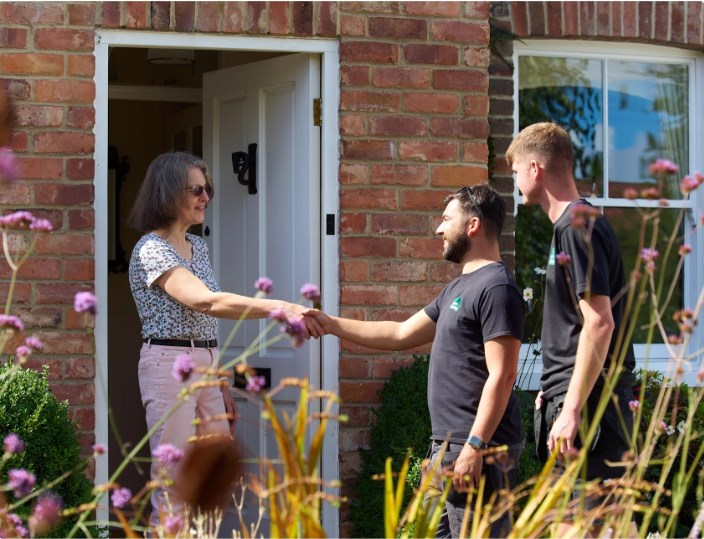 Solar energy and renewable energy solutions in Oxford
Oxford benefits from 215 glorious hours of sunshine in July – our sunniest month, but even December still has on average 56 hours of sunlight, ensuring solar panels are still an ideal renewable energy solution for both homes and businesses in the area.
Renewable energy and sustainability in Oxford
Oxford, falls under the juristiction of Oxfordshire County Council and 5 Oxfordshire local authorities including Oxford City council and it is home for more than 162,000 residents.
Oxford Council already harnesses solar power on its city centre St Aldate's offices in the form of a 66 panel array, ofsetting 10 tonnes of carbon per year and generating 18,539kWh.
Oxford to Zero
Oxford declared a climate emergency in January 2019 and in the Autumn became the first UK city to hold a Citizens' Assembly on Climate Change, aiming to achieve net zero sooner than 2050.
Oxford City Council offers Sustainable Warmth grants to fund energy efficiency upgrades for Oxford homeowners, private tenants and private landlords. The Council's grant offers sustainable assistance to those that are eligible in the form of
An upgrade to an air-source heating system
Heating controls
Solar panel installation
Energy Efficiency lighting
How to find Green Building Renewables in Oxford
Green Building Renewables
24 Bankside, Kidlington,
Oxfordshire,
OX5 1JE
01865 841 911
Email
Renewable energy installations in Oxford, and other news
What you need to know, what we know, and how we can continue to help customers bring low carbon efficient heating to their homes through the Boiler Upgrade Scheme (BUS).