York
Open Now
Mon-Fri: 9am - 5pm
---
---
Unit 9 Chessingham Park, Dunnington, York, YO19 5SE
Renewable technologies installed in York
I spent a bit of time trying to understand my solar pv, storage, immersion and backup options and contacted a few companies for advice and quotes. GBR were by far the most responsive and helpful to get a quote for what was a reasonably involved install. They scheduled the work and we worked through a battery supply chain problem. The install was quick and mostly snag free. The system was up and running next sun rise. I highly recommend GBR.
Battery system and inverter installed in a day. Its use during August and September reduced my electricity consumption by 90%. Nice people, quick installation, fantastic performance.
I wanted to leave a review for Green Building Renewables after they installed a solar panel and battery system at our home. The team was a pleasure to work with from start to finish. They were professional and thorough during the planning and surveying stage, and the installation process was seamless. They arrived on time and the workmanship was impeccable. We are extremely happy with our new solar panel and battery system and highly recommend Green Building Renewables for anyone considering solar
We had an amazing experience with Green Building Renewables! They installed a solar panel and battery system at our home and it has exceeded our expectations. The team was friendly, and professional, and always kept us informed throughout the process.
Renewable energy brands we install in York
Our range of renewable energy brands includes Vaillaint, Fox Ess, Tesla Powerwall, EcoForest, LuxPower, Mistubishi and Zappi
How can I find a solar panel supplier in York?
Installing renewable energy technology in your home is a major investment and one that also needs expert design and handling. With over 20 years' experience installing solar panels in York, and the Yorkshire region, as well as air source heat pumps, ground source heat pumps and EV charging points, our award-winning team of renewable energy technicians will ensure that we specify the right equipment and look after you throughout the whole process, including our unrivalled after-sales support.

History of Green Building Renewables in York
In 2021, Green Building Renewables was born. It emerged from the original Go Eco Renewables business founded in 2015 by Chris Delaney and John Gilham. When Efficient Building Solutions acquired Go Eco, the company was re- named Green Building Renewables, with its HQ in York but with an expanding network of offices around the UK.
With their strong focus on customer care and over 20 years' experience of installing low carbon and renewable energy technologies, the new company remains committed to providing the very latest renewable energy solutions, including air source heat pumps, ground source heat pumps, solar panels, solar panel batteries and EV charging points.
Discover our York renewable energy awards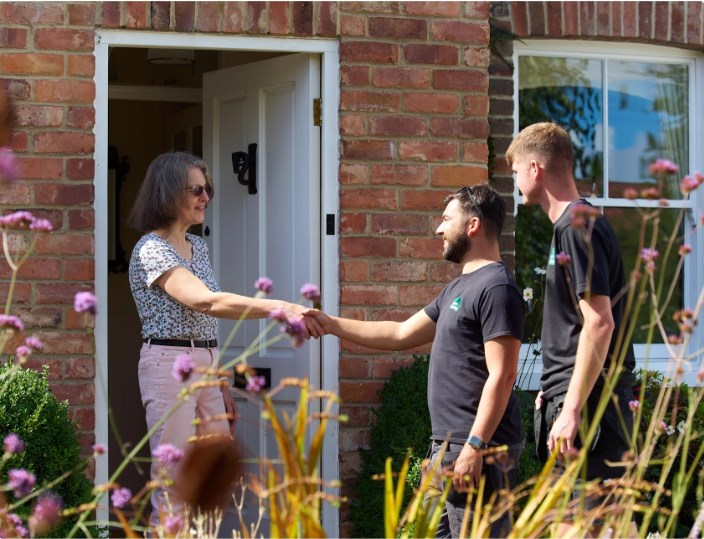 Solar energy and renewable energy solutions in York
York and the Yorkshire region benefit from the Pennines which create a shadow effect over the county, the net effect being to decrease cloud cover and boost sunshine hours by 25%.
Which means that solar panels are an ideal renewable energy solution for both homes and businesses.
Renewable energy and sustainability in York
York falls within the Yorkshire and Humber region with more
than 193,000 of us calling it home. We're a city that takes
renewable energy and environmental policies seriously.
The York Environment Partnership is responsible for delivery
the Sustainable City element of the Sustainable Community
Strategy, which includes activity across a wide range of areas
including climate change, sustainable transport, the natural
environment and the built and historic environment.
York is also the base for the Environmental Sustainability
Institute whose mission is to facilitate and deliver world-class
research on environmental sustainability.
The York city local government plays an active role in
mitigating the city's impact on the environment through One
Planet York, an initiative designed to create a healthy, happy
and prosperous city which has:
A thriving local economy

Strong communities

A sustainable way of life
The initiative tackles climate and unsustainable use of
resources through:
Reducing the amount of waste, traffic congestion and pollution while increasing recycling in York

Ensuring that all new measures respect the qualities and distinctiveness of York

Avoiding the loss of biodiversity
How to find Green Building Renewables in York
Green Building Renewables
Unit 9 Chessingham Park
Dunnington
York
YO19 5SE
01904 946609
Email
Renewable energy installations in York, and other news
What you need to know, what we know, and how we can continue to help customers bring low carbon efficient heating to their homes through the Boiler Upgrade Scheme (BUS).