Statement: Green Building Renewables' response to government announcement (20th September)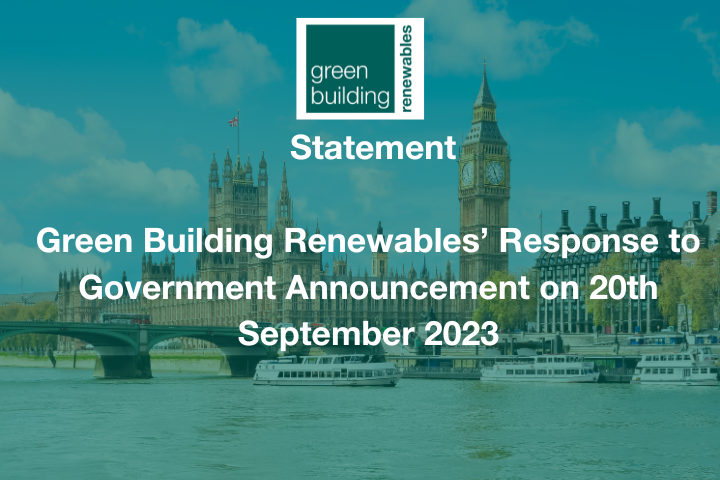 Green Building Renewables welcomes the announcement by the Prime Minister to increase the Boiler Upgrade Scheme support by 50 per cent to £7,500 for air source heat pumps.
Increasing the incentive to heat pumps is a small positive step to helping families and landlords install heat pumps. There is more that could have been done and proposed. We were disappointed by the lack of discussion about solar energy and the missed opportunity to invest more in green jobs that would benefit the renewable energy industry.
We're not just an installer of renewable technologies; we see ourselves as part of a sustainable future. In just two years, we've grown from a £3 million company to a £35 million nationwide network of renewable energy experts. Why? Because the people of the UK, citizens and businesses alike, hunger for change. They want to future-proof their buildings, cut energy costs, and reduce their environmental footprint. We feel that the government's announcements yesterday do not match the understanding and appetite of the British public on this subject and the challenges ahead.
There is still a colossal opportunity in the UK to advance green policy, green energy, and green jobs for the benefit of all. As mentioned by the Prime Minister in his speech, climate change is a reality that cannot be ignored. Fossil fuel prices are forecasted to stay at higher levels, and we need policies that combat fuel poverty and improve health and wellbeing. The proposed strategies could still go further. To create the change the Prime Minister alluded to and benefit the economy more substantially, there must be further investment in renewable energy systems like solar at residential, industrial and large-scale solar levels.
The government should ramp up investment in renewable energy to transform the UK's energy landscape. While there have been commendable past investments, the announcements today don't help push the renewable sector as far as they could in helping to reach more people, especially those most vulnerable to the impacts of high fossil fuel prices. The extension of targets only creates uncertainty, reduces investment and slows the efficiencies and cost reductions needed. The government must take a cue from success stories like Green Building Renewables. Ambitious targets, widespread empowerment, addressing building regulations, rethinking energy pricing, and improving infrastructure must all be included to create a market framework that does not need subsidy.
Consumers and businesses are embracing renewables and energy-efficient technologies, leading towards a greener and energy-independent future for our nation. The government must match this ambition and provide consistent strategic policies that allow the sector to invest with certainty and develop the green jobs of the future.