From historic bowling green to going green, Green Building Renewables installs solar at Wakefield Sports Club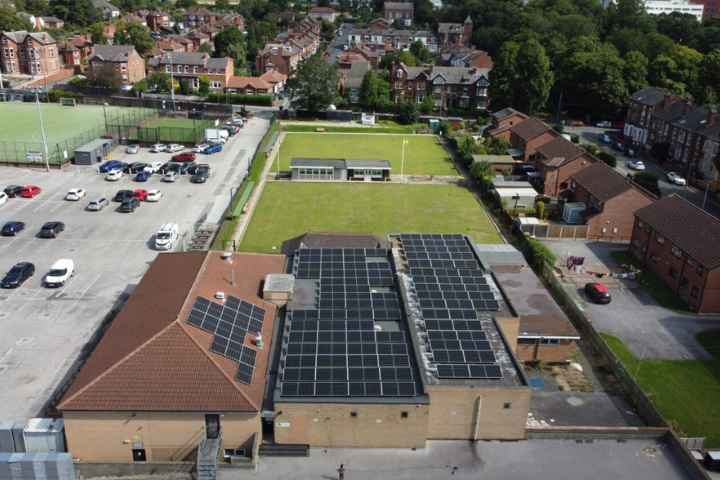 Wakefield Sports Club, a prominent local sports club, has announced another significant milestone in its 176-year history with a state-of-the-art solar installation thanks to Green Building Renewables.
The 60kW solar installation, consisting of 111 550kW panels, has been strategically placed on the club's rooftops to harness clean, renewable energy from the sun. By converting sunlight into electricity, the system is expected to generate a substantial portion of the club's energy needs, providing a greener and more eco-friendly approach to powering the facility. 
Steve Omatseone, General Manager of Wakefield Sports Club, said, "As a sports club which has been deeply rooted in the community for over 170 years, we recognise the importance of promoting sustainability and preserving our environment and club for the future. The solar installation aligns perfectly with our values and vision for a greener future. It will not only help us reduce our carbon footprint but also serve as an example for our members, supporters, and the local community." 
Founded in 1847, Wakefield Sports Club started life as a single bowling green, located seven minutes walking distance from the town hall, gifted to a group of local men by Lord Smirthwaite. In 1848, a cricket club joined forces with the bowlers and formed Wakefield Cricket and Bowling Club, playing on what was then Grove Hall grounds. The club now boasts a bowls club, hockey club, squash club, rifle and pistol club, and even a jazz club.  
The decision to invest in solar energy reflects Wakefield Sports Club's strong commitment to sustainability and its dedication to making environmentally conscious choices. By adopting solar power, the club is taking a proactive stance in the fight against climate change and playing its part in mitigating the impacts of global warming.
The solar installation project was installed by Green Building Renewables from our York Office. Our Managing Director, Chris Delaney, said, "We are honoured to have partnered with Wakefield Sports Club on this transformative project. Our shared goal of promoting sustainability and the history of the club has made this collaboration especially meaningful. The solar installation at the sports club will not only help them save on energy costs but also set an inspiring example for other local organisations and the broader community." 
The solar installation project at Wakefield Sports Club is anticipated to have a significant positive impact on the club's operations, reducing its reliance on conventional energy sources and leading to substantial cost savings over time. Additionally, the move towards sustainable energy aligns with the growing global focus on environmental responsibility, positioning Wakefield Sports Club as a progressive leader in the region's sports and leisure industry. 
News coverage of this story can be seen in the Wakefield Express.
We now offer finance options for commercial projects. If you are interested in a solar installation or heat pump installation then find out more about our commercial finance options here.