An award-winning night for the East Midlands team at the Energy Efficiency Awards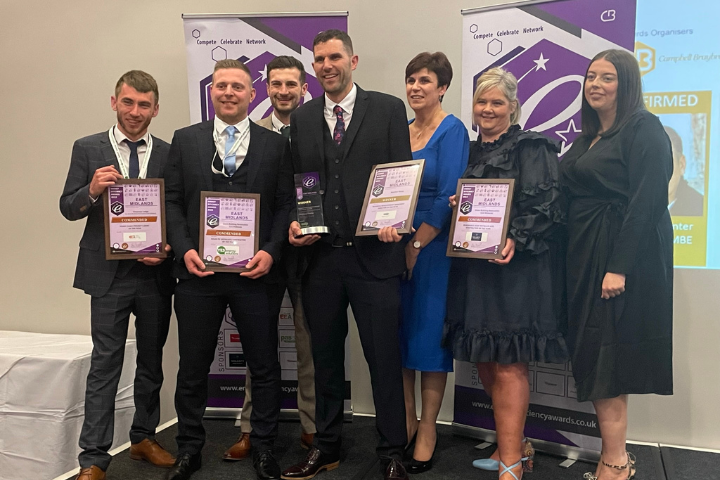 Another award-winning night for Green Building Renewables saw our East Midlands team collect four accolades at the Energy Efficiency Awards regional finals last week, with recognition in every category we entered.
Regional Branch Manager Matthew Young won the region's Business Development Manager of the Year, replicating Alex Walmsley's success in the East of England Awards.
We also won recognition in three other categories with Commended awards in the East Midlands Solar Installer of the Year, East Midlands Heat Pump Installer of the Year and small-scale project for our ground source heat pump installation at Cheyney's Lodge.
The awards hosted at the Radisson Blue Airport Hotel in Derby were attended by over 150 industry professionals from across the region. Green Building Renewables was represented at the awards by colleagues from our regional office in Daventry.
We won recognition in every award we entered, which is a fantastic achievement for the team. The awards celebrate those companies and individuals leading energy efficiency work across the UK, whether that be companies leading the way in renewable technologies and services or businesses installing energy efficient products that improve the fabric of buildings.
Our managing director, Chris Delaney, said on the award wins,
"This is another fantastic achievement for Green Building Renewables. It demonstrates perfectly that our local approach to building a nationwide network of regional experts in renewables is working. We succeed and deliver excellent customer service locally, and we can replicate this high-quality work nationwide. The success of the local team in the East Midlands follows on from the success we had in the East of England too.

"The team in the East Midlands should be incredibly proud of their achievements. Matthew and his team continue to offer exceptional service and high-quality work to local customers. The feedback the team regularly receives in reviews on platforms like Trustpilot is outstanding. Congratulations to everyone involved.

"Award ceremonies, like the Energy Efficiency awards, are a fantastic way to celebrate the people working in the industry. We hope to see further local success for the company at these and other awards in the future."
Matthew Young – East Midlands Business Development Manager of the Year
Regional manager Matthew Young was recognised for his achievement in helping to develop and grow the business within the energy efficiency sector, even in challenging market conditions and a competitive industry.
Guiding an existing and successful business into a new era.
Matthew has played a formidable role in the team's success in East Midlands in the last 12 months through considerable transition and transformation.
He has overseen the transition of one highly successful renewables company in the region as it joined another. At the same time, through his leadership and development, he has also helped transform and grow that new company, doubling its size in the same period.
Green Building Renewables (GBR) expanded into the East Midlands in 2022 when Daventry-based Bright Green Renewables (acquired in 2020 by GBR's parent company Efficient Building Solutions) joined our nationwide network of renewable energy experts.
Matthew Young joined GBR in April 2022 on the recommendation of Mark Partridge, the founding director of Bright Green Renewables. Like all our acquisitions, Mark had built a highly successful and profitable renewables business. After years of hard work, Mark was retiring and leaving the industry and needed to know that the company he had founded was passing into safe hands. This is precisely what he believed Matthew could do. Mark had planned a six-to-eight-month transition, but after only two months, he retired in June 2022 and left the team he had built in Daventry to Matthew to lead. This much-deserved early retirement for Mark demonstrated the confidence that Mark and our Managing Director, Chris Delaney, had in Matthew from the beginning. This confidence has only increased in the last 12 months.
Over the last year, Matthew has led a talented, motivated, and loyal workforce and provided high-quality service to satisfied customers locally. Under Matthew's watch and development, the team in the East Midlands has expanded from one office in Daventry to three, with additional offices in Wellingborough and Nottingham. The team has grown from a group of eight to nineteen.
Matthew has put his 22 years of experience in low carbon and renewable technology to practical use and has helped develop a team widely respected in the region by customers.
"From the initial contact through system design, quotation and final installation I had an excellent customer experience with Green Building Renewables at every step. The price was also very competitive, and the end product was fantastic. I would highly recommend this team."

"The team that fitted my air source heating system were a pleasure to host. They were kind and courteous throughout the week of install, cleaning at the end of each day and ensuring they left my water systems (old hot water supply) in a usable condition each day. Their knowledge of the product and updates for me during the installation, kept me well informed of the status and work that was still to complete. I had a full demo of the controls – even though they had already been through the trouble of pre-setting everything for me. Nothing was too much trouble, and I would highly recommend!"

"Knowledgeable staff from start to finish, going through the quotation was easy, a site survey was complete quickly and a few weeks later, my install was underway after signing the 'express request'. Built very professionally, and everything explained along the way."

Customer reviews from Trustpilot
Trustpilot testimonials and comments like these above are excellent indications of the business that Matthew has been critical in a building in the last Year and one of the main reasons why the East Midlands office led by Matthew had helped the company secure a five-star rating on Trustpilot and Google.
Leading a renewable business at a time of energy uncertainty.
To be a good leader and help develop a business, you must be willing to take risks and look for opportunities to transform your company's future. In the last 12 months, this is something that Matthew has done with energy and enthusiasm as he played an integral role in helping transition and transform one business into another. He has helped establish Green Building Renewables (GBR) in the region. As the company looks to the future, Matthew, as Regional Manager, will play a critical role in helping us expand our product and services further in the East Midlands.
Matthew is developing the business even further as he actively seeks new, larger premises for the team due to its rapid expansion. Matthew has also played a critical role in educating and training future solar installers and heating engineers. Under Matthew's leadership, four apprentices are now in the East Midlands region.