Air Source Heat Pump From £1,495
For a limited time only, we are excited to offer a fully installed air source heat pump, for an incredible £1,495. Don't miss out on this fantastic opportunity, get in touch today to find out more.
Air Source Heat Pump From £1,495 – In Conjunction with the BUS scheme – Surveyed & Installed in 4 weeks.
What is included in this limited-time offer:
Want to know more? Simply fill out the form and we will be in touch.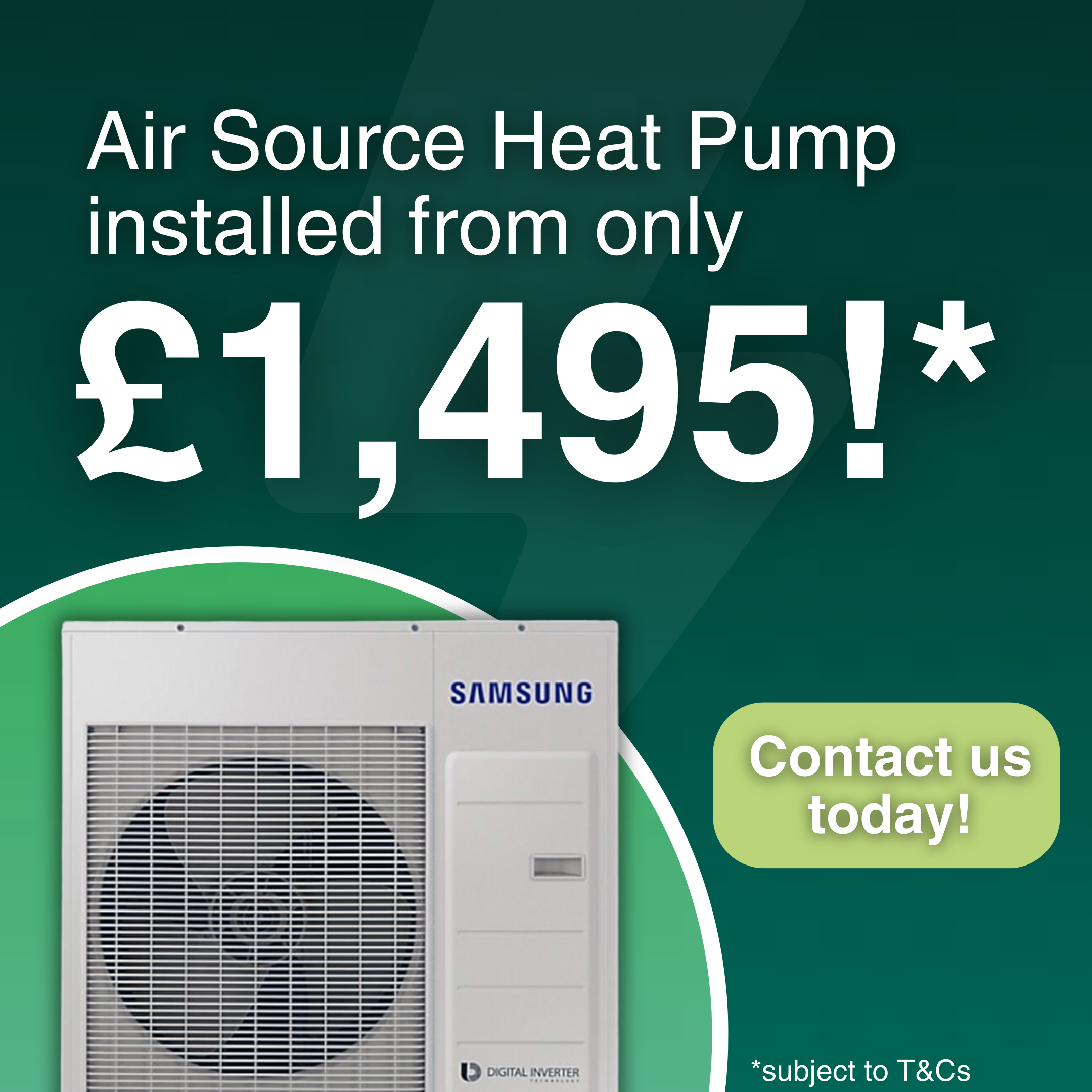 Energy Efficiency
Air source heat pumps are highly energy-efficient because they transfer heat from the outside air to heat or cool your indoor space.

Cost Savings
Due to their energy efficiency, air source heat pumps can lead to significant cost savings on your energy bills

Environmental Benefits
ASHPs are environmentally friendly heating and cooling solutions. They produce fewer greenhouse gas emissions compared to traditional heating systems

Versatility
Air source heat pumps offer both heating and cooling capabilities, providing year-round comfort.
Why Choose Air Source Heat Pump
Choosing an air source heat pump is a smart and environmentally conscious decision for a range of compelling reasons. First and foremost, air source heat pumps are highly energy-efficient, extracting heat from the air and converting it into heat for your home, making them a sustainable heating option.
They offer a significant reduction in energy consumption, leading to lower heating bills and long-term cost savings. Additionally, air source heat pumps are a versatile and low-maintenance solution, capable of providing both heating and cooling, ensuring year-round comfort.
Their reduced carbon emissions help combat climate change and reduce your environmental impact. With the potential for government incentives and grants, there has never been a better time to make the switch to an air source heat pump and contribute to a cleaner, greener future for you and the planet.
Who are Green Building Renewables?

Green Building Renewables was launched in 2021. Our renewables' legacy reaches back two decades and the company has been built upon the depth of our technical knowledge.
Green Building Renewables wants to be the biggest and best renewables installer in the UK. Biggest in terms of coverage of all the UK by 2025 and best in terms of customer service and a place to work for our staff. Our vision is to help every customer lead a more sustainable life. We do this by having a strong focus on customer care and technical excellence in installing our low carbon and renewable technologies.