What are the benefits of installing solar panels for businesses?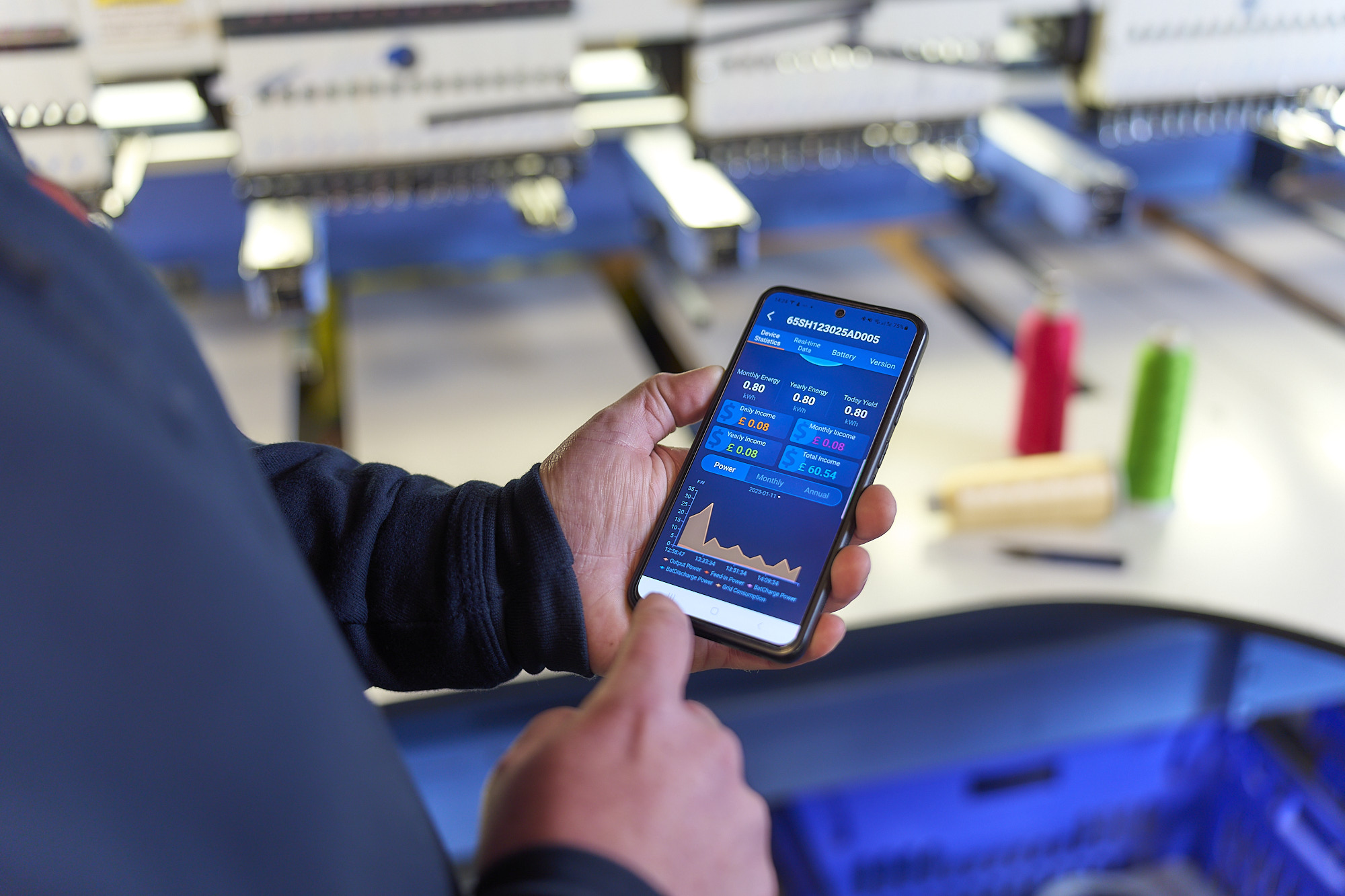 The commercial benefits for businesses investing in solar panels
With energy costs now a significant consideration for all of us and businesses not benefitting from government intervention with price caps, the case for investing in renewable energy and solar panels for businesses is becoming ever more compelling. Some businesses are facing energy costs of up to 80p/kWH. Hence why renewable energy is such a powerful proposition when it comes to controlling overheads and maintaining margins.
Apart from helping homeowners achieve their green energy ambitions, Green Building Renewables helps commercial businesses reduce their dependence on the national grid by installing solar panels, solar batteries, air source heat pumps, ground source heat pumps and EV charging points. Energy independence allows businesses to plan their finances in a climate where energy prices remain volatile.
For many companies, solar panels and a solar battery is the obvious route to renewable energy. You can also encourage employees and customers to think green by supplying on-site electric vehicle charging points, which we can install.
How easy is it to install solar panels on the roof of my business?
Solar panels are one of the fastest forms of renewable energy technology to install requiring little interruption to business, but often with the fastest return on investment. But before we embark on any installation project, we take you through the following steps:
Understand your businesses current energy usage, including weekly and seasonal peaks and troughs in demand. This will help us identify whether you need a solar battery to harness surplus generated energy.
Explore your future energy needs of your business – for instance, do you plan to expand production or floor space?
Conduct a solar panel survey to check the compatibility of your roofing at your business premises.
Advise you on renewable energy financial incentives and any government funding initiatives.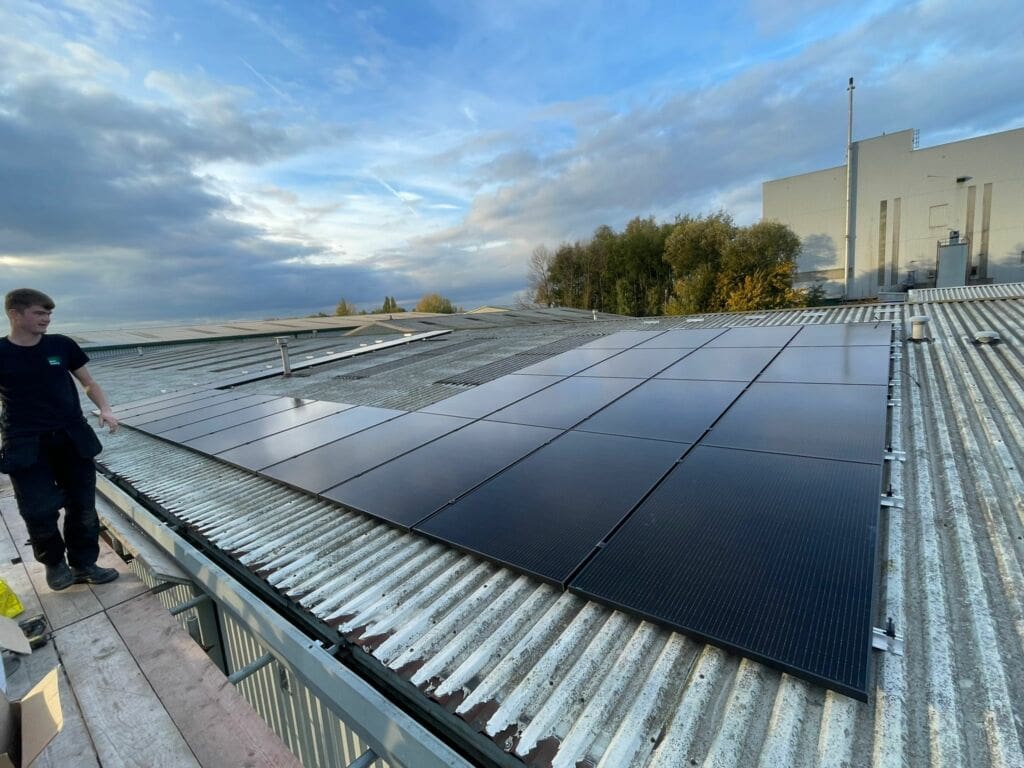 How long does it take to install solar panels on my business property?
The answer to this depends on how big your business property is. But as a rough guide, a 12-16 panel will take around a day, with extra time for commissioning. For larger premises, we'll need to install more panels, possibly on different sections of the building. So this will take longer. Scaffolding is required and access to power supply. The batteries are fitted internally but take up little room.
Read the case study of Leeds-based ARC Workwear, which commissioned us to install solar panels in autumn 2022, working to a very tight deadline.
Leeds Company Chooses Solar Panels And Solar Battery To Reduce Energy Bills – Green Building Renewables
As Anthony Chapman, the company's co-founder, explains:
The installation and customer service were fantastic. They answered our questions quickly, and the team was very helpful. I placed the order in mid-October 2022 and asked if they could install the solar panel system before the end of the month, so that I could claim the VAT. They came back to us very quickly, and it was installed just before the end of October.
What are the financial incentives for businesses installing solar panels?
Unlike residential properties, the power generation potential of larger, commercial solar panel installations means the payback on your initial investment is far quicker. Also, should you wish to sell your unwanted energy, the income generation benefits from selling this back to the National Grid also increase.
Under the government's Smart Export Guarantee scheme, licensed small electricity generators can sell their surplus energy back to National Grid buyers based on their current tariff rates. We usually suggest this isn't financially rewarding for our residential customers, but for companies generating more significant amounts of electricity, it's definitely worth considering.
Apart from this scheme, from April 2022, the government removed business rates on a range of green technologies, including solar panels and solar batteries. VAT has also been reduced to zero for five years on these products too to incentivise installing solar panels for businesses.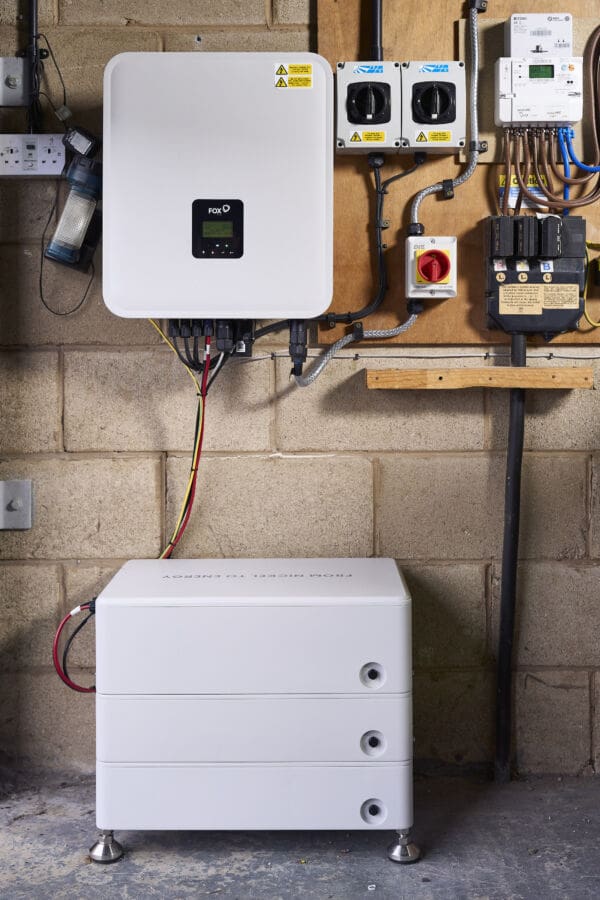 Alternatively, rather than selling back your surplus energy, you can install a solar battery which helps you capitalise 100% of the electricity you generate to provide additional power for lighting and powering equipment and machinery. This greatly increases the speed of payback on a solar panel system. With ARC Workwear, because they wanted to capture its surplus energy, we also specified a FOX ESS Hybrid Energy Cube battery storage system.
What are the PR benefits for companies adopting green energy solutions?
With all of us becoming more aware of our carbon footprint, the PR benefits of being able to showcase your green credentials are considerable. For many companies who just pay lip service to being green, savvy consumers can easily detect when they are being greenwashed, a term used to describe people or companies professing to be environmentally aware without showing much evidence of authenticity. So, if you're mapping out a sustainability strategy; and want to reduce your National Grid energy consumption, solar panels are a great way to start. It shows an authentic commitment to investing in a green energy that will be integral to your business. Seeing the savings you make and the electricity you generate, also makes a powerful story in your end-of-year reporting or on your website and social media platforms.
Find out more about solar power energy for your business
Head to the Commercial Solar Panels section of our website where you can read a wider range of case studies looking at our experience of installing solar panels for businesses then get in touch with one of our solar panel installation experts.