Green Building Renewables set to save Suffolk Brewery £1,000 a month in energy bills with a new solar PV system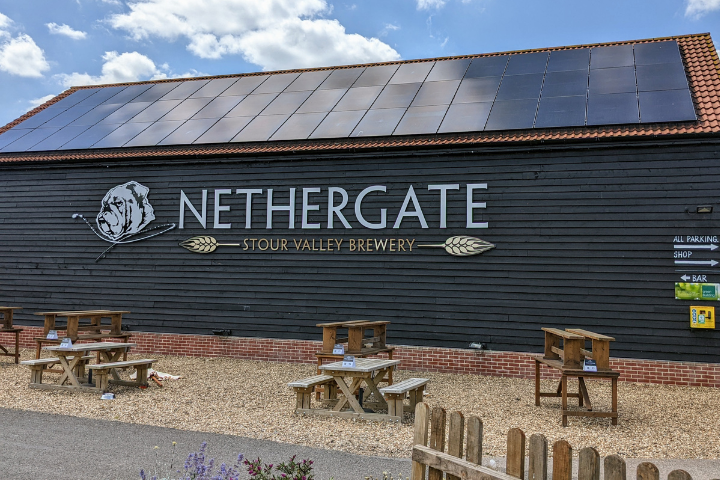 Suffolk-based Nethegate Brewery hopes to save up to £1,000 a month on its energy bills thanks to a new 36kW solar PV system, which we recently installed via our Colchester-based team.
 The premier drinks producer, Nethergate Brewery, based in Long Melford village near Sudbury, has committed to reducing its carbon footprint and is continuously seeking new ways to be more efficient, reduce waste and minimise its impact on the environment. The new solar PV installation is the latest demonstration by the company of its commitments and will enable the business to save thousands across the course of the year.
 The renewable technology was installed from our Colchester Green Building Renewables office, formerly Eco East Anglia. The system consists of a Solis 36kW three-phase inverter and 108 Eurener panels. The brewery building itself has fermenters, stills and chiller units running all day, so there is high energy usage.
Nethergate General Manager, Robert Crawford, said, "We've already made many changes to our products to become more sustainable. We use an environmentally friendly packaging alternative. We've invested in electric vehicles and charging units on-site. And now the installation of the solar PV system to harvest our energy demonstrates our 100% commitment to positively impacting our local community, suppliers, and customers."
Chris Delaney, Green Building Renewables Managing Director, said, "This is an incredible piece of work by Robert and Philip's team in East Anglia. As well as installing low carbon and renewable technology in homes, we are looking to work alongside businesses with clear sustainable commitments like Nethergate brewery. The transformation of UK businesses to become more sustainable will only be achieved with the type of pioneering thinking that Nethergate has shown."
 Philip Fellowes-Prynne, CEO of Efficient Building Solutions, added, "The UK needs businesses like Nethergate Brewery that see the commercial benefits and potential of installing renewable technology. With energy prices rising, businesses that look to the long term future and invest in renewable technology today will feel the benefits sooner than those businesses who don't."
Since 1986, Nethergate Brewery has crafted a range of multi-award-winning beers, a craft lager and now, with its newly installed distillery, a growing range of Spirits.
The good news story was also picked up by the local press in The East Anglian Daily Times. You can read the article here.
If you are interested in how a solar PV system and battery storage could help your commercial enterprise save money then why not get in touch with our team to discuss how we can help.