Why sports venues should join team solar and be Leaders for Sustainability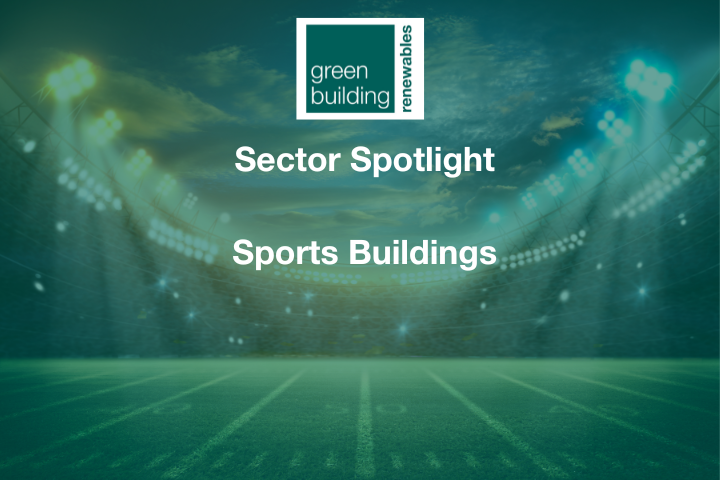 Sport has an extraordinary ability to unite people, transcending cultural, language, and nationality boundaries. Whether it was the kickabout on the street as a child or attending a global sporting event, our shared passion for sports unites individuals and communities like few other things. Sports venues across the globe provide a common ground (both metaphorically and literally) where people can come together to share in something amazing, and today, in 2023, they have a serious role to play in helping to create a positive impact on the environment through the green and sustainable practices they choose and adopt.  
In this blog, we look at five reasons for sports teams to adopt solar and the seven best solar installs around the world (according to us!).
Table of Contents
Recently, our York team installed a solar PV installation at Beverley Racecourse on its brand-new state-of-the-art stables. Local installations like these at sports venues and for teams provide our regional offices with opportunities to help install renewable technology at sports locations where they can have a significant impact.
Regardless of the sports venue or its size, renewable technologies, especially solar energy, can help significantly lower bills, reduce energy consumption and decrease their carbon footprint.  
5 reasons why sports venues should consider solar   
Large Rooftop Areas: Sports venues and stadiums typically have expansive roofs offering vast surface areas for solar panel installations. These roofs provide ample space to accommodate many solar panels, maximising the potential for solar energy generation. By using unused rooftop space, stadiums can tap into a valuable renewable energy resource.
High Energy Demand: Sports venues consume substantial energy during events, including lighting, HVAC systems, and multimedia equipment. By integrating solar installations, stadiums can offset some of their energy needs and reduce reliance on traditional energy sources. Solar power generated on-site can directly power various operations, lowering utility costs and carbon emissions.
Public Visibility and Education: Sports venues often attract large crowds and receive extensive media coverage during events. By installing solar panels, stadiums can raise public awareness about renewable energy and promote sustainability. These installations symbolise a commitment to clean energy, inspiring fans and visitors to consider renewable energy solutions for their homes and businesses.
Extended Operating Hours: Sports venues and stadiums are active for extended periods, hosting events and activities into the evening and nighttime. Even when not hosting sports venues, they are often used for music events, which also use a lot of energy. Solar installations can take advantage of the long operating hours by generating electricity during the day and potentially storing excess energy in batteries during evening events. This ability to generate and store energy aligns well with the operational needs of sports venues and enhances their overall energy resilience.
Community Engagement and Economic Benefits: Sports venues often play a significant role in their local communities, attracting visitors, supporting local businesses, and generating employment opportunities. By embracing solar installations, stadiums can strengthen their ties with the community and contribute to the local economy. This could involve partnerships with renewable energy companies, local contractors for installation and maintenance, and job creation in the renewable energy sector. Green Building Renewables, for example, is already a community partner with Norwich City FC.
Sports venues and teams hold a great platform to influence and inspire change. By embracing sustainability through renewable technology like solar PV, they showcase their commitment to a greener future, setting an example for fans, communities, and other organisations to follow. By helping to mitigate climate change, engaging fans, enhancing their brand value, and realising potentially substantial cost savings, sports venues can demonstrate the far-reaching benefits of "being green." As more teams and sports venues look at ways to go green, we should look to a future where the world of sports and environmental sustainability go hand in hand, creating a positive impact that extends beyond the field and into the hearts and minds of millions.
Some sports teams and venues worldwide are already adopting solar panels and reaping their benefits. We've picked our seven favourites below.
Top 7 solar installations at sports venues around the world
Suzhou Olympic Sports Centre: The Suzhou Olympic Sports Centre in China is renowned for its solar installation covering the stadium's roof. The array comprises an incredible 7,000 solar panels, generating around 1.3 million kilowatt-hours of electricity annually. This sustainable energy source significantly reduces the stadium's reliance on non-renewable resources.
Lincoln Financial Field, Philadelphia: Home to the NFL team, the Philadelphia Eagles, Lincon Field has over 11,000 solar panels and 14 wind turbines, generating approximately four megawatts of renewable energy. Philadelphia Eagles have established themselves as leaders in sustainable sports practices. The team has also implemented extensive recycling and composting programs, installed energy-efficient lighting, and actively engaged fans in sustainability initiatives through educational campaigns and events.
The Oval, London, England: The Oval cricket ground in London features an impressive solar panel installation on its rooftop. The solar array comprises over 800 panels, generating approximately 194,000 kilowatt-hours of electricity annually. This renewable energy source helps power the stadium's operations and supports its commitment to environmental sustainability.
Maracanã Stadium, Rio de Janeiro, Brazil: The world-famous Maracanã Stadium in Brazil has a solar panel installation covering the roof of its parking lot, generating approximately 1.5 million kilowatt-hours of electricity per year.
Levi's Stadium, California, USA: The San Francisco 49er's stunning home ground features over 1,150 solar panels covering three bridges and the roof deck, generating approximately 1.6 megawatts of electricity. The solar array offsets a significant portion of the stadium's energy consumption.
Melbourne Cricket Ground, Australia: It will be no surprise to see an Australian sports ground feature in our list, but The Melbourne Cricket Ground (MCG) has a notable solar installation on its rooftop. The system consists of over 1,500 solar panels covering an area of 2,500 square meters, generating approximately 450 kilowatts of electricity. This installation helps power the stadium's facilities and reduces its carbon footprint.
Forest Green Rovers' Lawn Mower: It is not quite a solar installation (they have one of those too). But we must mention the English football team Forest Green and its solar-powered lawn mower. Based in Gloucestershire, England, the team has gained worldwide recognition for its outstanding sustainability efforts. The team has implemented various eco-friendly initiatives, including installing solar panels, collecting rainwater to maintain the pitch, adopting an entirely vegan menu for players and fans, and promoting sustainable and ethical food choices. Forest Green Rovers has even been awarded the United Nations "Climate Neutral Now" status, making them the world's first carbon-neutral football club.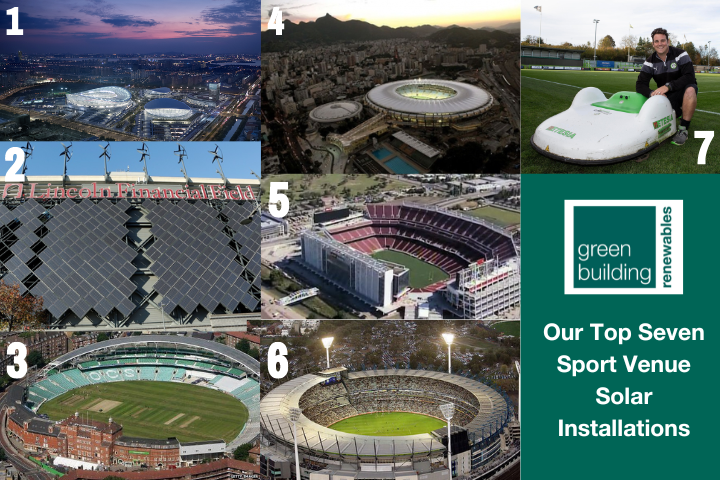 Why choose Green Building Renewables to install a solar energy system for your sports venue?
As well as a domestic solar installation team, we also have a commercial solar team. Across our offices, we have installed solar on commercial buildings, including offices, industrial facilities, community buildings, churches, schools and sports venues. Our installations at sporting events include national sports venues, municipal sports centres and local sports teams. Our team is ready to discuss solar installations for sports venues around the UK.
We are building a nationwide network of renewable energy experts. At our business's core are reputable regional businesses and offices, and our local offices understand the areas where they work. Our central commercial team has specialist knowledge and software, which allows them to design the best bespoke system possible for your local sporting venue. We ensure that we factor in all the necessary information to understand how your building is being used, and we can then provide you with the most accurate quotation and information for what you need, including how much energy you could save.
We're committed to building a sustainable future for the UK. A critical factor in ensuring that the UK meets its carbon targets and becomes more sustainable is transforming our buildings by reducing their environmental footprint and lowering their energy consumption from fossil fuels. Local sports venues, like Beverley Racecourse, can play a huge role in achieving this by adopting solar PV. When a sports team or sports venue installs a solar PV system, no matter your team, we all win.
If you work at a sports venue and are considering a solar PV system, battery storage, heat pumps or EV charging hubs, don't hesitate to contact our commercial team today.