Tang Hall Community Centre award win proves solar success for local organisations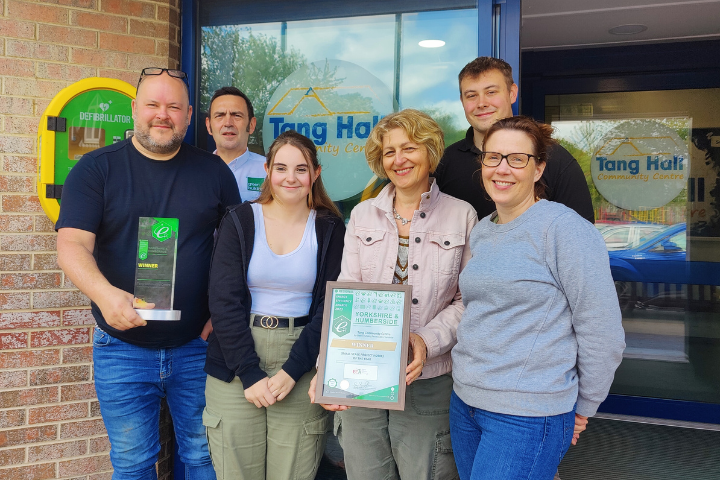 A community centre in York where Green Building Renewables installed solar is reaping the rewards, and the awards, in more ways than one.
Tang Hall Community Centre won Best Small Scale Project at the Yorkshire Energy Efficiency Awards this month. Our team shared and collected the award on the night, and the good news made it to the local press too.
What solar system did we install at the community centre?
We installed a 14.8 kW 40-panel Solar PV System and 16.4 kWh FOX ESS Hybrid Energy Cube Battery Storage last year. The solar array has allowed the centre to save 11,000kWh, equivalent to about £3,000 in annual savings at 34p/kWh.
How has the solar installation been crucial to the community centre?
Tang Hall Community Centre is an integral part of its community, serving the 9,250 residents surrounding it. During the Covid-19 Pandemic, the work of the community centre became vital to the community. Volunteers at the centre created and distributed over 6000 hot, nutritious, free meals during the summer of 2020. They provided 250 meals a week to those who needed it most.
Like many community buildings last year, the community centre's energy costs have increased dramatically from around £7.5k per annum on utilities to around £35k. Utilities are the highest cost of the Community Centre. The BBC and national media have all reported recently on how community buildings and public buildings risk closure to rising energy prices; Tang Hall Community Centre was no different until Green Building Renewables were able to help them save thousands.
The building requires constant care and attention, but significant improvements to its fabric have been made. It was built in 1992 and will always need substantial investment, particularly if it wants to reach its environmental targets and become a sustainable building.
Before the work by Green Building Renewables, the board of trustees at the community centre had worked exceptionally hard together to make the building the best it could be in every sense for the community. Through fundraising and other financial support, they had already made a few changes to the fabric of the building: with the installation of automatic doors, LED lighting, and a new kitchen to increase the centre's commercial appeal and accessibility and to ensure its longevity.
As energy prices dramatically affected the centre's viability of use and future for classes and organisations using it, the decision to install solar panels on the roof was taken to not only future-proof the building but also reduce its utility costs dramatically, which represented such a significant portion of the charity's outgoings. These cost savings can now be better spent in its community cafe, providing meals for older people, people with disabilities, and families living in poverty.
Green Building Renewables supplied and installed a system which would have maximum impact on the community centre and within the budget of the funds available to the charity through fundraising methods, including an Aviva Community Fund Crowdfunding.
What does Green Building Renewables work mean for the community centre?
The Centre Manager, Stephen Collins, said,
"The work by Green Building Renewables is a lifeline for the community around Tang Hall community centre. Over the years, the centre has survived a fire, floods and the Covid 19 Pandemic, but nothing has threatened our future as significantly as the energy price crisis. During that difficult time of the Pandemic, the community became closer together and was able to support those people that needed it. In the last year, the community once again came together to help fundraise for the solar panels we have now installed.

"I cannot fault the work of Green Building Renewables, and we immediately saw the impact of the work on our energy bills. In the last month alone, we saw 75% of our energy come from solar panels. This is a game-changer for the centre, and we are now looking at how a heat pump could help transform the centre further."
This installation has allowed the community hall to continue its work while energy prices remain volatile. The award entry will now be entered into the National Energy Efficiency Awards, which will occur later this year.
Why does Green Building Renewables want to work with community centres?
Chris Delaney, our managing director said on the project,
"We're incredibly proud that our work at Tang Hall Community Centre was recognised at the Yorkshire Energy Efficiency Awards. This reflects how worthwhile a project is to the community and rewards our team's hard work and professionalism. Tang Hall Community Centre is an incredible place that provides vital services, like the National Lottery-funded Big Local Scheme and its YourCafe, which help feed people every week.

"Solar PV and other renewable technology can transform how community and public buildings operate concerning energy. The centre can monitor their usage closely through the technology and the app we installed. This can help them to save even more money and dramatically reduce the environmental impact of a building, which can be very important when so many organisations and buildings have set carbon targets and goals."
What are the benefits of solar panel systems for community buildings?
Solar energy and other renewable systems have the potential to transform community buildings. If you manage or work in a community building, there are several benefits that installing solar could bring, including:
Reduced energy costs: Solar energy systems can help to reduce the energy costs of community buildings. Community buildings have seen their electricity bills dramatically rise in the last year. Solar PV and battery storage allow community centres to generate and store their own electricity and reduce the energy they have to draw from the grid, providing substantial long-term savings.
Environmental Impact: Community buildings, such as libraries, community centres, and public institutions, have the potential to make a significant positive impact on the environment. These buildings can generate clean, renewable energy and reduce their carbon footprint by installing solar panel systems.
Community Engagement: Community buildings act as gathering spaces, hosting various events, meetings, and activities. These buildings, and the people that use them, can become community ambassadors for sustainability and renewable technologies by installing solar panels. Demonstrating a commitment to renewable energy sends a powerful message, encouraging community members to consider adopting solar power for their homes or businesses.
Educational Opportunities: Community buildings, especially schools and libraries, serve as educational hubs within their neighbourhoods. Installing solar panels can be an educational tool, providing a hands-on experience for students and visitors to learn about renewable energy, climate change, and sustainable practices.
Increased property value: Solar energy systems can increase the property value of community buildings. This can be beneficial if the community building is ever sold.
Government Incentives: National and local governments have introduced initiatives and incentives to promote renewable energy adoption, including solar power. By installing solar panels, community buildings can take advantage of these programs and receive financial incentives, grants, or tax breaks. These incentives help reduce the upfront costs and make solar power an even more economically viable option for community buildings.
For more information about solar energy and renewables in community buildings, read our blog on why renewables can better transform local community buildings and organisations.