Thinking about installing solar panels?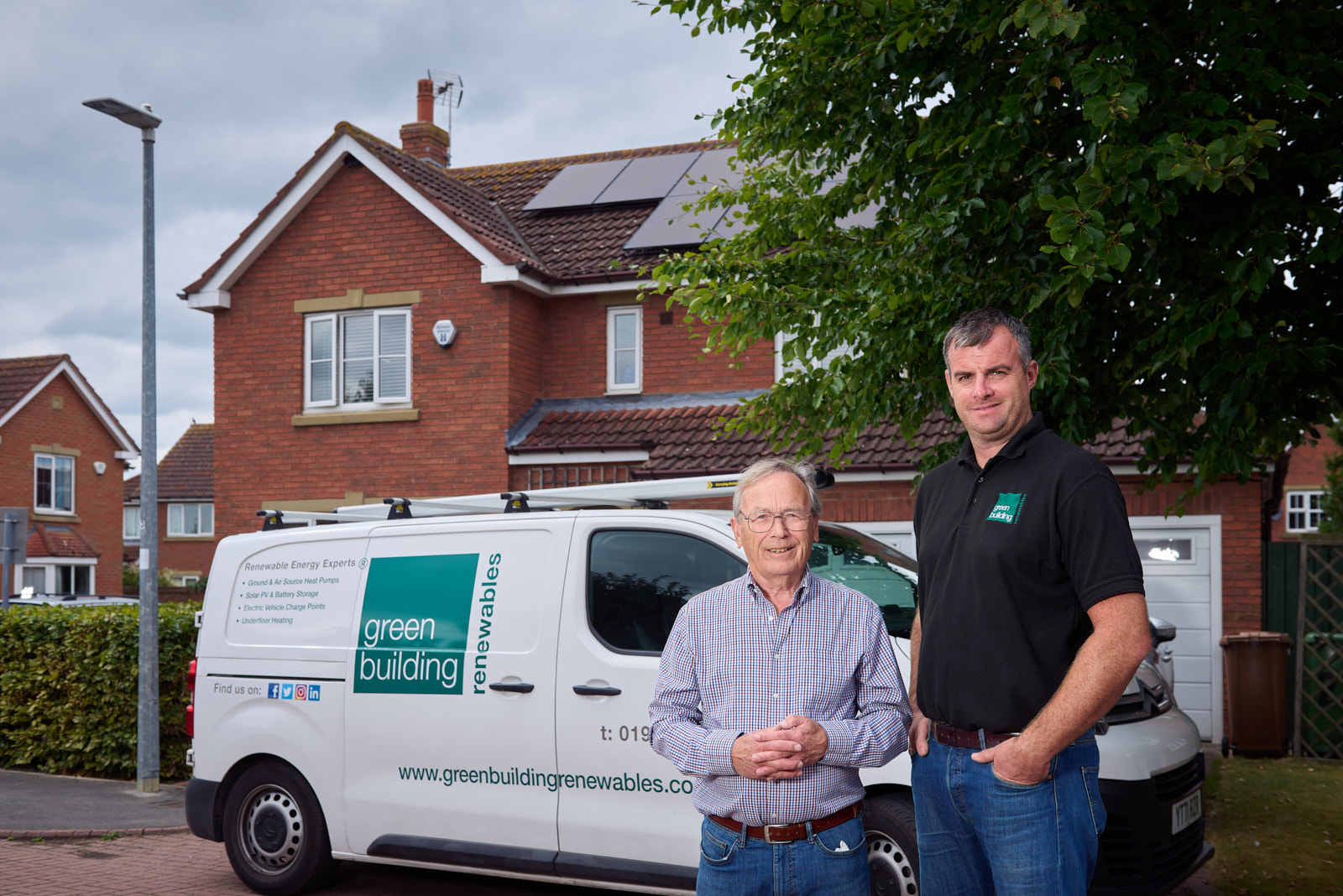 Read our beginner's guide to solar panel installation to help you make an informed investment decision on this fast-growing alternative energy source.
With energy prices going through the roof, it's no wonder many UK households are actually looking at their roofs as their next alternative energy source. Increasingly, we're all starting to see both old and new homes in our neighbourhoods installing solar panels – an energy trend that looks set to grow and grow.
For the uninitiated, installing solar panels can seem quite daunting, with a minefield of options and practicalities to consider. But with the experts at Green Building Renewables, we can give you all the information you need to help you make an informed decision on this specific route towards renewable energy.
The case for investment. What is the payback time on my solar panels?
In September 2022, the government announced the 'Energy Price Guarantee' scheme in response to the continued rise in the price of energy. Initially, this would have guaranteed that a typical household in England, Scotland and Wales would pay an average of £2,500 a year for their energy bills through 2024. On October 17, the government announced that the Energy Price Guarantee scheme would run until just 31 March 2023. (Source: Energy Saving Trust)
So, from 1 April 2023, we're entering uncharted territory with regard to energy costs. But what we can predict is that energy prices will continue to be subject to upward pressures in the medium term. This means that if you are considering alternative energy sources and wondering when you'll get your payback, or return on your solar panel investment (ROI). The simple answer is 'sooner than previously'. But our first piece of advice is this: regard this as an investment with a medium term yield. Typically, you look at 6-8 years of payback from a 12-panel frame.
These graphs help explain the rise in energy prices and the optimum payback time. It's worth noting that while energy prices are rising, there are also inflationary pressures on products, goods and services. So, the ideal time to invest in solar panel installation is as soon as possible.
So how do solar panels generate electricity?
Solar panels comprise a series of cells made from layers of semiconducting material (usually silicon) which generate a flow of electricity when light shines on the material. Each panel typically generates around 355W of direct current (DC) energy in strong sunlight, and for optimum performance, a standard rooftop installation will consist of around 10 panels.
The DC electricity is converted by an inverter to Alternative Current (AC) electricity for domestic use. Surplus energy, i.e. the amount you don't need for your own use, can be exported to the national grid to one of many energy suppliers who will pay to take your excess energy. This is called the Smart Export Guarantee, which we will explain later.
However, because the energy sale price offered by energy companies for your surplus is relatively low, we strongly recommend investing in battery storage. This means you can use your surplus energy generated at the end of each day when you need it.
The brighter the sun, the more electricity is generated. The panels generate electricity even on cloudy days, albeit not as much as when the sun is strong.
How big does my roof need to be for solar panels?
For optimum electricity generation, you need around 27㎡ unshaded south facing roof space. For a typical three bedroom property, this would equate to around ten panels and would generate around 3946kWh per year.
Average annual household electricity usage is estimated to be 4000kWh. The absence of shading from trees, other houses or chimneys is essential to ensure maximum generation. Where shading is unavoidable, an "optimiser" can be installed to help maximise electricity generation. Optimisers are not needed on roofs with uninterrupted access to sunlight.
How much money would I save by installing solar panels?
Based on our latest calculation made on 3 November 2022, a property with a 27 sq m roof area with a system size of 4.38kW would generate estimated savings of £805 a year installing solar panels. Installation costs would be estimated at £6,400. The same installation with the same system with battery storage would save an estimated £1,342 per year, with installation costs estimated at £11,450. VAT is zero.*
*Please note that all energy and cost saving calculations are subject to constant change and depend on your energy supplier. The examples quoted are based on prevailing market conditions at the time of writing. On our calculator, you can edit the price you pay for your electricity to tailor make the quotation and payback period to suit you.
Do I need planning permission for solar panels?
As a general rule of thumb, solar panels are deemed to be a permitted development in planning terms. However, our advice is to double check with your local planning authority before embarking on this project. There may be restrictions if you have a listed property, live in a conservation area or in a National Park. But, in all instances, we recommend checking first.
How much do solar panels cost?
There are a number of variables that impact the suitability and efficiency of a solar panel system, including the size and location of your property and its access to southern facing sunlight. *Please note that potential payback periods are greatly affected by fluctuations in the market price for electricity and your family's average consumption.
Why is the Distribution Network Operator so important for solar panel owners?
The Distribution Network Operator (DNO) is the organisation responsible for bringing electricity to your home, which is why registering your installation with them is essential. This is something that Green Building Renewables does on your behalf after installation. Still, every home with solar panels installed must be registered with the DNO as a statutory requirement.
What is the Smart Export Guarantee?
This is a government-backed initiative to ensure that small energy suppliers (such as people with solar panel installations) get paid for any surplus electricity that they generate. There is a range of tariff terms, tariff lengths and payment cycles from a range of energy suppliers. You can find out more about them here
However, rather than sell any surplus energy for relatively modest prices, we strongly recommend investing in battery storage which enables you to hold on to the energy you generate for your own use, thus increasing its efficiency and the speed of payback achieved. We have a number of leading brand solutions, including the Tesla Powerwall, which provides discreet attic space battery storage. We're proud to be an Approved Tesla Powerwall UK Installer.
I want to find out more about solar panels. What next?
We've made it easy for you to do all the simple homework on installing solar panels – so you can get all your facts and figures together instantly. Simply visit our solar panel calculator to find out the costs associated with your property using the slider to choose just how many panels you need to create enough electricity whilst balancing investment and available roof space. This creates a FREE tailor made quote for you, enabling you to calculate a payback period. Should you wish to book a survey, simply fill in your information on the last screen, and a member of our team will be in touch.