Ground source heat pump turns a cold solid fuel heated property to a cosy new energy efficient home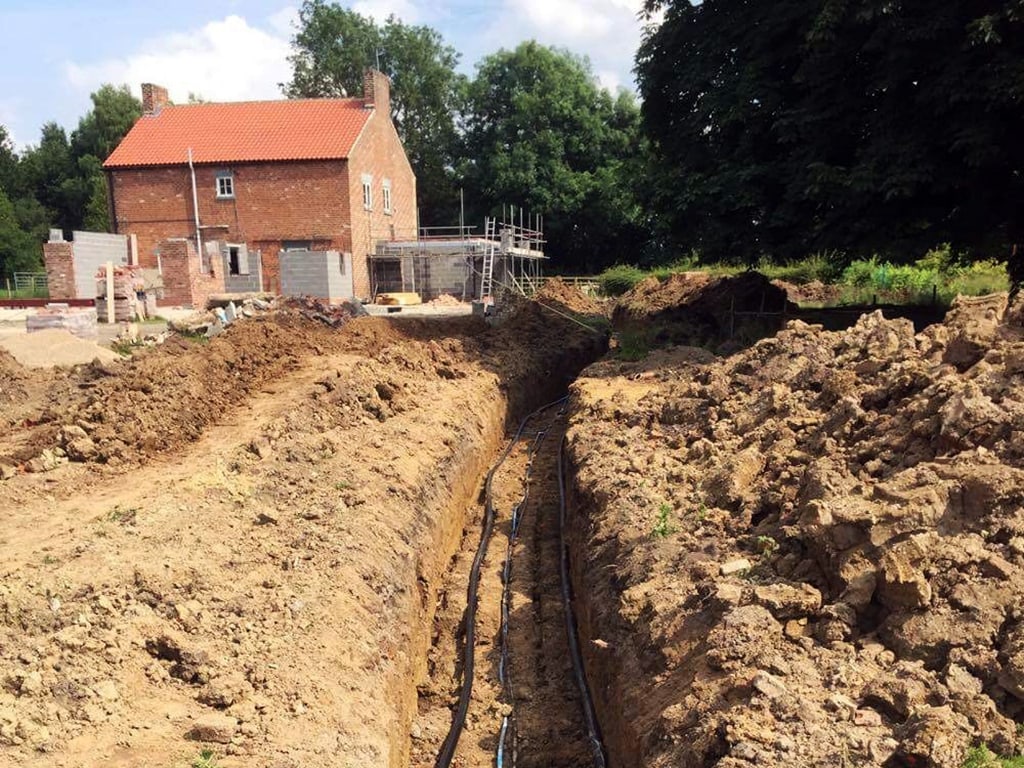 Mr M & Miss P were renovating their 5-bedroom detached house in Ampleforth, York. The property was built around 100 years ago, had no central heating, no mains gas in the area and was heated by open solid fuel fires. As part of a whole-house renovation, they contacted our York renewables team to discuss their options for a sustainable, energy efficient home.
Green Building Renewables carried out a full detailed survey of the property and calculated the property's heat loss requirement, took measurements of the surrounding garden and made our recommendations.
With a sufficient amount of land, a ground source heat pump was the obvious solution, using underfloor heating downstairs and radiators to heat the upstairs area would give them a hugely efficient heating system. Underfloor heating works extremely well with a heat pump offering an even distribution of heat throughout the property but at a lower temperature, allowing for even lower running costs.
It was also decided that to complement this they would add a solar panel system to generate free electricity, which would not only run the heat pump but other appliances within the home, reducing their energy bills further.
The system was commissioned in May 2018, costing around £20,000 for the heat pump and solar panel system. Mr M & Miss P now receive around £3,700 per year from the Renewable Heating Incentive and around £300 per year from their electricity provider for the 'Feed-in Tariff'. On top of this, they are also saving around £1,150 per year on their energy bills. So, in short, they are now about £5,000 per year better off. As you can imagine they are very happy customers.
The System
Heating: 1 x Vaillant flexoTHERM 11kw Ground Source Heat Pump System with 300-litre buffer cylinder.
Hot Water: 300 Litre Vaillant heat pump compatible cylinder
Underfloor Heating
Solar PV: 4.00KW on roof solar PV system comprising of 16 x Phono Solar 250W Mono Black Mono Panels.
The Project
Our York renewables team assisted Mr M & Miss P with their whole house renovation throughout 2017. The project involved adding a ground source heat pump, underfloor heating, and solar panels. Together all these technologies led to an extremely energy efficient and low carbon house.
We began by installing 600m of ground source collector pipe in the joining field, bringing this back into the plant room via an external manifold chamber. Once completed the team connected the heat pump, cylinder and buffer to the new heating and hot water system. The ground floor of the property had underfloor heating throughout with a 50mm Gyvlon screed to provide an even, constant heat whilst the first floor had traditional, decorative radiators.
The final stage of the installation was the connect a 4kw solar panel system to the property which not only ran the day to day items such as fridge and freezers but complemented the ground source heat pump, providing free electricity to run the pump and collect the renewable heat from the ground array.
From our initial consultation through to the laying of the ground source pipes and the eventual fitting of both the PV and the GSHP, we have experienced a first class service from Green Building Renewables (formerly Go Eco). At our initial consultation, they patiently explained the technology and exactly how it works (in a manner that even I could understand)! They also produced a report describing the financial benefits of the Government's Renewable Heat Incentive scheme and the Feed-in Tarrif.

During the installation, the engineers were very flexible and were able to schedule their work to fit around our other renovation works. Following the commissioning process the engineer explained how to operate the system in order to optimise its performance and to ensure that we saved the maximum amount of money! The GSHP works even better than I had hoped, the house remains at a constant temperature all year round and despite having a log burner – we never need it… We rarely need to alter the room temperatures but if we do, then individual room thermostats can be manually adjusted or the whole house can be controlled from a mobile or tablet.

Hot water is piping hot and in always available. For the PV panels we opted for a 4kw system with a remote monitoring system (via a mobile phone app) – so we can tell exactly how much energy we are saving per day.

In summary, we would just like to say a really big thank you to all the team at Green Building Renewables (formerly Go Eco), they made the process simple and painless and I would definitely recommend their services to anyone considering ways to save both energy and money.

Mr M & Miss P